It's nearly Christmas! Oh god, what a bundle of stress: dealing with family, getting presents ready, cooking, travelling; and finally, worst of all, struggling to find a worthwhile Christmas themed videogame to comment on! Oh dear god the stress....
Well, worry not, videogame bloggers, here's one for you. A genuinely fun Christmas videogame. Ah, the relief!
Santa Claus Jr. was a PAL released game for the Gameboy Color developed by German company NEON Software and it is, possibly, what some might term, a hidden gem – which is to say it's not been beaten to death by youtubers and nor is it entirely mediocre.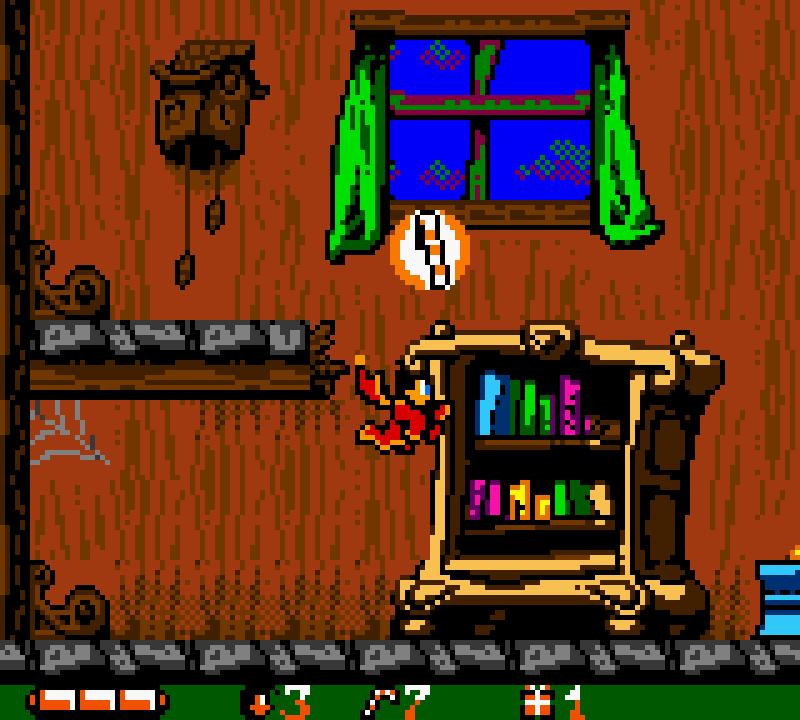 Santa Claus Jr.'s main draw is it's charming animation and art. As a young boy pounds away on his Gameboy Color (TM), Santa Claus' famous robe unceremoniously falls into his bedroom and at once he knows what to do: Travel to that remote menacing castle and Save Santa! Immediately, we find the game's animations setting the atmosphere. Even in the boy's house – which, as you may expect from a platforming game, is filled with fatal dangers – the mood is adventurous. Curtains flutter and light bulbs swing in the dark as if they were possessed.
Jr.'s character animation is also lovely to watch. Drowning in Santa's robes, his arm swings are emphasised by the oversized sleeves. The game's enemies also look great. Starting with prowling cats and moving onto birds, petrified dragons, bug people and mutated creatures from some distant ZX Spectrum game; there's a real sense of developing evil as we move towards the castle at the end of the game. There's a lot of character throughout the game's and its admittedly short length helps to tie it all together as a cohesive whole.
Like the character animation, the darkly animated stages are great to explore and emphasise its festive theme; drawing on the twisted gothic architecture of Henry Selick's Nightmare Before Christmas or the Bavarian schlosses of Lugwig II. In one surprising moment, at the top of a church, our character is given a view of his coming journey; seeing the dark castle rising above the twisted forest surrounding it. The game prefers to depict the cold winter which awaits outside the bedroom window rather than the cosy indoors of lights and steaming food, and I think this adds a lot to the game's charm. Again, like Nightmare, there's a cartoon darkness to the game which evokes the long winter nights, where we stay at home and draw the curtains against the grim evenings.
Ultimately, however, this mysterious atmosphere is not translated into challenge. I completed the game very quickly and I'm awful at platform games (leaving me with a granite chip driven into my shoulder). The last few stages offer a little more challenge, and there are optional challenges available, such as choosing your number of lives and not using of the extensive password system (a bit of a personal recommendation actually), but overall it's a pretty easy game clearly geared towards children.
Personally, I don't mind that at all, especially given that it's a festive game for a handheld system. There's still enough atmosphere and character here to recommend it to adults; especially on a cold frosty night with the curtains drawn.
---
LOOK WHO CAME:
jobejoe
homeoftheblues 42
Adam P 1