I'm a bit of a sucker for progress in games. That is to say, I hate it when I have to repeat things. Bioshock 2: Minerva's den made my PS3 freeze and as a result I lost roughly ten minutes of progress once. That was six months ago and I have yet to face the game again.
When I lose progress, it hits me hard.
Enter two games I've recently been playing: Alien:Isolation and Vib-Ribbon. Two completely different games, yet two games that have given me the same euphoric feeling of both progress and the infuriating fire of frustration. Both can be boiled down to the essential experience of being a player thrown against increasingly impossible odds, failing often yet inducive of a hunger for more.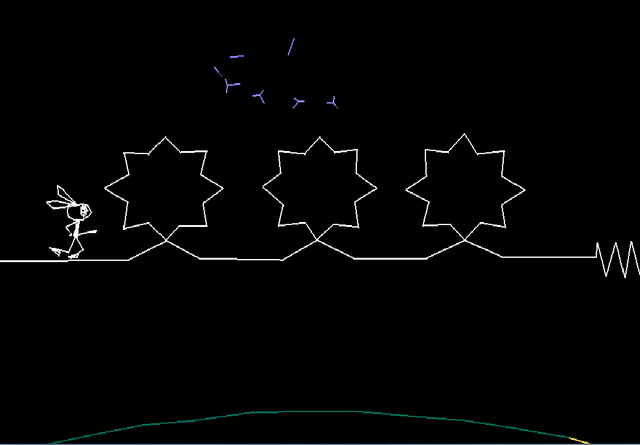 I only started playing Vib-Ribbon today, in fact, and already I can't get it out of my head until I boot it up again, then consequently hammer on the Playstation button five minutes later. Sometimes I think of the obstacles as unfair, or perhaps I'll mimic a COD player, shouting "Lag!" at the top of my voice as I miss yet another beat. I'm a musician after all, how could I have missed that?! And so after countless missed beats I simply refuse to press buttons, condemning my fate to failure.
The thing is, I might have already cleared a whole song from my Vib-Ribbon mixtape (Tracklist below) and thus upon failure I've lost between two and four minutes of my life, yet somehow I'm driven to try again, and again, and when I quit I immediately regret such a decision.
I feel much the same way about Alien: Isolation. Currently my progress is frozen in the medical facility during the first encounter with the Alien, and I have now hopelessly attempted to evade the creature four or five times, each attempt getting closer to my objective. Alien is similar to Vib-Ribbon in that every failure feels, frankly, unfair. The Alien might pop into a vent only to immediately drop out of the same vent and kill me, or it might simply walk out into the corridor at the wrong moment, spot me and kill me. Since there's yet to be a method to fight the Alien in terms of my progress, I'm fairly screwed from the outset, but despite the uneasy feeling of my blood pressure rising and heart pumping harder than usual, I can't help but come back again and again, despite losing precious minutes of my life I could have used to further my score in Vib-Ribbon.
All-in-all, it's sometimes fun for a game to be completely unfair (besides The Evil Within), especially when the fear of failure gives you yet another reason to come back and seek the thrill once more. I'll take an unfair death any day over the impossible to lose combat of Assassin's Creed or other such 'games'. Peace, and check out my track list for Vib-Ribbon below, turns out they're pretty hardcore for the most part!
Chemtrails - Beck
Scarecrow - Beck
Get Lucky - Daft Punk
Warning - Green Day
Barbara Ella - Kula Shaker
Storm in a Teacup - Red Hot Chili Peppers
Tell me baby - Red Hot Chili Peppers
Wings (Nu-Logic remix) - Birdy
Loopa - Turin Brakes
Red Moon - Turin Brakes
Sleeper - Turin Brakes
Madness - Muse
---
LOOK WHO CAME:
bmg123