Of all that's ever drawn dread from deep within me, Miss Piggy pursuing me on roller skates remains my most vivid waking nightmare, my constant companion these long years: relentless, fury-filled, remorseless swine, she haunts my waking hours.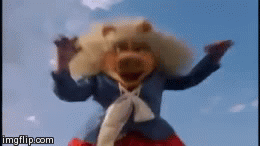 - From my cold, dead hands.
---
About The Actual Charlton Heston
one of us since 6:46 AM on 12.24.2017
I'm actually Charlton Heston. What, were you expecting some purple prose? An overwrought introduction? Get off of my property, you filthy God damn hippie.