I think I'm gonna unironically start Balan Wonderworld. It was so dead on arrival it now shines as this odd curiosity.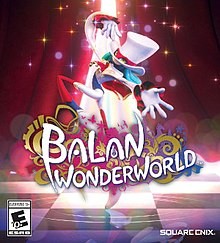 ---
About Startyde
one of us since 11:51 AM on 06.12.2010
Gaming, wrestling and transformers fan. At times opinionated, but always reasonable and enjoy a good conversation on the past and present of all things gaming.

Psychological Profile:

Movies I love:

Robocop (1986)
Transformers (1986)
Masters of the Universe (1987)
Batman (1989)
The Last Starfighter
Big Trouble in Little China
The Wraith
Bill & Ted's Anything Anything
Starchaser: The Legend of Orin

Games I love:

Mortal Kombat 9
FFIII
Spec Ops the Line
Chrono Cross
MGS3
Capcom Vs SNK2
Zoe2
Riven
Eternal Champions: Challenge from the Darkside
Phantasmagoria
Guilty Gear
Adventures of Batman & Robin (Genesis)

Things I've Collected:

Transformers
GI Joes
Animation Cels
Sealed Games
Graded Comics
Figures
Original Art
Comic Art
MtG Cards

PSN Trophies:

Current Count 15000+
Current Plats 275

Celebrating 10 years frequenting (lurking) Destructoid. Looking forward to the next 10.