E3 is officially closed and another expo is in the books. You know what that means? Hot takes from an outside perspective, that's what. Let's jump right into it.
Top 5 Announcements
1) Following in P.T.'s creepy footsteps: Resident Evil 7
I'm going to say that I am biased on this one because I am a huge Resident Evil fan boy and I absolutely loved P.T. So this marriage of ideas is the best thing since peanut butter met chocolate, since Mike met Ike, even since Mulder was partnered with Scully. I played the demo on PS+ as soon as it was announced and I loved it and it left me with so many questions. Who are these people? Is it a whole new cast? In what capacity is Umbrella involved? RE7 just jumped to the forefront of my hype list as of right now.
2) Not so angry anymore: God of war
I was a fan of God of War 1-3 because I enjoyed the fast paced character action and the crazy gore. The simple story of "Kratos is mad" was enough for my simple 13-17 year old mind. However as gaming industry and I have matured, it is amazing to see old man Kratos do the same. From a game design stand point, it looks like the new God of War has been completely redesigned from the ground up. It has an over the shoulder camera angle, similar to RE 4 or The Last of Us, and reports from E3 say that there are open environments similar to Rise of the Tomb Raider.
3) A bid for controlled chaos: Sea of Thieves
This was the first I have seen of Sea of Thieves, but it looks absolutely amazing. Each of your friends act as a different crew member to run a pirate ship and go to battle with other ships manned by other teams of people. This feels like a very accessible and fun EVE online and the upward possibility of these rag tag groups of pirates going on innumerous adventures is astounding and I imagine this is going to be one of those insanely popular Let's Play games in the YouTube community.
4) A beautiful mech: Titanfall 2
I haven't played the first Titanfall. I admit it looked like crazy fun, but the lack of story lost me at launch. When I did kick around the idea of buying it, the user base still playing was so small that I didn't see a purpose. With Titanfall 2, I'm looking to rectify those mistakes and join in this crazy grappling hook filled MP. Bonus: The single player story mode looks pretty decent for an FPS.
5) United we play: MS having first party IP on PC
This is the absolute biggest thing to come from the Microsoft press event. Every new IP from this point forward is going to be on both PC and Microsoft, continuing to push the Xbox brand closer to the PC market as well as unify a whole set of gamers. This is huge.
Top 5 Disappointments
1) What is going on here: Scalebound
Upon the initial reveal of Scalebound way back when, I convinced myself that this was the system seller. "I need an Xbox One." All of the pieces were there; Kamiya, Platinum Games, dragons, general zaniness. But the more I saw revealed of the game, the less interest I had and this last game play demo was the point where I'd like to get off the hype train. The combat looked slow and un-engaging, the main character seemed like a carbon copy of Dante from Devil May Cry, and the boss battle shown just overall looked really boring. As Scalebound inches closer to release it could definitely win me back, but everything I've seen since the initial announcement has been disappointingly unimpressive.
2) Bad day for Sci-Fi: No news on ME Andromeda or Star Wars
What is going on EA?! Mass Effect has been in production for a decent amount of time and you show the same behind the scenes footage you showed before. Also you are producing games for THE biggest sci-fi movie franchise in the world and you don't give us any substantial info? Star Wars fans need to know more than "Amy Henig is writing an action-adventure title in the Star Wars Universe," especially when that's been known for a long while now. I understand that EA makes a lot of games, but these two gigantic franchises shouldn't have been glossed over for a full segment about competitive Madden football.
3) boring game play and pervs: FF XV VR
I'm excited for FF XV, I really am, but man VR is not the way to go here at all. The game play shown off is clunky and boring, which is to be expected when you have the Final Fantasy team trying to make an FPS element to tack on to their already gigantic game. After seeing this in the press event I wrote it off as a dumb gimmick for the PS VR that's about to launch, but then the videos and stories surfaced of the men on the show floor just being shameless in their ogling of Cid in the car. That's what brought this project down a whole new level into the disappointments list.
Check out some footage of shameless dudes trying out FF XV VR
4) Not as big of a splash: Project Scorpio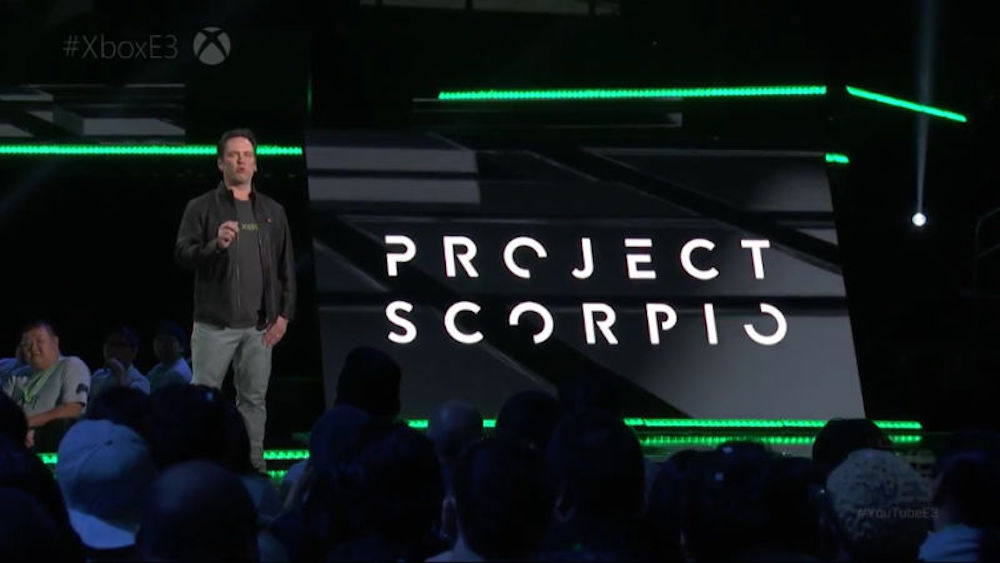 When I heard the rumors of Scorpio before E3 my mind was racing with potential ideas of how Microsoft was going to change the console market. However, the actual press conference didn't tell me much about what the Scorpio was. I watched a post-E3 interview with Phil Spencer and while the Scorpio will play the same games as the One and One S, it is stronger in what it can deliver. However, he went on to say that the benefits of the Scorpio games were specifically built for 4K television sets. If you do not own a 4K television, the games will be scaled down to perform similar to what was on the Xbox One. While the Scorpio does not sound like an upgrade I want or need, it cannot be said enough that I appreciate how transparent Spencer was on the intention of Microsoft's 3 console lineup.
5) A potential end of an era: E3 shrinking in size
Everyone has a unique story about their E3 experience, but a common one I was seeing was that the show floor is looking very barren these days. Could the expo portion of E3 be phased out in the near future? It is absolutely possible. If more and more of the big names like EA take their press conferences to offsite areas, then the E3 show floor is going to see a dramatic shift which could lead to E3 being more of a timeframe of press conferences than one all access expo. The dynamic of how these games are demoed and sold to the public is for sure changing and only time will tell if there is still room for an E3 expo.
---
LOOK WHO CAME:
Garett Mefford
Inquisitive Raven 11
BruceZ 10
Funkotrons Finest 2
n0signal 2