I remember how it was but in 2016 when I first played a Mario game to beat it and fell in love with the series ever since. Super Mario Bros. 3, Super Mario Galaxy 2, and Super Mario 3D Land are all spectacular on their own right, and while the only spin-off from the series that I have played has been the Mario Kart series, I knew about the existence of an RPG title eons ago. Come 2020 with nothing to do at times that I set not only to play Mario RPG but to beat it, and what a great time I had with the game.
Overview
Super Mario RPG Legend of the Seven Stars starts with the typical Mario quest: He has to save Princess Peach from Bowser. So far, it all was set to happen as expected: Mario saves the day and that's it, but a new villain appears and sends the series trio to different locations while scattering the star fragments from the star road, something important in this game. From there, Mario has to find out what exactly is going on, why this villain took over Bowser Castle, and most importantly: why Bowser joins him in this quest to save the kingdom. The latter, alongside the humor and cast, is the twist that makes this game's narrative one that made me play the game the more to see what was next in store. That power ranger reference had me in laughs for quite a while.
Graphics
To play as Toad would have been amazing.
As a 1996 title for the Super Nintendo, the game uses 3D rendered backgrounds much like the Donkey Kong Country series before it, and it works both for showing the capabilities of the console and how two companies can work together to make a good looking game. 2D is seen, of course, but it doesn't that much of a stage. What stands out in terms of graphics from this game is how simple everything still captures the player right away due to its execution. Taking into consideration that we were going to finally play with 3D rendered Mario characters later in 1996, seeing these models, worlds, and animation from a mostly 2D console is to be praised. A graphical showcase of what players could expect from the once next-gen console.
Gameplay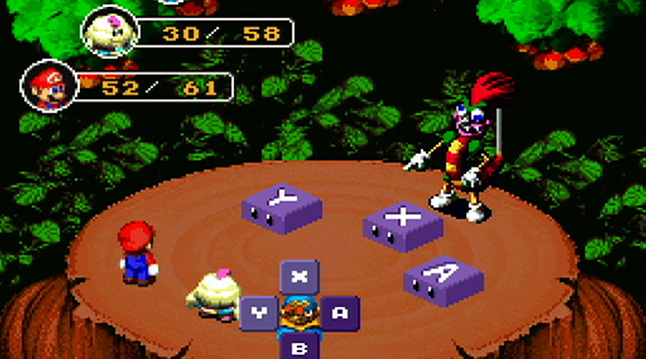 Button mapped actions just like Persona 5, but 20 years before it.
A turn-based RPG game with twists, just like its narrative. For starters, it's the common enter a battle, fight, move on, while once one starts to play it the more is that one sees how this game plays with the established formula. Some action commands are to be applied during battling to cause more damage or to take less damage as well. All of this is explained right off the bat and from there on, more changes to what was to be expected from the genre appear. The magic system works in general and not per character, status ailments are a wonder to discover, the shops and items to buy offer really confusing possibilities that then turned out for the better... I can go on. This is from the RPG part that Square Soft helped develop. Nintendo, on the other hand, had its fair share of Mario platforming ready to be deployed as well. The game is always seen in an isometric view and thus the platforming takes a twist once again. Its Mario platforming all right, seen from another perspective that works wonders. A neat mix of Final Fantasy and Super Mario Bros? Indeed.
Sound
Oh, that memorable coin sound plays a major role in this game. It is heard when applying successful combos, earning game currency, and shopping which will be done a lot. The sound effects are taken from the Mario series as this is a Mario title in the end, but the themes, that's where originality really strikes this game. Granted, composers from both series had to do in the process of this game's soundtrack but it was Yoko Shimomura (Kingdom Hearts' Composer) the one to deliver such magical, dark, and definitely addictive themes. This woman nails it perfectly when it comes to making the player feel the momentum. The theme Fight Against Smithy that plays during the final confrontation, it's a theme that always has me headbanging or feet tapping due to how catchy it is. I can name others like the battle theme or both boss battle themes. Music in Super Mario RPG is a joy to listen to.
Overall
A game that mixes the best from both worlds? Check. A special one at that? Double-check. Now I know why this game is regarded as one of the best games of all time. It is not because of the companies which made it or the character involved but the execution of all of its ideas and how it can appeal to most gamers due to what this gem has to offer. Wish the game had been a bit longer and not so difficult at times. Other than that, this is a must-play for fans of both genres.
Geno, you shine bright up there.
4 out of 5
Thanks for Reading.
- As expected, video games made this possible.
---
---
LOOK WHO CAME:
Exber
Neronium 12
Kutsufatmo 9
PLANET P1SS 69 5
Roager 3
RLZ 1