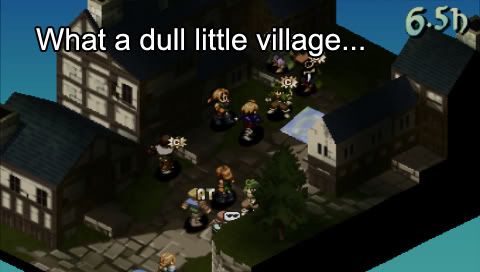 Final Fantasy Tactics: War of the Lions
on the PSP is a wonderful game, of that I have little doubt, but it has two very distracting flaws. They are by no means game ruining but, for me, they detract from a game that is otherwise incredible.
The first (and far and away the most discussed) is the very noticeable lag whenever anything utilises the archaic particle system. It becomes more remarkable further into the game because where once you'd cast fire on an enemy and have him engulfed in a small puff of flame-y particles, you now cast Firaga and are treated to epileptic blobs, seizure-ing down from the skies when you should be witnessing
hell's fury
raining down upon your foes.
The second, and the one I consider to be
criminal
, is the horrendous lack of colour and contrast in most of the game's arenas.
Now, before the hateful comments come flooding in (ahem), I am fully aware that the game is a port of the Playstation's 'Tactics' with all new (!) widescreen aspect ratio , job classes and cut-scenes but, when the game's battlefields and menus are so desaturated and drab, surely the developmental focus was slightly off. Would it have totally ruined the authenticity of the port to have run the terrain tiles through a contrast filter or... something? I mean, this game is to be played on the PSP, a portable console whose screen desperately needs contrast and bright colours to aid anyone trying to play it on the bus with the sun glaring onto the screen.
This is personal experience speaking. I am besotted with the wonderful dialogue and the new cel-shaded cutscenes are fantastic but the two problems I mentioned (and I am well aware that the second one could just be me being an arsey little nit-picker) take the shiny gleam off a game whose
Final Fantasy
moniker demands nothing less than a brilliant shine.
Perhaps I should go back to Tactics: Advance! Where is that darn DS...