A few days ago, I beat Vampire Survivor. To me, this game represents what doing a lot well looks like: It's fresh, unique, simplistic and addicting as all hell. I love the game so much that I almost think it deserves its own write up!
Yesterday, in an attempt to experience 2021's game of the year, I've been sitting down with It Takes Two and playing couch co-op with my girl. We started at 8PM last night and found ourselves hooked on the thing, up until midnight the next day. It's a charming little game with all kinds of different gameplay genres thrown in there, coupled with an overarching, predictable, cute story about working together and whatnot.
A couple weeks ago, I started Persona 5 Royale. This legendary RPG looks absolutely fantastic in its final form running seamlessly on the Xbox. While I play these other games, a save file steadily marches forward. I've only got up to (what seems like) the first serious boss of the game. It's clearly a game I expect to last me a very long time. Which is fine, because it feels like I'm getting my money's worth.
And finally, there's Gears 5, a triple A mindless shooter that virtually pushes through a linear path as you shoot what you're supposed to shoot, and take in the spectacle in a brain-dead kind of way, like a video game popcorn flick. I started the Gears of War series a couple months ago and it has been a great way to coast and chill out after work.
Each one of these games have a certain energy and mood associated with them, and all have one thing in common: they're all on Game Pass.
And I love Game Pass the service. Apparently, it's not supposedly the 'quality' level of Sony titles, in terms of God of War or Horizon Zero Dawn, but personally, I think it's damn close. I think it strikes a perfect balance of mainline AAA titles and mainstream blockbusters, coupled with plenty of interesting indie titles. The latter being the most important, because innovation and selection are the top two priorities when looking for the next great moments in gaming in my opinion.
Personally, I love turning on the Xbox Series X and navigating to the My Games selection, to Full Library, where it combines all the games I've bought on the Xbox ecosystem, Game Pass, Games with Gold (which has been shit lately), and EA Play titles, together in one great selection of over hundreds of games.
Just last week I managed to finally get a hold of a copy of AI: The Somnium Files Nirvana initiative, and it got added to this large list of games. I loved the original, so when the sequel came out, I was looking to buy it on Xbox to play it in its highest fidelity. Well, it turns out that this specific version was just hiding away at my local library.
No doubt, for fans of gaming, there is a ton of selection on Xbox. It's amazing to me what kind of powerhouse Xbox has become in the business, especially considering how baren the Xbox One was by comparison; Every month, Microsoft comes out with a handful of games on the Game Pass service. There are a handful of day one releases that delight, but there are also surprises like, Octopath Traveller or Zero Escape, that you may not expect to pop up on the platform. As a result, I haven't played my PS4 in years. Don't get me wrong, I love my PS4 to death but Game Pass' selection of games keeps me on Xbox. Especially after a long day of work and not wanting to switch video sources on the TV, it's just tough to turn on a 1080p console nowadays.
But last week something happened.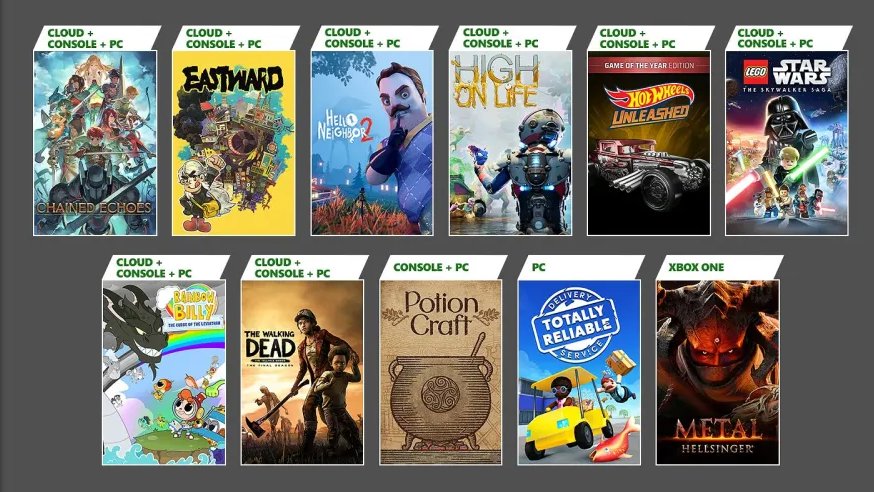 Nothing out of the ordinary, but last week I saw the press release for the new games coming to the Game Pass service.
The games announced were nothing spectacular, but they were important enough so much so that I didn't want to miss out on playing them! Particularly Unchained Echos, Eastward, High on Life, and Star Wars: The Skywalker Saga.
Looking at the announcement, I saw Metal Hellsinger and was reminded that this was yet another game I was playing in the background. I sat back a realized... boy, this is a lot of shit to play.
Scrolling through the gaming articles with the same press release, I came across the fine print attached to the announcement regarding games that would be leaving the service.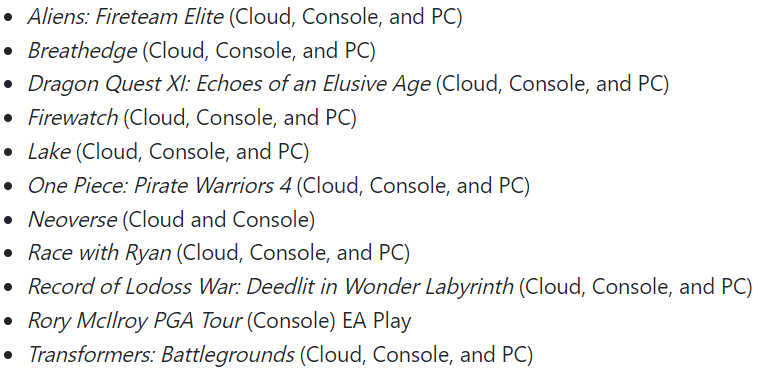 Among them was Dragon Quest XI and Firewatch. These are games that have been on my radar, but I simply didn't have enough time to get going on them before their deadline on the service. Reflecting on games that suffered a similar fate, I also wanted to finally play Hades on Game Pass, but that was also taken away before I had a shot to play it.
The fact is that I'm turning 35 and simply don't have the time I used to as a kid. Simply running out to get some trivial bullshit handled at a government bureau can take all day if one thing leads to another. Never mind making dinner and cleaning up around the home when necessary.
So, I look back at the announcement of new games at my disposal on Game Pass, all coming out this month. With the holiday season in full effect, when am I going to have a second to play all of this?
When I turn on my Xbox and navigate to the selection of games on Game Pass, I see the whole Yakuza collection on there and a common thought comes to mind again: when am I going to have a second to get through this backlog? How long are these Yakuza games going to stay up?
When I am going to this backlog, that's disappearing with time?
I sat on the thought a little bit but didn't have a conclusive answer on the whole thing. I loved having access to all kinds of different titles from the service, if not for anything but to give interesting things a chance. Like I saw Vampire Surviors in my peripheral vision, but I wouldn't have given it a shot until it was made available for 'free' on Game Pass. And now, it's my personal Game of the Year.
But it's made me think about my time with certain types of games, especially games like Persona 5. While it may be nice to get the ball rolling with large scale games like that, it might not be worth it if it means having the opportunity to experience all these unique indies fall through the cracks.
Don't get me wrong though: these are good problems to have. Sometimes I think to myself how different talking about games at school might have been, if we all had the same kind of massive selection on Game Pass when we went home. I feel like it would have been a lot more fun.
But this isn't 1997 anymore and we need to go to work, so as beautiful as Game Pass is, sometimes I think I'm holding on to a reality that simply doesn't exist anymore. Sometimes, I do this with handhelds that I see online, that play all the retro games: I think I'm going to be living my teenage self, smoking my backlog of unfinished JRPGs on SNES on these beautiful devices, only to be doing laundry in present day, as these devices collect dust.
Game Pass has a similar element to it that I can't quite place, but I know it's there. That being said, I'd rather have too much than not enough. Here's hoping I get around to Eastward.
braaadshaw (@braaadshawtv) / Twitter
---
LOOK WHO CAME:
Chris Bradshaw
Vadicta 40
RiffRaff 27
Roager 9
medicamecanica 5
Sweaty Dungus 3
streetmagik3 3
TicklefistCP 2