When a series gets too many sequels and spin-offs one can expect either greatness or failure out of the end result of each. Final Fantasy has been a staple in the JRPG genre for decades and to celebrate its 30th anniversary Square Enix decided to release yet another spin-off title filled with love and all those things that help made the series what it is today. Few have been the cases when spin-off titles end up feeling like a main one, and World of Final Fantasy nails it.
Overview
Set in a fictional world that unites all the Final Fantasy mythos, World of Final Fantasy begins with two twins who have no recollection of events past as to why they are where they are or what they need to do. Tama, and a self-proclaimed woman who calls herself god, explain the situation to them and help open the way to Grymoire, which could be like a Final Fantasy multiverse, for them to find out the truth while exploring many well-known locales to fans of the series and of course, help classic Final Fantasy characters and protagonist, known as champions, along the way. Dozens of worlds, references and tiny but lovely details await Lann & Reynn, and Tama in an adventure that is a love letter to all time fans.
Presentation
Being this a game originally released both for PS4 and PS Vita, some visual differences were to be expected on the handheld. I played on the latter and while I am of course pleased with the graphics, once compared to other consoles it does feel like portable version of the game. However, all of the content is in there excluding the maxima expansion and once one realizes the game got actually ported to a handheld with just some visual and frame rate sacrifices here and there that don't damage the experience, the game is a blast to play on the go if you can't play it on a Switch. The chibi style helps to take the series back to where it started, and also, the anime cutscenes mixes well with the overall funny tone the game offers.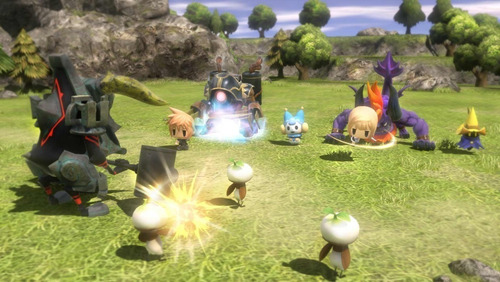 As for the sound department and soundtrack, I love it all. While I'm not pretty sure if all of the original voice actors made a comeback for this, those who did got into their characters yet again delivering another take on their stories and who once intertwined with other Final Fantasy characters would be. Listening to those classic tunes and battle remixes all over again not only took me back but also reminded me how something so short and sweet can work wonders.
Gameplay
As read above, this game aimed for delivering a classic Final Fantasy experience once again as its way to celebrate its anniversary, and what a better way to use the turn based combat with ATB again. There's a catch to differentiate it as to not feeling a mere copy paste technique: now classic monsters from the entire series are your allies and battle with you once you have recruited them. Take it a Pokemon thing, battles can take place with each member of the party fighting on their own or, combining their powers as stacks. Seeing a baby Chocobo atop a Malboro is a sight I once thought to be impossible but this game made it happen. Battling is pretty straight forward on the easy side and this may be a bit of a problem as old titles weren't exactly cake walks but still, to battle alongside Final Fantasy monsters and summoning protagonists like Terra or antagonists like Sephiroth, among others, hits all the right buttons.
As for outside of battle, exploring is exactly like it was back in the PS1 and PS2 era of games like FF7,8,9, and 10 with the twist that now to get to some place one must have certain monsters, known as mirages, to proceed. Some of them will use ice abilities, flying, smashing and the like to help our protagonist continue on their journey. Side quests are present as expected with A LOT of them waiting to be completed. Some of them involve classic Final Fantasy characters and those interactions between them made worth the effort.
Overall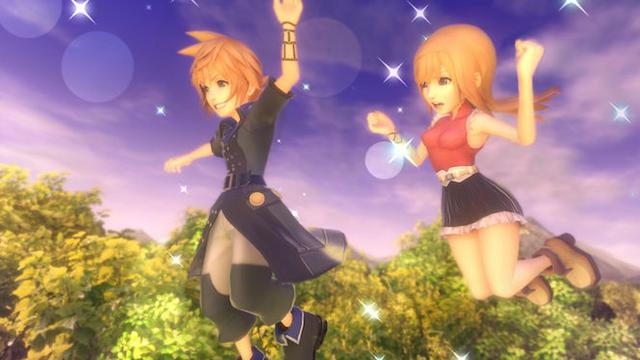 World of Final Fantasy is for me like Persona Q2 was: a spin-off title with AAA canon vibes to it. A fine good use of licensing across many generations put together nicely and, a good example that no matter in what category a game may end up being, if developers put love into it the result will please players. Available on PS4, PS Vita, Switch, PC, and Xbox One.
4.5 out of 5
Thanks for Reading.
- As expected, video games made this possible.
---
---
LOOK WHO CAME:
Exber