Last year these blog series suddenly died after some personal things I had to go through, and when I remember about it, it was time for some other blogs. This year, however, that is something I don't want to see happening. 2021 is going to be the year where my backlog will finally cease to exist... the original one, that is. The next one will be about new games be them new series and recommendations from people around me but for now, this backlog is reaching its end with flying colors. On to the list.
1) Xenoblade Chronicles
Be this an statement of how this game does wonders in the Wii console. First, the open world scenery hooks you in into the rich and unforgettable landscapes to explore upon. Second, the gameplay is like an improvement of what Final Fantasy XII was and finally, a story full of this interesting narrative with some emotional punchs adding to the richness of the game as a whole. In the following weeks I'll come back to reviewing games with this one as it is the first Retro GOTY nominee for 2021.
4.5 out of 5.
2) Donkey Kong Barrel Blast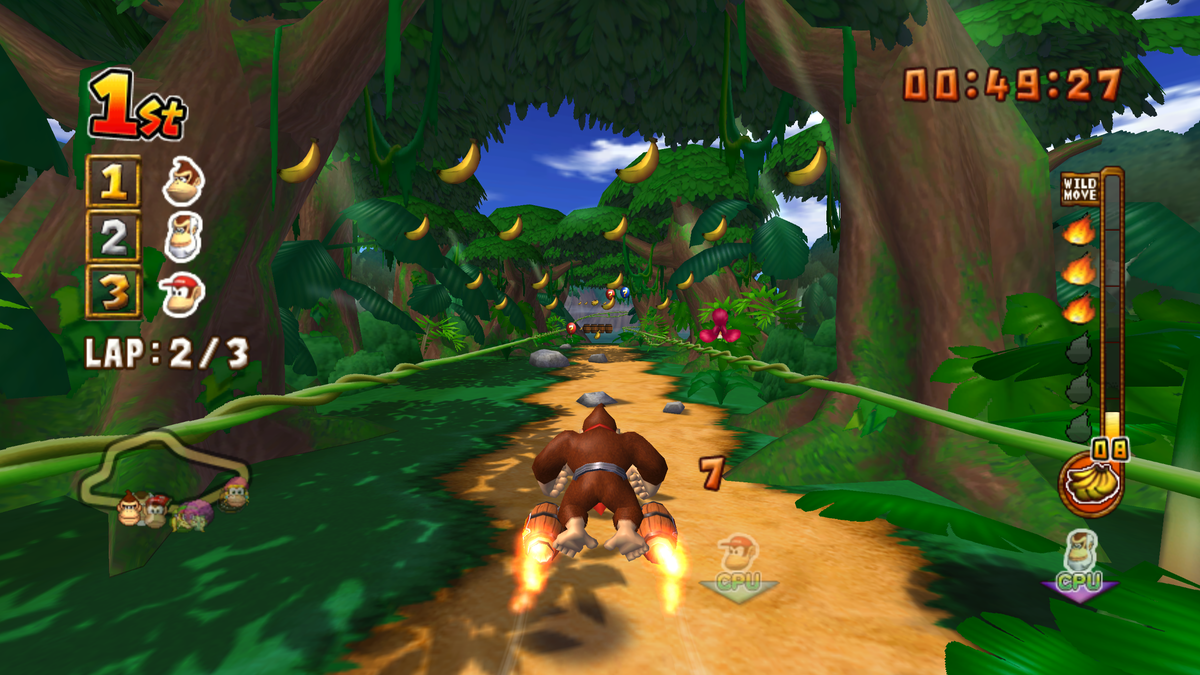 Why does this game feel so simple? At first, it looked fun with some clear issues mostly with its controls but then comes the lack of variety, chore of races, and length absence. Sure, if you want a game which can be beaten in like 2 hours look no further, just know that as a racing game it falls flat. Only positive points would be the quick and somewhat races and kinda decent tracks. Play this game at your own risk. Jungle beat is a better game.
2.5 out of 5.
3) Final Fantasy III
I beat this game on a Windows Phone back in 2013 but the phone had to go away and thus my save data within it. For this I tried the DS version but couldn't stand the frame rate and went with the PSP port to find myself playing a classic Final Fantasy title all over again. A well needed throwback to the good old days.
4 out of 5.
4) 007 From Russia With Love
Being my brother and I both die hard James Bond fans hearing the sad news of Sean Connery's passing meant one thing: let's honor him by playing a James Bond game that he starts. While the game falls short of a great action game, it does justice to the 007 brand just fine. R.I.P Sir Sean Connery.
3 out of 5.
5) Super Meat Boy
Boy, this game had me swearing a lot out of frustration, like a lot. Yeah, I know Super Meat Boy does that to many people but oddly enough, it's a hell of a game. Right the point in its execution to satisfying results. Beating a world felt great and beating the game meant the world for me. As a masochist I am, this was pure joy.
4.5 out of 5.
6) Final Fantasy Type 0
Out of the few Final Fantasy spin off titles I have played, this one did things by not just feeling like a complete new IP but using the FF lore to great effect, specially the Fabula Nova Crystallis it is based upon as with Final Fantasy XIII. Daunting with content, dense, and with an ending worth the journey. Seriously, If I want to feel something deep inside breaking in me, I watch that ending a wow, kudos to this game's narrative.
4 out of 5.
7) Bloodstained Curse Of The Moon
Having this game before on the 3DS, there was no reason to come to it, right? Besides from the replay feeling, I wanted to earn some trophies on my VITA and this game fit the bill. Also, I noticed how rushed I was when I first played it. This time I got to watch more endings and experience those final boss battles worthy of the genre that is 2D side scrollers.
4.5 out of 5
8) Pandora's Tower
Probably the best surprise I have had in years. A game that just lurks in your backlog and that people often tend to underrate for being quite a strange game not appealing to many? Where do I sign? Even though that yeah getting the hang of it takes some time once you do you're in for a mix of genres not commonly seen that screams originality. Some may not like the grind nature of Pandora's Tower but I, for one, loved it. Another nominee for my Retro GOTY 2021, and another review incoming.
4.5 out of 5.
9) Just Dance 2021
No game in the Just Dance will ever get a score higher from 3.5 as long as they continue to offer the same "variety" of songs. I mean, we love dancing to the top trending hits but what about those tracks that can reach a greater audience thanks to this game? No? Sadly Just Dance 2019 has been the last game to be this inclusive and a good recommendation for people that don't even like the series.
3.5 out of 5.
10) Mario & Luigi Superstar Saga
Having started the Mario RPG game last year with Super Mario RPG and Paper Mario, I wanted to see how this portable one would play out. Interesting enough, it plays just a one expects to do. The limitations of the hardware didn't hold back its potential though it indeed hurt the end product a little. Too ambitious for its own right making it a little hard to follow.
4 out of 5.
11) The Legend of Zelda Four Swords Adventures
Wind Waker and this one shared a same fate: beating them took me forever. Nonetheless, Four Swords is a Zelda game I did enjoy and felt good playing it. As a Minish Cap fan myself, seeing Vaati return was a treat and that four link gameplay is top notch. This game has this arcade feel to it that I had no idea would work this good on a Zelda title, let alone one made for a home console. Learning from what Four Swords did before it, this sequel proved different genres can be tackled into a series unknown to it and deliver a good time.
4 out of 5.
12) Salt and Sanctuary
Praise be the poetry in this game's name, its atmosphere, and overall production values. As a tradition, being called to try games with uncommon titles keeps surprising me. Salt and Sanctuary is the so called 2D Dark Souls and while I haven't played a soulslike game in my life, I just adore what this game is. Just was the case that not only one replay was played but three, as getting the platinum was my thank you note to this piece of art. So far, the only game that I have given a perfect score this 2021 and once again, a Retro GOTY nominee with a review on hold.
5 out of 5.
13) Kirby Mass Attack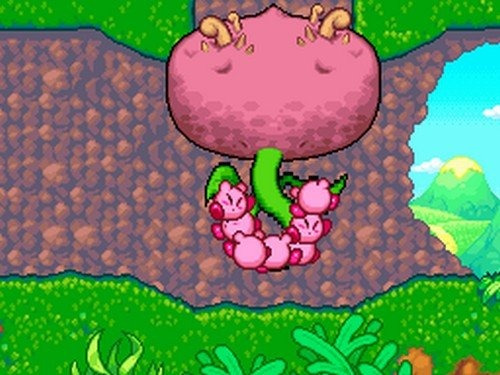 Not gonna lie here, the trailer had me hyped, and that's exactly while I don't watch trailers for any medium. My expectations quickly dried out as the chaotic gameplay interfere with the good level design making for a game that no matter how much I wanted to enjoy it, I just couldn't at times. Still, it is a Kirby Game to its core with a potential not fully developed that when it works, it feels home with the series.
3.5 out 5.
14) DOOM
For over 5 years this game has been on my backlog after knowing that the version I had played first was the Game Boy Advance and thus, not the best way to enjoy DOOM. 2021 came and with it a desire to put this game out of the backlog, and oh boy why I did wait this much? Gore, fast paced action, quick and enduring campaign that you easily beat in one day, but what a hell of a ride this is. Would have given this bloody fest a perfect score, but that final boss was a joke compared to the rest of the game diminishing the game's final act.
4.5 out of 5.
15) DOOM II
A sequel's job is to get better over the previous mistakes made before it, right? Well, enter DOOM II to mix everything up to get lost in its ambition to bring something new. Really, why was this game released so fast? I know that back in the 90s that was the norm for some games, but new and more balanced additions would have sufficed. Were the platforming sections necessary? Where did the bosses go this around? And why, why the last boss is, in fact, worse than in DOOM? I better stop, DOOM II just didn't do it for me. Points for delivering that great formula and few good levels as everything else was a copy paste, sadly.
2.5 out of 5.
Thanks for Reading.
- As expected, video games made this possible.
---
---
LOOK WHO CAME:
Exber
PatBateman17 31
RLZ 1