So like a lot of people I've been "Doom Scrolling" twitter the past couple days. Certainly a bummer for the most part but the random tweets that I come across from The Iron Sheik make it worth it.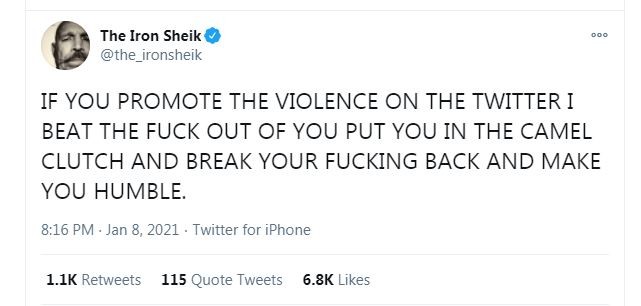 ---
About ooktar
one of us since 12:17 PM on 04.18.2013
Somewhere in the backwoods of California, in a cabin with 1 cat (Rip Fuzzy Butt Boo Boo, Claw and Kisses) and little contact with the outside world. Locked away with nothing but a PC, a guitar, and an near limitless supply of spam. A small yet courageous man works day and night in order to make sense of humanity's greatest secrets. Using his abilities as a skilled video games player, amateur musician, and wannabe film connoisseur, he manages to keep himself busy with his work of saving the world through his studies of Heavy Metal, Silly Pop Culture, and Raccoons.