This month's Band of Bloggers prompt is all about darkness. It's the spooky month after all, and what's spookier than darkness? This topic lends itself to all kinds of thoughts and discussions on how games have used darkness and light. The first games that come to mind are stealth shooters; games like Metro where destroying or otherwise disabling light sources is part of the gameplay. The Darkness is another game that not only lets you hide in darkness, but it's required if you want to utilize all of your abilities. If I recall correctly, standing directly in the light actively harms you. I really wanted to be super literal with this prompt and just talk about The Darkness, since that was a really good shooter from the dawn of the 7th generation of gaming, but I'm going to focus on a different kind of darkness instead;

(.mirrorS morE fuN thaN televisioN)
Max Payne begins in a charming little home in a New York suburb. Max returns home from his station, ready to spend an evening with his wife and infant daughter when he realizes that someone is in the house who shouldn't be there. Max was too late to stop the double homicide and that fact haunts him through at least the first two entries in a trilogy of gritty, third-person shooters. This kind of story beat isn't uncommon in general, but Max Payne launched early in the 6th generation of gaming. It was a time where for the most part video game violence was more cartoony and light hearted, but Max Payne did everything it could to present a realistic and grim world.
The tonal darkness of Max Payne is underscored in the level design and setting. New York City is in the grip of a record breaking blizzard; it's so bad that certain NPCs have begun to assume they're caught in a literal apocalypse, specifically Ragnarok. Even if any of the levels took place during the day, such a blizzard would probably obscure the sun to the point that high noon would look like twilight. To break up the dark, gritty, crime-drama and gang shootings, Max Payne also features several very different levels. From time to time the plot will contrive ways to knock Max out, and during these breaks he'll have nightmares. They never feature gunplay or enemy encounters, but instead you'll have to run through a maze while you hear a baby crying all around you. It's straightforward to start with: follow the red line. If you run off of the red line, you fall to your death and need to restart from the beginning or a checkpoint. It sounds simple at first, but then the path begins to diverge until you realize you're essentially in an invisible death maze.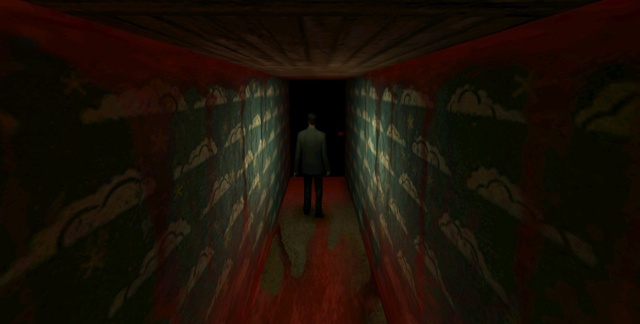 (.thE flesH oF falleN angelS)
It's not just a singular maze either; these dream maze sequences happen a few times as the main plot unfold. The two mazes are dream sequences which lead to his daughter Rose's crib. It's easy to conclude that these segments are meant to contextualize Max's feelings of loss, grief, and just how alone he is in the world since this night his family was taken from him. The second time you're presented with the maze, it ends with Max confronting himself in his dreams, and it's very easy to associate that with self-loathing in addition to the guilt. Recently, a lot of mediocre or just plain bad games have been given a free-pass based on the themes conveyed in their writing. In July of 2001 a really good third person shooter launched, and within it was a stark, unflinching look at what such a brutal loss does to a man. It's not uncommon to see a cop lose a loved one and swear bloody revenge, but it's much less common to watch as they battle with themselves just as hard as they do the hoards of cronies and thugs who stand between him and the people who started it all. Max Payne greatly represents darkness, not only in the literal sense, but in the metaphorical sense, and it deserves all of the praise it recieved and then some.
---
LOOK WHO CAME:
Shoggoth2588
LaTerry 44
Batthink 1