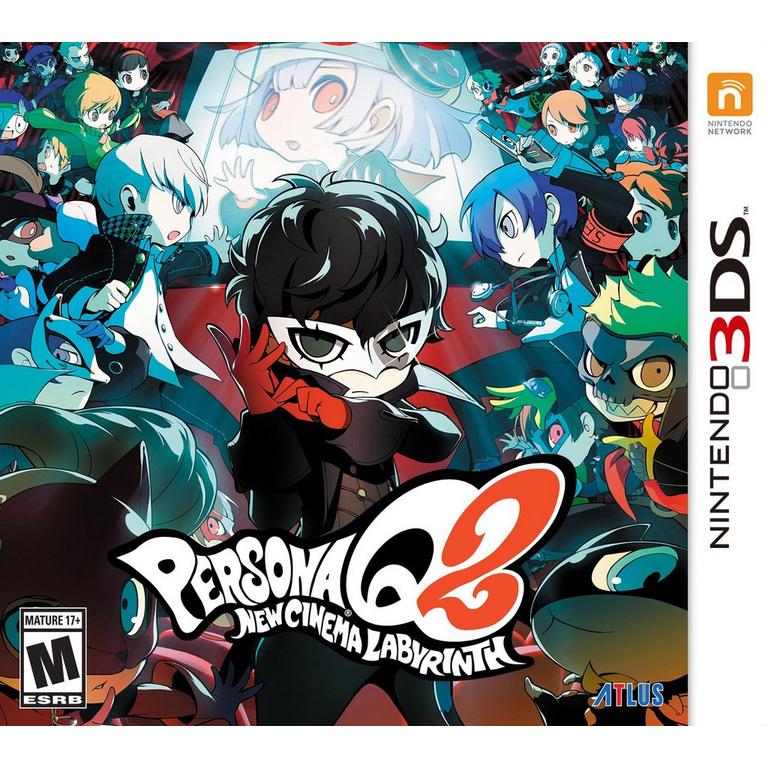 Just like in 2011 and in 2017 Persona Q2 granted me the opportunity to have a GOTY corresponding on such year, these two previous examples being Radiant Historia and then Persona 5. New Cinema Labyrinth didn't cause so much of an impact in comparison to its predecessor and I know it was because of not being dubbed in English just like the rest of its previous entries, and for releasing on the 3DS just when most people had moved on to a Switch. However, if one gets past those limitations of some sort, the game that awaits is but one that works perfectly on both old and new 3DS systems and that learned not only from its predecessor Persona Q but from all of the previous persona games before it delivering a swan song for the 3DS and an hommage to the series as a whole.
Overview
Focusing on Persona 5's cast, the story begins much like its predecessor as the protagonists get into another world different from the one they were used to visit to fight shadows and stuff. This time around, however, most of it is with this cinematographic feel to make players feel they are watching a movie, and the game does just that. The intro will play later into the game hence enhancing the plot and from then on the Phantom Thieves must find a way out of the Cinema world while traveling to different movies (amazing Jurassic Park reference, by the way) and joining forces with both the cast from Persona 4 and Persona 3. Practically this feels like Persona Q but with more personality and tons and tons of new content to do in order not to make the game feel too linear. Those interactions between the three generations of heroes are top-notch.
Graphics
To expect a lot from a 2019 3DS game is asking too much. What is to be expected is from Atlus to improve further and refine from its previous entry, which it does with flying colors. Persona Q2 is based primarily on Persona 5 so taking inspiration from it can be quite difficult to follow knowing the limitations of the handheld but everything was given the proper thought to make the game look fresh and alive just like its console big brothers. From the menus to the newly added unison skills, the chibi art style this game follows is boosted by the amazing production values that were put while making this game. Those animated movies at certain points of the game and the unexpected cut scenes in-game engine... Très Magnifique.
Gameplay
Oh boy, where to start? For one, Persona Q2 is a dungeon crawler from start to finish but not without some nice tweaks and additions to the genre, a staple of the Persona series. The map system from Etrian Oddisey series remains but that is but simple task to take care in comparison to everything that happens on the upper screen of the handheld. Battles now follow the quick action selection from Persona 5 and it looks and feels great thus making the battles more fluid with an effect on the pacing that only encourages one to continue playing. Something completely new to the game and to the series up to that point is the unison skills. Unison skills are special attacks performed by two, three, or even four members of the party but don't worry, one doesn't need to have them all to perform just action. Once one member of a specific unison skill in is your party, such action can happen at any time when said character delivers a critical attack and enters in boost mode, the game will ask you if you want to proceed, just like an all-out attack or those special follow up attacks which names I don't remember in Persona 4 and 5. How to acquire these amazing unison skills? Complete the many side quests the game has to offer. Granted, not every side quest unlocks a new unison but completing them unlocks even more and the rewards vary from not only unisons but interactions between all of the cast members and the option to fight the velvet assistants. Do I need to say that completionists and/or fans of the series will have a good time unlocking all of this? Those 108 hours were totally worth it.
And don't forget the dungeons and the boss battles. One thing that really bothered me about Persona Q was the difficulty the game may have at times (especially during the 4th dungeon) where the puzzles required the use of a guide for some, I included. Persona Q2, on the other hand, makes use of the plot, settings and everything at its disposal to make dungeons memorable and enjoyable without making them easier. Each boss is given plenty of game time before its boss fight making the clash not only personal but worthwhile. Loved the Persona 4 reference near the end of the game, and the execution of such reference is done just fine. Persona Q2 is a spin-off title, right? We certainly need more spin-off titles with these canon production values, and for a handheld game, this one felt like a AAA console one.
Sound
Ok, the Persona series has had these incredible soundtrack pieces since the first Persona game back in 1996, and it hasn't diminished in quality ever since. This time around, all four singers give their voices for the intro, fights, and end credits. Seriously, having the singers from Persona 3, and Persona 3 Portable, Persona 4, and Persona 5 seems like a dream come true which certainly is. The soundtrack as a whole is a joy to listen to as remixes from Persona 3 to Persona 5 play during key moments of the game. Only downside? This game was localized but it wasn't dubbed to the English language. Don't get me wrong, this doesn't prevent Persona Q2 from being funny and memorable, it just that listening to the English voice actors from the previous entries would have given this game the perfect match in all of its elements. The song 'Cinematic Tale' sure won a spot in my classes when I apply tests to my students.
Overall
Dear lord, Chie.
Persona games never seem to disappoint me, really. This game says goodbye to Persona 3 and Persona 4 and opens many possibilities for a series that is now one of the best the genre has to offer. Just like Persona 4 in 2009 and Persona 5 in 2017, Persona Q2 won its GOTY for performing near perfect in every area and for delivering a strong message. A spin-off of AAA proportions, the perfect send-off for the Nintendo 3DS, and a persona game since Persona 2 where Philemon returns, albeit in its butterfly form, to give you this game's beautiful message.
A Portable game that feels like a home console one, that's Persona Q2. A spin-off title that turns out to be canon, that's Persona Q2. I loved this one.
4.5 out of 5
Thanks for Reading.
- As expected, video games made this possible.
---
---
LOOK WHO CAME:
Exber
PLANET P1SS 69 5
Wes Tacos 1
Slimybear245v20 1