Video games are fun, unless they're not, but for the most part video games are fun! This month's Band of Bloggers prompt is all about those parts of video games that don't really make logical sense but which are fun for the sake of fun. Not necessarily core gameplay, but segments of games that just cut loose and throws the player into intense situations. I love Just Cause 2, but that game starts at 11 and never really throttles back. I also really liked Dark Void but the core gameplay for about three quarters of the experience is incredibly fun. Actually, I think I can work with that.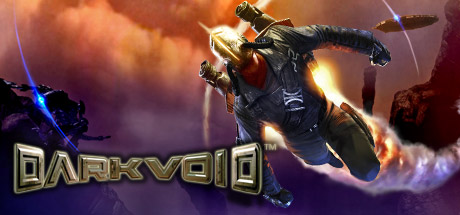 (They hide his face because of how generic it is)
So which of you remember Dark Void anyway? During the last console generation, shooters exploded in popularity. It seemed like every game developer and their children were developing a shooter of some kind. A lot of them played very similarly though: You play as a fat, slow dude, crouch-walking from cover-point to cover-point, waiting for enemies to poke their heads out of cover so you can thin their numbers. Structurally, shooters from last gen were built in a very clear pattern; shooting gallery, hallway, shooting gallery, hallway, shooting gallery, turret section.
Dark Void starts out like this; you play as Atton Rand from Knights of the Old Republic 2 only now he's a World War 2 fighter pilot. He flies through a wormhole in the Bermuda Triangle and winds up in a crumbling city that's being invaded by alien robots. DIsappointingly, the weapons you find are very recognizable: You have your pistol-type weapon, your assault rifle-type weapon, a sniper-type weapon, a disintegration weapon, and grenades. They're all upgradable but the upgrades do things like increase accuracy or ammo capacity so nothing too exciting yet.
The exciting thing happens later on during the second or third level when you find the Jetpack. Now, while the aliens robots are hiding behind cover waiting for you to pop your head out of cover, you can just fly over them on bombing runs. The level design opens up a lot too, with more emphasis on space and verticality. As soon as you get the jetpack, you can use it whenever you want without restriction. If you're inside of a building, in a tight corridor, you can activate the jetpack and smear yourself across the walls and ceiling, and it was really funny to me that I was allowed to do that.
Third person shooters are cool, but it's a genre that was definitely oversaturated. Jetpacks are also cool, but they don't get used nearly often enough. Maybe part of why I loved Dark Void is because there haven't been several dozen jetpack games launched in the last decade. After all, there's nothing wrong with games like Vanquish, Binary Domain, Gears of War, Spec Ops the Line, Mass Effect 2, Uncharted, or any of the other third person shooters, it's just that they start to blur together after a while. I'm sure jetpack games would also blur together if there were a bunch launched in the same decade. Actually, thinking about it a bit longer, that probably wouldn't happen because jetpacks are more fun than puppies in a bounce-house.
---
LOOK WHO CAME:
Shoggoth2588
LaTerry 43
Zalno 14
TheBlondeBass 10
Wes Tacos 1