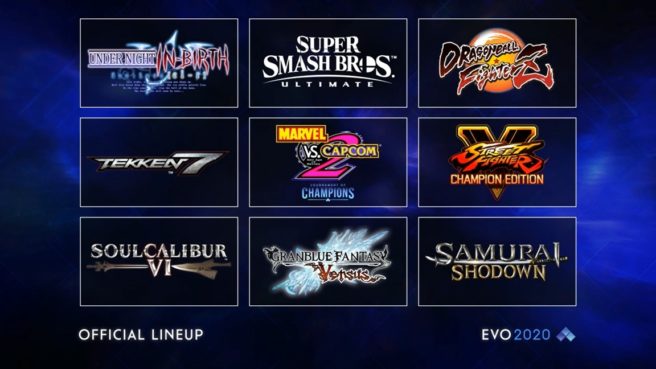 It's the 9th year in the row since I'm talking about this year's EVO Lineup. Wow, time flies fast…
Mr. Wizard and Mike Ross recently did their annual game announcement stream for this year's EVO and we got quite a lineup here! We have a total of nine games once again this year.
If you have been following these blogs for a long time, you already know the rules. For those who don't know how it works, these are my opinions about the lineup. And as usual, I will not mention Street Fighter at all because once again: EVO was born on Street Fighter since 1996.
Okay then, let's begin!
Tekken 7
Tekken 7 is once again back at EVO this year under Season 3!
With brand new characters, stages, and balance changes, expect to see more action from the Tekken Community this year. We've seen what happened at EVO Japan 2020 this year since Leroy-mania has run wild all over the tournament. And last year, we saw Arslan Ash make EVO history by winning both EVO Japan 2019 and EVO 2019 for Tekken 7. The main question is… who's going to win this year?
Who knows… Let's see some Good Ass Tekken!
Super Smash Bros. Ultimate
Smash Ultimate had an impressive 2019 overall from tournaments to awards. And once again, the game makes a second appearance at EVO this year.
The game had the highest number of entrants with over 3492 players competing at that tournament. And now that the Fighter Pass 2 DLC is underway, we're going to figure out who's going to be the most broken DLC character of the roster.
MKLeo won last year with Joker, but will he come back with a second W under his belt?
Dragon Ball FighterZ
DBFZ makes its 3rd appearance at EVO this year and this game is still making waves across the tournament scene. This is the second Bandai Namco game in the lineup.
SonicFox and Go1 had the biggest rivalry of 2019 when it came to this game. Both players are excellent and they have shown their skills to the world. Go1 got his revenge against SonicFox last year and won EVO 2019. Both men are 1-1 in Grand Finals. Who will break the tie and become the best DBFZ player at EVO? Who will step up and become the new champion? Find out at EVO 2020!
Samurai Shodown
I was very excited about this one right here. Samurai Shodown was mad hype last year, especially when it came to Top 8 and the longest 0 seconds ever in a match.
This is the second year that SamSho arrived at EVO, and this time under Season 2. We got more characters this time around, along with more returning characters and rebalanced gameplay.
If you have never seen competitive SamSho, you have to watch it and understand that this game is more about patience and fundamentals. Glad to see it back once again this year.
SoulCalibur VI
Making a second appearance at EVO this year, SoulCalibur VI is the second 3D fighting game in the lineup, as well as the third game from Bandai Namco to make it to the lineup overall with the first two being Tekken 7 and DBFZ.
With Season 2 underway, we have several balance changes along with new moves for the cast and new mechanics. And with Haohmaru soon coming to the roster, prepare for maximum damage from that character.
BNE|Yuttoto won SC6 last year while using Voldo, which is a character no one saw coming. Who will be victorious this year?
Under Night In-Birth EXE:Late[cl-r]
UNIST made an impressive debut at EVO last year, and the players showed why people love playing this game. UNICLR is making its EVO debut this year, which is amazing to see the series get more love.
I'll admit that I don't know much about the Under Night series, but the games are actually fun to play. And with UNICLR coming out in April, I can't wait to see what these players can do.
Granblue Fantasy Versus
When I released the Fighting Game and DLC blog a couple of weeks ago, I said that Granblue Fantasy Versus would be at EVO as a side tournament. BOY, I WAS WRONG!
Granblue Fantasy Versus is making its EVO debut this year and it's going to be very interesting, to say the least. This isn't a fighting game that I wasn't expecting to show up, but the gameplay kinda reminds me a bit of Blade Arcus.
Marvel vs. Capcom 2: Tournament of Champions
Now this one I didn't see coming, either!
For the first time since 2010, Marvel vs. Capcom 2 returns at EVO not only as an 8-Man Tournament of Champions, but also the 20th anniversary of MvC2!
As you guys may know, this is an invite-only tournament, showing the best MvC2 players in history. Past champions such as Justin Wong, IFC Yipes, Sanford Kelly, and Duc Do will automatically be entered in the tournament. The remaining four will have to compete in NorCal Regionals, one of the Big E Gaming events (most likely April Annihilation), Combo Breaker 2020, and the Last Chance Qualifier that will take place on Day 1 of EVO.
If you know how great Marvel vs. Capcom 2 in the FGC, you'll know what to expect. IT'S MAHVEL, BAYBEE!
As always, EVO 2020 will be back once again at the Mandalay Bay in Las Vegas on July 31-August 2, 2020. Pre-registration is live right now, so get right on it. Don't forget that Guilty Gear -STRIVE- is also going to be at EVO this year as a special exhibition tournament, along with AnimEVO and other side games. Trust me, there are A LOT of side games.
Now before I end this blog, I am aware that there are people who are not happy about Mortal Kombat 11 not making it to the lineup this year, marking the first time in 10 years since there were no NRS games involved at EVO. There are also people who have this mentality that if a fighting game doesn't make it to EVO, then it is considered a dead game.
Let's get one thing straight: No fighting game is required to be part of the EVO lineup in order to be alive. The only time a game dies is if no one is playing it. There are several tournaments outside of EVO that support various fighting games all over the world. You just need to look.
Until then… Train Up, Fighters!
---
LOOK WHO CAME:
Virtua Kazama
Nior 11