I just saw RiffRaff's 10 Day Video Game Challenge from Facebook. I had no clue the challenge had been extended to me, so I guess I'm writing another blog within just a couple months.
1) Sonic The Hedgehog 2
I played this game at a daycare I went to. One of the employees, Christina, brought her Sega Genesis and a copy of Sonic the Hedgehog 2. I remember playing in Emerald Hill spindashing as Sonic and that's it. I was hooked. A video game character breezing through a stage so quickly by revving up into a ball blew my little mind. When I started playing Chemical Plant Zone, I was blown away a second time. The stage music, layouts and Tails also sent me on the road to being a Sonic fan for life. Sure, the series has seen rough times, but I'm still repping the blue blur. This series is where the speed side of my username came from.
2) Teenage Mutant Ninja Turtles 2: The Arcade Game
Speaking of that daycare, I played TMNT 2 on the NES there too. That was another influential game. Most of the time, I watched the older kids play, but when they left to do something else, I got to play and I loved it. I mainly played the first stage in the bowling alley as Leonardo, but that was more than enough to get me excited. And don't get me started on the bodacious music. This franchise is where the ninja side of my username came from.
3) Super Mario Bros
For my last daycare entry, I'd like to talk about the iconic Super Mario Bros. I'm so glad I played this as a kid. I've read online that some people have never played a Mario game which I find, frankly, outrageous. I think everyone who likes to play games should play Super Mario Bros, even if it's only Level 1-1. To me, besides Pac-Man, Mario is the foundation of modern video games. So glad I got to try it out at an early age.
4) Marvel: Ultimate Alliance
A year before Marvel Ultimate Alliance 2 came out, I realized I hadn't played the first game, so that become a priority to check out alongside a few other games I missed like Kingdom Hearts. At first, I didn't really understand the top-down gameplay, but after a while, I started to get into it and really enjoyed the wide variety of characters and locations from the Marvel world, including some I didn't know at the time. I also got a Special Edition with an awesome behind-the-scenes DVD. I'm so glad the series is finally coming back after a decade.
5) Yakuza 6: The Song of Life
This one is important thanks to the DTOID community. I heard many members praising this series that I was only vaguely aware of. I decided to play the demo for Yakuza 6 and I fell in love. This game is so much fun from the combat and characters to the story and outrageous humor. I knew I started with the ending of the series, but I've had some much fun with it as my first entry, I don't regret it. I got Yakuza 0 afterwards but I enjoy 6 more, which I know is heresy. I even got a friend into it so I feel like I'm introducing people to the series now. Thanks so much guys.
6) Super Smash Bros Melee
My family didn't have a Nintendo home console until the Wii so I didn't know about the Smash series until my friend Josh showed me Super Smash Bros Melee at his house. I couldn't believe all the Nintendo characters were in a massive crossover game including some I never heard of like Marth and Ness. I was desperate to play more. It was the first time I discovered a massive game brimming with fan-service and love. It was like I was introduced to this well-known treasure I somehow didn't know about.
7) Fire Emblem Awakening
Since I didn't have a Nintendo home console growing up, I started playing a lot of Nintendo series for the first time this decade including Kirby, Zelda, Metroid and Yoshi. It's unfortunate but I'm glad I get to appreciate them at an older age. One of those series is Fire Emblem. I heard a lot of praise for Fire Emblem Awakening. Even though I'm not an RPG person, I decided to try out the demo and I was really getting into it. Once I got the game, it became one of my favorite 3DS games and now I keep my eye out for every new Fire Emblem game. The characters, combat, turn-based gameplay, story and relationships just hooked me.
8) The Legend of Zelda: A Link Between Worlds
I knew I missed out on one of Nintendo core pillar franchises so when A Link Between Worlds released, I played it and wow. I really didn't know what I was missing. I haven't been able to get into third-person Zelda in the same way as top-down Zelda. I just loved the exploration, characters, alternate world, items, dungeons, music and that nasty ol' Yuga! I hope people don't take their childhoods growing up with these series for granted, because I missed out until only recently.
9) The Witcher 3: Wild Hunt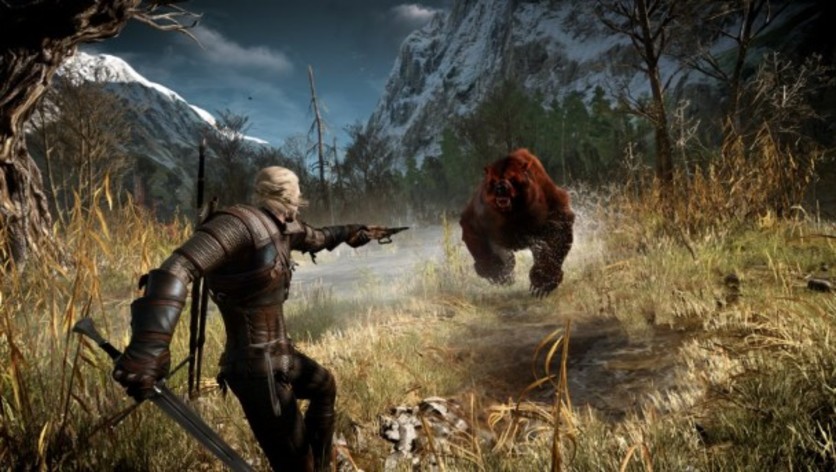 Witcher 3 was my first PS4 game and what a game to start with. I heard all the praise and decided to jump into a game I knew almost nothing about. I'm still making my way through the gargantuan game. The world is massive and brutal. Man, some of those monsters still make me turn the other way. The characters are so well defined; my favorites are Geralt and Triss. CD Projekt Red made a gorgeous masterpiece and I'm so glad I've experienced it.
10) Sonic Heroes
This was the first Sonic game I owned and it might just be my favorite game of all-time. It has some glitches and slippery controls but I adore it. I wish the newer games played like this (minus the slippery movement) or the Adventure games because you were exploring a stage quickly, not racing through it. The Ocean Palace music still takes me back to the days of the early 2000s that I miss so much. The music, locations and different teams of characters are etched into my mind. "Sonic Heroes, Sonic Heroes, find you, confine you, defying your reign! Sonic Heroes, Sonic Heroes, setting the stage for the heroes parade!"
This is the first blog I wrote and posted on the same day, so I'm pretty proud of that. Of course, it might not be as refined as spelling/grammer proof as my previous blogs. Thanks for reading and thanks RiffRaff for getting me to do this.
---
LOOK WHO CAME:
NinjaSpeed
Boxman214 94
Gajknight 88
LaTerry 41
PatBateman17 25
TheBlondeBass 21
Shoggoth2588 20
JPF720 9
AtomicBanana 7