Hello and welcome to this week's discussion of The Orville! If you missed last week's, you can find it here. And here is our disclaimer:
Full spoilers are below. Again, the primary purpose of this series of blogs is to creat a space in which we can talk about the episode, with all spoilers in mind. Just remember, there is only one rule to our discussion. Please do not discuss any footage of next week or future episodes as I haven't watched any trailers and don't want future episodes spoiled. Feel free to discuss where you want the show to go, or make predictions. Just leave any actual footage out of it.
It seems like Tharl will likely leave the show after this week. I'm okay with that. But I hope this isn't the last we see of him. I'd love for him to pop up every season or 2 for a guest appearance. That would be sweet.
So the online rumors were true. Lt. Tyler really was the Krill teacher. She had her appearance altered in order to exact sweet vengeance upon Ed. And she was dedicated! She became a convincing human. She was flirtatious and sexual. She even canoodled with Ed! That's pretty far to go to get revenge. I really wonder, as Ed did, if she truly felt nothing. I think she would have had to. She was a teacher, not an actress. To slowly woo another person over a few weeks or months would be extremely challenging if you actually felt nothing towards them.
So he falls for her. She convinces him to go on a little vacay with her. They go off on their own in a little shuttle. Krill appear. They capture Ed and convince him to give up his command codes. Of course, this is something the Union is prepared for. He gave them dummy codes that would unlock vast quantities of false information. So much that it would likely take captors a few days to realize they've been misled. It buys the captain a few days to escape or be rescued. If the captain dies, no real information was given. It's a simple, but effective solution for this situation.
But then there's a twist. Ed was facing consequences of killing his enemies in battle. But suddenly his enemies are facing the consequences of killing their enemies in battle. The Chak'tal appear. They're a hideous race of troll-monkey-people. This race had one of their planetary colonies destroyed by the Krill. They have turned to attacking Krill wherever they can. They show no mercy. They take no quarter.
This ultimately leads Ed and Tyler/Telaya to crash an escape pod on an alien world. The set for the forest area was so familiar. It looked like it was ripped directly from Star Trek Voyager. The crash and must hide from the aliens. Telaya wans to use Ed to obtain rescue, but she must rely on him as she cannot be exposed to sunlight. Fortunately for her, Ed is a good guy who happens to have real feelings for her.
Ultimately they are rescued by The Orville. Ed makes a big gamble. He gives Telaya up freely to the Krill as a gesture of kindness. He hopes that Telaya will recognize how he genuinely cares for her. He further hopes that the Krill will recognize how the Union genuinely seeks a peaceful universe.
Will that ever become reality? It's certainly possible. Perhaps the Krill will become the Union's frenemies, sort of like Klingons or even Romulans on Star Trek. Allies when necessary. Antagonists when their interests conflict.
Meanwhile Gordon is attempting a test to become a Command officer. Bortus is certain that he will fail. And, he does. But he hasn't been at it for long. I hope we see more of this. I could imagine this arc lasting the whole season for Gordon, ultimately resolving in an episode where he must take command in an emergency situation. That would be fun.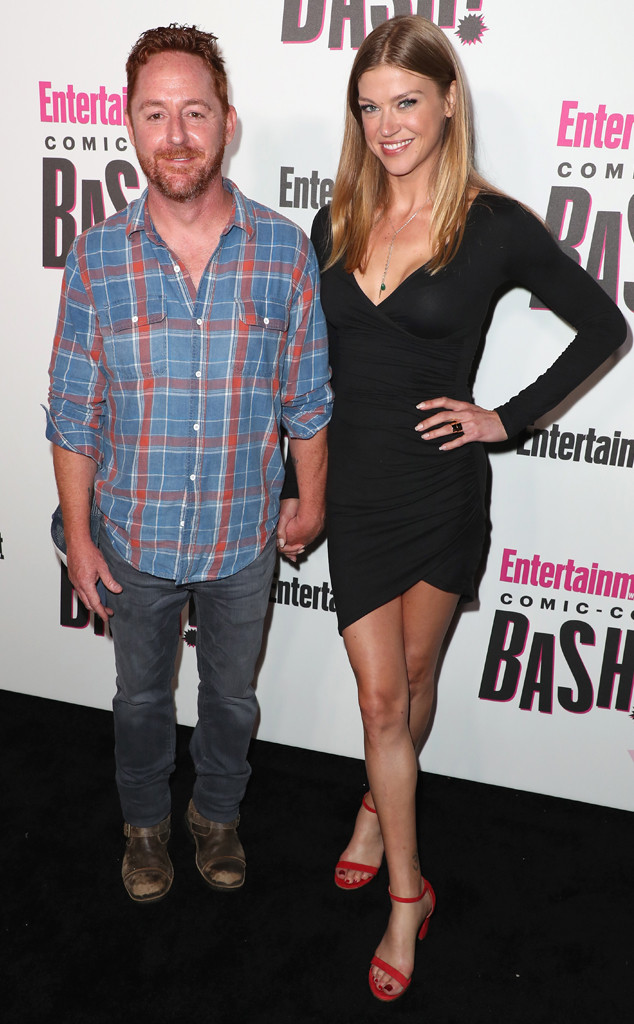 I must take a rare moment to talk about something exterior to the show. Kelly is acted by Adrianne Palicki, a world-class hottie. She could have any man she wants. Turns out she just got engaged to Scott Grimes, the actor who plays Gordon. All I can say is that he must be hilarious in real life to woo a woman so far out of his league in the looks department. Congratulations to them. I hope it's a marvelous marriage!
I am definitely a fan of Billy Joel. I loved the use of his music here. She's Always a Woman was incredibly poignant to encapsulate the Ed/Telaya relationship. It totally worked. Definitely the best use of licensed music in the show so far.
It seems like next week we'll meet our new Security Chief, Alara 2.0. But how will it go? Will she (I read somewhere that it will be a woman) be beloved like Seven of Nine, or derided like Dr. Pulaski? Only time will tell.
I enjoyed this episode a lot. Fantastic sequel to last season's Krill episode. It provided a lot more depth to the race. It gave us a compelling and dramatic relationship for Ed. It was good stuff.
One minor nitpick was that I felt the special effects in space were a little weak. Particularly when the Krill were venting their drive plasma. Just looked a tad cheap to me. It was very odd to me that this week's episode of The Good Place (which is a comedy) had better special effects than The Orville did.
But what did you think? Share your thoughts about the episode with us!
- Domo Arigato Mr. Roboto
---
---
LOOK WHO CAME:
Boxman214
homeoftheblues 42
jasondm300 11
Sharukurusu 8
Kutsufatmo 7