Let me start off by saying I got to go to the show this year courtesy of the Press Pass provided to me. If I didn't get that I may have had to miss out entirely on the amazing crap that happened to me all day!
I had very high hopes going into the event this year despite the fact that I am not the biggest anime nerd on the planet. Last year was fantastic because my Sojiro cosplay was lit and I couldn't walk 10 feet without running into another Persona 5 cosplayer for a picture. On top of that, hanging out with friends, being at the Javits once again (which I love so much) and getting to go to another con.
One thing that changed with the user base this year was that the amount of Persona 5 cosplay felt less than the previous one. Not drastically but it really felt like I had to catch up on the animes to fit in well with the crowd (duh). And yet! Even with not getting recognized nearly as much, anime NYC proved to be just as crazy and big for me this year as it was last. So many random things happened in a single day that I felt like I was young again and at my first con. It was really refreshing and the whole day was a delight.
Another thing that needs to be addressed is I went on and on about how the show will be better than anything else because of how low key it was last year. Well that went somewhat out the window because they definitely doubled in size. The walkways felt more cramped than last year and there was a mishap friday morning about getting people into the show floor. That image is from the crowd POV waiting to get into the main hall, while another line of people are being brought in and there was a celebratory commencement happening at the same time. I feel it was erroneously taking place next to the only entrances for the exhibit hall. They of course didn't have to worry about this the following two days, but it could have been planned better. I certainly wasn't expecting to be standing in that massive of a crowd that soon into the con!
I think for next year they could ease the crowded-ness by utilizing more of the javits (I think they only used one of those exhibit halls. If you add the adjacent one, then you will get more space for exhibitors as well as an alternate, second entrance point for the show floor. Regardless, there were a few moments of too much foot traffic but all in all still a relatively walkable, breathable, enjoyable & relaxed con experience compared to what you would have at the Javits Center.
Book-Off is a chain of Japanese book stores (and more!) that is expanding to the US, with one location in Manhattan, and a few in California and Hawaii as well.
Originally they were a book store but have expanded to more wares, such as figures, music and even guitars. They feature over 200,000 items available for sale and specialize in second hand books. As you can tell variety is their strong point, as they are able to offer you a good amount of different items for a reasonable price. They also attract all generations to their 1000s of stores in Japan and the new locations in the US.
Definitely check them out if you are ever near one. I've been a fan of books my whole life so you would definitely find me at their store. I do like visiting Japanese book shops.
For more go to: bookoffusa . com
I was supposed to do some HW that I planned on our last episode. However, I was so distracted by the things that were happening around me I never got the chance to actually sit down and demo some anime. However I did throughout my day take note of some of the most popular anime by cosplay. It was Fate or My Hero Academia. With lots of RWBY cosplay as well. Persona 5 was probably the third most noticeable for me however it was neck and neck with the Persona 3 cosplay this year. I saw tons of protagonists (and female protagonists) represented. Even an Akihiko and Shinjiro!
Even though I FAILED in my attempt to find three anime series that I didn't know about and watch them to give my thoughts, I can at least tell you about some of the other things that got my attention from the show:
Tokyo Chronos looked fantastic. It is an upcoming VR Mystery VN - that's visual novel if you're not in the know! It is being developed by MyDearest Inc. and scheduled to release early 2019 for Oculus, Steam & PSVR. What caught my eye was the art style reminiscent of the Danganronpa games (also something that you can play in VR) and the fact that I don't think Playstation VR has a visual novel yet. I'm pretty set on getting this game, provided it isn't horror - which I refuse to do in the virtual world - and will be able to tell you guys more about it. I love story focused games, I love mystery and when decision making plays a major role in games and any chance to dust off the VR headset is a win for me.
In the meantime you can check them out and come to your own decision: tokyochronos . com / en /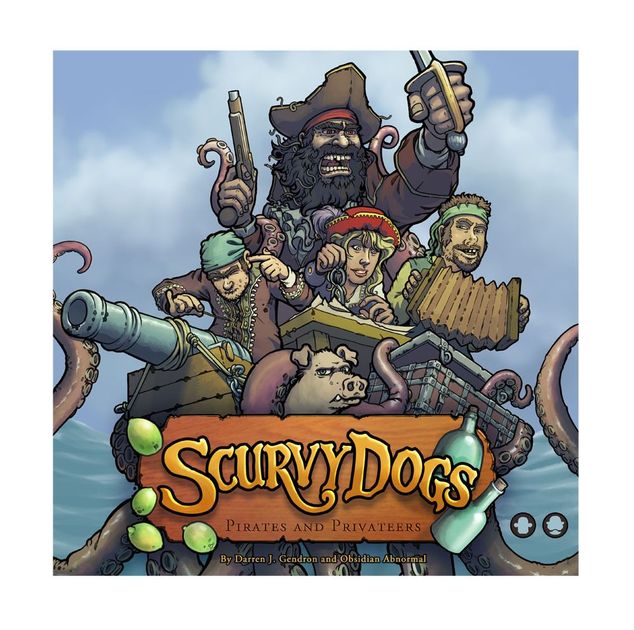 BOARD GAMES! Yeah that's right, one of the things I enjoyed discovering was a board game - fitting considering I bought my first board (card really) game at last year's show from my friend's booth. After I took a fire pic of this Akechi cosplayer with my new camera lens, I was next to a board game booth and decided to talk to them about their game. I want to preface this by saying I am a newb board gamer. Played only a handful from time to time. As much as I'd like to get into them I don't have a dedicated group of friends to play board games with. So take some of my analysis with a grain of salt if you like.
I got to speak with Darren from Scallywags International, who created Scurvy Dogs: Pirates and Privateers. Previously they worked on a webcomic but always wanted to make their own board game about Pirates. When they set out to make Scurvy Dogs they had the goal of creating a fun but realistic - aka historically accurate - pirate game. And there the journey began!
You start with a ship, captain, cargo and a crew. As you make your way around the map, you build your ship and crew and get gold. Decision making comes into play and you can make such choices as: "Do I bribe the British army to get the other pirates hung?"
From what I was told, it is a very quick learn with some complexity into the meta regarding what type of pirate you are, but not overwhelming for newcomers to board games whatsoever - which is perfect for me. 3-5 players, average play time is 90 minutes.
"It's a very back-stabby, front-stabby type of board game. Once you have the rules down the arithmetic is simple enough that you could play it while drinking".
My favorite part about this game was that I got to learn stuff! On the historically accurate aspect of it, they explained that there are no parrots in this game. Apparently, parrots are not actually native to the Caribbean region and only a myth that was introduced likely because of Treasure Island. Instead they chose to put a greater emphasis on pigs, because pirates actually bred pigs (and chickens) to keep around. It's a very nice little touch to the game, that makes it feel more immersive because we're not playing pretend pirates that are historically inaccurate. They lovingly crafted a world based on real details such as the real world locations and historical figures that are featured in their game world.
They do have an upcoming expansion as well, Treasure of Treason, which allows you to steal ships, cargo and crew members from other players. You can find them at conventions across the country and if the game is your cup of tea - or rum - you can get it on their "Oh Ship" deal, a promotion that lets you get two copies for $50 shipped anywhere in the US.
For more info you can go to his website: darrenjgendron . com or squareup . com / store / Scallywags /
I will definitely be picking up the game as soon as possible!
Oh yeah and I danced to some Japanese DDR type game dressed as Sojiro. Video of that will be posted somewhere, hopefully not... After a long day of Con'ing there's nothing you want more than hydration. A friend of my had mad bottles on him and I was told that he would just give me one. SO I WAS TOLD. When we met up he was on line to play (I think it was called Dancing Revolution) a dance game and needed a partner. He then proceeded to tell me that if I wanted the water I had to play with him. I felt betray. Well I did it. The game was pretty fun and had a Just Dance feel to it except I didn't get the music here either. I felt embarrassed, but hydrated.
They also had a nice area dedicated to arcade games and fighters. Off the top of my head you could play Soul Calibur 6, Tekken 7, Dragonball FighterZ and some others on slick Japanese arcade cabinets.
Shout Outs also to Borough Con for having a table there, really hope to go again one day.
Last but not least I want to conclude by thanking Anime NYC for throwing another wonderful event and even more for blessing me with Press Passes. I would be more than happy to cover the even if I get them next year and try to interview more exhibitors and guests. And now enjoy some remaining pictures from the event! (to be posted later in comments!)