Hey it's Nanashi (ななし) and I wanted to share with you my thoughts on the upcoming event Anime NYC. It's an anime con from the 16th to the 18th of November and they were kind enough to give me a pass to get in and cover the show.
I do like to be fortright and let you know that that is the reason behind this write up, otherwise we'd just be doing usual podcast episode posts over here.
Last year this convention took me by surprise because it seemed like it would be just okay and I wouldn't feel like I had to check it out. Yet it surpassed any other con I had been to that year - with the obvious exception of Magfest (duh!).
First and foremost, as a fresh new convention only in its second year taking place in the Javits, YOU CAN HAVE SOME PERSONAL SPACE! That horrible element at large "comic based cons" where you're basically walking around in a constant slow moving line - not disimilar to the roman turtle formation - wasn't the case at Anime NYC at all. You could totally relax and had plenty of opportunity to get away from the chaos, although still had a lot of hustle and bustle in places where it was appropriate, ie. the show floor.
As a slowly aging guy with achy feet, it's nice to want to go to a part of a con and actually get there in a few minutes. Full disclosure: Nanners is always for supporting new cons for this reason. The first few years are always golden!
Another thing is that there was just plenty of stuff for me to do there. One of my biggest regrets lately has been not getting to check out much anime as of late. I got to see the first season of Parasyte, a little of the Persona 5 anime and another one here or there. Pop Team Epic is pretty good too. SO it naturally would seem like this wasn't the place for me but that wasn't the case. They have games, cosplay, panels, and so much more. Even if you aren't that deep into anime, like I wasn't, you should definitely put this show on your radar regardless. It increased my interest in watching anime in addition to getting to meet tons of cool people that I stay in touch with on a regular basis now.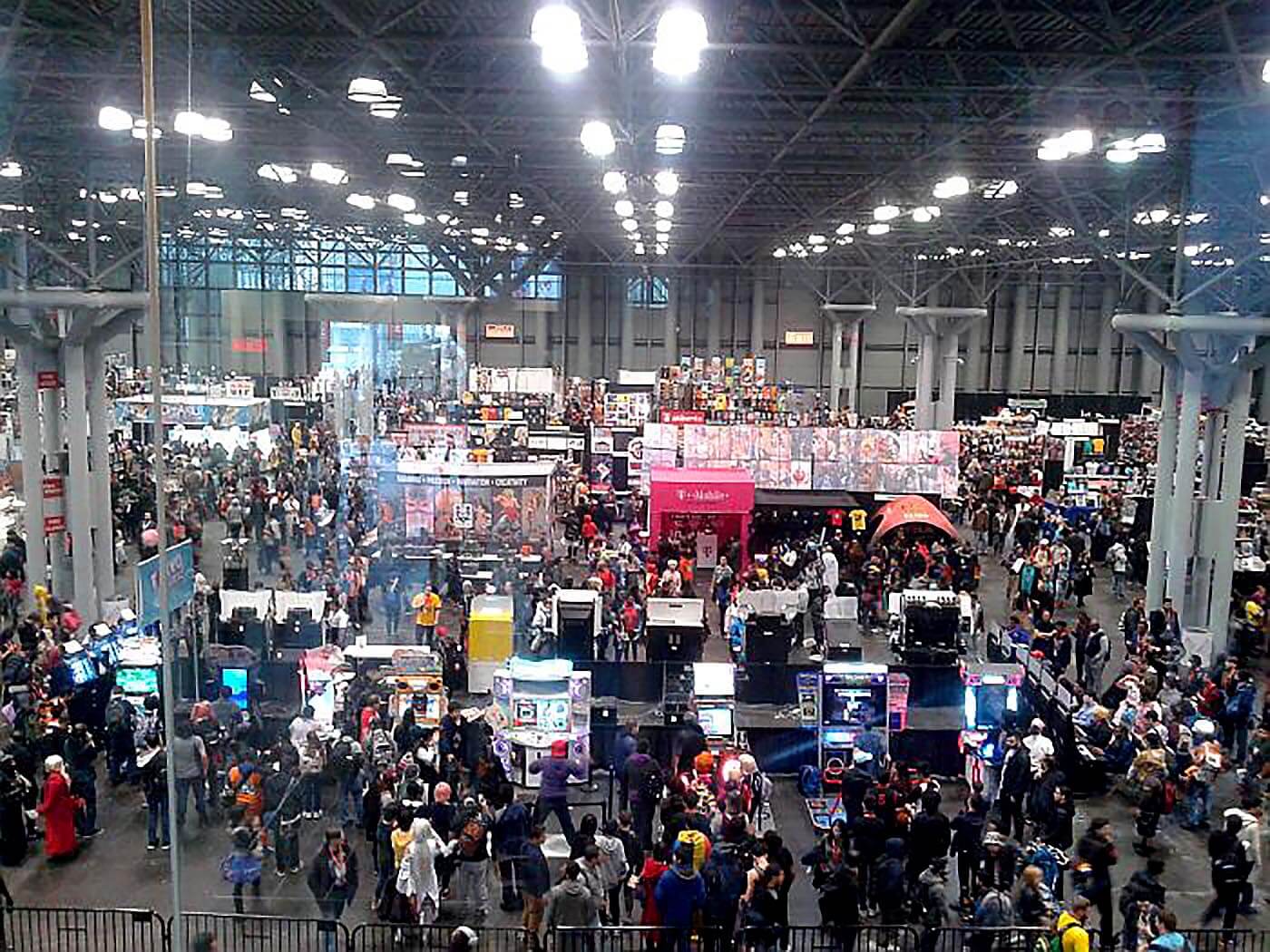 It's probably the best local con to go to cosplay to, period. Reason I say this, is that even though NYCC has a good cosplay scene as well, it has become so big that you can't really enjoy doing cosplay there imo. Unless your cosplay is just coming in a shirt and pants, if you had anything more dedicated where you would have to be able to freely walk around or need to do touch ups you'll be lost in that sea of congoers waiting to get into bathrooms that have lines longer than what I would imagine is safe. This is the state of cosplaying at most cons today sadly. My cosplay was straight forward though I still needed to have a place where I could set it up and do so quickly. Here was how that went: I got to the javits, I got my badge, I went to a bathroom and I changed. In and out, nice and easy. No waiting or wading through uncomfortable amounts of other people. And if I needed to change again later, bathrooms were wasy to reach if you weren't in a punk band in the 80s and developed a heightened ability to crowd surf - at which point I imagine security would be coming to throw you out.
The show does have a nice roster of guests for this year as well. You can find the full list right here, which includes anime voice actors (english and Japanese), bands, directors and so on. Names that stand out to me are, Bryce Papenbrook, Vic Mignogna, Todd Haberkorn and Cherami Leigh. Two of whom I've already met and am considering meeting for autographs again this year.
Now for my complaints, which really will serve as constructive criticism for the show.
In my mind Summer or Spring are the best time for Anime Cons. I think, however, they can make their own decision on it, my only concern is closeness to other cons but that's a personal issue. November still is a really good time to go check out a convention, however I do wonder if they will consider moving the day around in the future. Side note: I've never been to the Javits in those seasons!
Lack of a live stream stage. Now let me preface this by saying it has been a year and a lot has happened to me in that time. A year is sometimes definied in webster as "a stupid long time". So I might be misremembering but I don't recall seeing a live stage area. That is the new hotness at conventions and a lot of them are making use of this new technology to get the word about the show out to people. It really shows what's going on at the event to those who chose not to go, the idea being that they will change their minds and buy tickets for next year.
Another reason this is cool is that if you have a couple different things you want to do but they're happening at the same time - a HUGE problem at a lot of cons - streaming gives you the opportunity to watch it later. Panels getting recorded, live streams and so on are all fantastic ways of getting to engage with your audience after the show is done. When you want to see Bryce Papenbrook being interviewed on his experience doing the voice over for Sword Art or Ys (<3) but you also have to be somewhere else at that time, if it's livestreamed you don't have to worry about missing both!
For example: When I went to MAGFEST last year, I wanted to get to check out my boys, the brothers cosplay, because they were doing a GWR attempt at the most people dressed as wizards in one place, aka the worlds biggest wizard gathering. But at that same time Powerglove were playing, who I have been waiting to see for 3 years. Those are both unmissable experiences to me but I had to painstakingly chose only one to go to.
Livestreaming can at least let you check out what you missed after you get home from the con and it really is a great addition for an event like this. - I actually came up with another positive about Anime NYC from this though, since it's such a walkable con, in theory if those events were happening there I would have been able to go check out the wizard party and still have time to walk over and make the powerglove show's second half. Which at some other Javits Center based events you would be out of luck for even attempting to do both. -
So in conlusion, if I'm having a bad memory day and totally forgot about if it was there; I hope they add this to the event or it's great that it was already there!! Cover those bases nanners!
Unfortunately for this guy, the Javits Center hasn't installed doors on the Ceiling yet. If he wants to go home, he's going to have to climb back down, scan his badge and get on a queue for the exit like everyone else..
A looming concern over the course of writing this promo blog is that one of my number one reasons in favor of Anime NYC is that the show is cozy at the time of writing. However conventions grow and one day it may not be as "walkable" "breathable" and thus "enjoyable". That is a totally valid point and it could happen. But there are two major things on that:
Firstly, whether or not that becomes the case it simply isn't the case now. I was there last year, the experience was incredible and it was incredibly easy to get around. You have nothing to worry about.
And second is I honestly don't anticipate this con will get so big it'll stop being fun to attend. It's solely dedicated to Anime, which is plenty niche, and not an event that tries to cram in every medium of entertainment imaginable under one roof. It will get big, Anime NYC is a great event that will certainly bring bigger and bigger numbers each year. But I think that even if it starts to get remotely close to crowded it is still several years off. And even then I think too crowded is out of the question. My advanced degree in Conology leads me to believe that their won't be these issues. At the very least it is run by a team of anime fans for anime fans, so they can always implement a ticket cap, like all large cons should be doing but those with big financial stakeholders are less likely to do.
At the end of the day this convention is the perfect desination in November for anime fans. It serves as a much needed large con for anime fans in the NY area and makes up for the loss of the New York Anime Fest several million years ago. If you are in the area, tickets are still available, I your ranty friend from the dtoid community strongly recommend going.
Side note: I may be interviewing people, if so keep an eye out to this blog for that.
More full disclosure: This promotion is not endorsed or done by destructoid in any way shape or form. It comes from the community blog section, writen by one of its community members. If you have any questions or comments please leave them below or send a message, we can clarify on this in any way. Thank you.
---
LOOK WHO CAME:
PStoid
CelicaCrazed 100
Gajknight 91
DeadMoon 52