Virtua Fighter 3tb came out on September 1997 for the Sega Model 3 arcade system. It was an update to Virtua Fighter 3 and it added Team Battle as part of the gameplay. This game was ported to the Dreamcast in November 27, 1998 in Japan and October 18, 1999 in North America.
In the tournament scene in Japan, VF3tb was the main game for VFR's Athena Cup and Beat-Tribe Cup. Before VF3tb came out, VF3 had an international tournament called the Morinaga Angel Cup, where ShinZ (previously known as Akira Kid) from South Korea won that year. He was the first foreign player to win a Japanese VF tournament.
The support for VF3 in general lasted from 1996-2001. During that time of the Athena Cup FINAL, several players were retiring from VF3tb and the game was considered the black sheep of the series. After that, VFR continued on with the Beat-Tribe series with other VF titles, with Virtua Fighter 5 Final Showdown as the main game being played today.
Now I know what everyone's thinking: There are still people that play older games such as Vampire Savior, Street Fighter III: 3rd Strike, Super Street Fighter II Turbo, and Fatal Fury Special. Does any classic VF game still gets played to this day? Let alone having its own tournament?
The answer is… Yes. And to everyone's surprise, it's VF3tb.
In 2014, Gorilla Kagesuke collaborated with VFR on bringing back a revival tournament for Virtua Fighter 3tb, naming it the VF3tb World Cup. It was a 48-man single player tournament that featured the likes of VF3 legends Chibita, Mask De Hijitetsu, Kurita, and Ohsu Akira. Other players, such as DOA4 World Champion Mochi-A, Gamecenter Arashi, and even the organizer of the tournament: Gorilla Kagesuke, also competed at the tournament.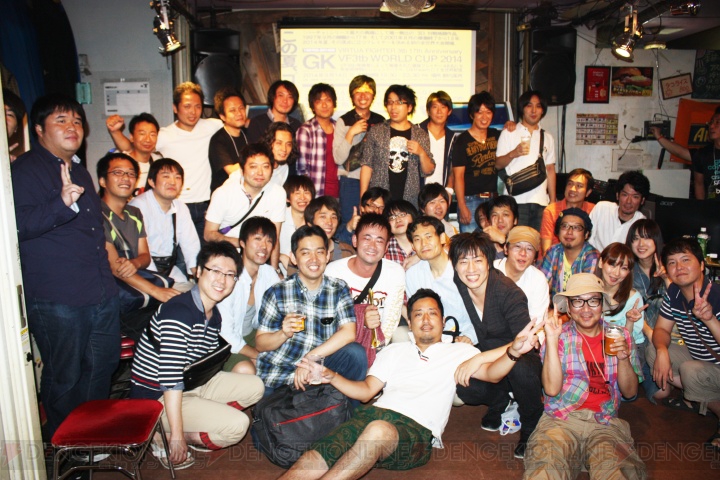 The revival of VF3tb sparked interest with the Japanese scene, and Mikado Arcade has hosted several Ranbat tournaments based on that game. It also took place in other tournaments such as Street Fighter Carnival series for example, along with other classic games like Windjammers, Dark Edge, and more. On top of that, VF3tb is one of the sponsors for EVO Japan 2018, alongside with VFR.
Earlier this year, VF3tb World Cup 2017 2nd BATTLE took place on February 11, 2017 at Mikado Arcade. Gorilla Kagesuke, who is the proclaimed VF3tb World Champion, returned to defend his throne, and of course 48 players entered the invitational tournament just like three years ago. Yame Yodare won the second tournament.
The most recent VF3tb tournament took place at Super Street Fighter Carnival 2017, which lasted all October. Other games in the lineup includes the Double Dragon fighting game, Samurai Shodown 64, Art of Fighting 3, Samurai Shodown 2, and more.
If you want to check out more VF3tb tournaments, here's where you can find them…
Mikado Arcade uploads several classic arcade games, with VF3tb being one of them. Earlier, they have streamed tournaments for VF1 and VF2.1 as well. You can catch the replays on YouTube and you can catch their livestreams on Twitch, NicoNico, or UStream. You can also follow them on Facebook and Twitter.
VF3tb-Organization also has an official Twitter that you can follow. It keeps you up to date on when the next VF3tb tournament will take place. Speaking of which, there's one going on sometime this weekend.
Of course, there's also VFDC, a forum website dedicated to Virtua Fighter. Myke, Modelah, and other mods contribute to bringing and translating VF-related news from Japan, and more.
I'm glad that VF3tb has resurfaced again 20 years later after its release. This game was underrated in the series, and I'm glad it's being played again in tournaments.
VF Month still continues. Next week's blog will be about what made VF2 an iconic 3D fighter.
Until then… Train Up, Fighters!
---
LOOK WHO CAME:
Virtua Kazama
Wes Tacos 23
Jetfandam 7