I think that it was about a year ago in search of more Metroid games and other news I ran into a rom hack called Metroid Plus that my cousin bought a repo cartridge of. Rom hacks were nothing new at the time but it always confused me as to why someone would want to take something that someone else made and try to make it better.

Especially if the idea/device is more than 25 years old.
So doing what most people do these days I went online and read up about what the author was trying to do with the changes. What I found is someone trying to remove game mechanics that rewarded persistence. They had found it frustrating that sometimes the puzzles in the game required bombing random parts of the game world.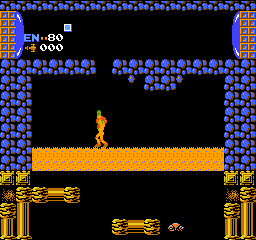 Metroid was not the first video game I had ever played, but I think it left the largest impression on me. Skipping the manual would thrust you into a world with no clear directions and with mechanics that forced the players to adapt and learn to improvise on the fly to the ever-changing climates and variety of upgrades.

Sure technically you could fly through the game super quick, but if you took time and spent time digging through the minutia of the world there was a wealth of beams, items, and missile upgrades to find.
In years to come I would play other games like Zelda and Blaster Master and they all seemed to reward this concept of persistence and not always having a clear and straightforward way of progression. In many ways I learned that persistence might not always lead to success but that it will certainly help you get closer to it.
Which my life is a lot like that as I scrounge my way from knowing nothing about how the world operates but finding small opportunities that can lead to larger ones.
---
LOOK WHO CAME:
Retrofraction
DeadMoon 84
CelicaCrazed 30
Boxman214 30
Rad Party God 25
Luckrequired 23
Larx 22
homeoftheblues 20
LaTerry 17
Michael Giff 16
Salvador G Rodiles 5
Chris Hovermale 3
Wes Tacos 2
NSFTW 2
Nic Rowen 1
C-bastion 1