That's right, WRASTLETOID has returned from the depths of the bingo halls of hell -- and with any luck and effort on my part -- hopefully here to stay. Since Wrestlemania 33 back in April we've had a pretty mediocre series of events. From the hilarity of the "House of Horrors" match in which Randy Orton was beaten by a refrigerator. To recently AJ Styles becoming the United States champion off air during a RAW live event for unknown reasons. Not to forget the all kinds of awful booking decisions for the woman's roster on both brands and new stars alike; such as Finn Balor who wasn't even on this PPV and has been stuck in limbo hell in terms of creative booking.
Speaking of creativity, "Great Balls of Fire" is a name used in 2017 for a PPV event. I hope someone wakes me from this fever dream soon. The lead up to this PPV had some strong potential however, so much so in fact, Brock Lesnar and Samoa Joe's clash on RAW in the weeks leading to Great Balls of Fire were easily the highlight of every episode.
Meanwhile, Big Cass turned heel and betrayed Enzo in a story pulled from the recycling bin that was already attempted (and poorly mind you) earlier in the year prior to Wrestlemania 33 with Nikki Bella being mysteriously attacked. Bray Wyatt did his typical mumbling and rambling in a feud with Seth Rollins, meanwhile Team Extreme are stuck in gimmick hell from 2000, with Matt dropping small hints of his now iconic broken gimmick here and there. All the while Bailey is reaching a point of no return in credibility thanks to horrible booking and was part of possibly the worst segment in modern memory. Basically it's been rough ride if you're a WWE fan who sits through 3 hours RAW every week.
As for the PPV itself, GREAT BALLS OF FIRE was the name and mediocrity was the game!
Neville vs Akira Tozawa with manager Titus O'neal – Singles Match
Starting things off during the kick off show was a match between the evil elf and to quote the wonderful commentary "powah of Tozawa" -- which in short, was a pretty quick run of the mill match with a disappointing ending. With the only purpose of it to tease potentially another match. Something that will resurface time and time again in this PPV.
Outside of the horrible commentary, the match itself had some pretty solid spots, from the suicide dive from Akira actually looking clean and impactful, to the missed Red Arrow from Neville that never fails to impress when performed.
The match ended with Neville dropping Tozawa on the rope between his legs and then kicking the rope for added effect, leaving Akira Tozawa, one of Japan's most respected wrestlers, groveling on the ground holding his hands between his legs -- only to be pinned moments later by Neville.
As I said back in Wrastletoid 1, I hope Neville holds on to the title for well over a year, but at least give him a match higher on the card with some more time and proper build up to make it mean something in the end. The fact this title is defended on the pre-show time and time again, is extremely disappointing.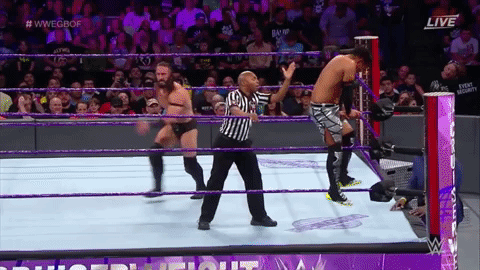 Winner: Neville
Bray Wyatt vs Seth Rollins – Singles Match
Next up we had spooky rambling man vs the WWE 2K18 cover star in what was a solid match in terms of wrestling, but had zero momentum going in, in terms of story telling. The match went on for a good amount of time and had somewhat of a slow burn feeling to it, which is the kind of style Bray can do wonders in.
In the end however, Bray surprisingly took the win with a thumb-poke to the eye of Seth which then shortly lead into a Sister Abigail. Judging by monday's following RAW, I can only hope they continue to build up Bray Wyatt again, because if any major talent on the roster needs it, it's Bray Wyatt.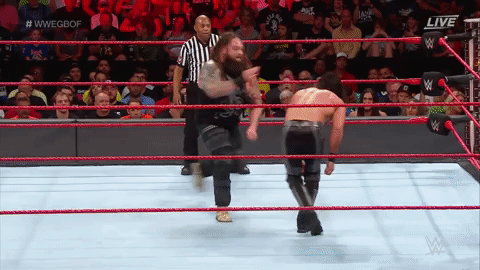 Winner: Bray Wyatt
Enzo Amore vs Big Cass – Singles Match
Despite the fact they recycled the Nikki Bella mysterious attacker story line, I'll admit Big Cass's heel turn was executed much better than Natalya's turn. But more importantly, it was played up so well by Enzo and his initial reaction, as well as the attempt at still patching things up the following RAW, only to be betrayed yet again.
The match started with a solid promo from Enzo, proclaiming the "SAWFTness" of Big Cass. But the match itself was brief and basically a squash match. Big Cass's new theme music was just generic guitar riffs, because of course it was in modern day WWE.
This match was basically just a build towards a Big Cass vs Big Show feud, the only way to book it I suppose would be having one of them turn heel and Big Show's turned enough times to last a dozen careers, so I guess it was Big Cass doing the honor. So everyone look forward to the big match for big boys, big guys, big men, with big fists and big boots, because WELLLLLLLLLLLLLLLLLL-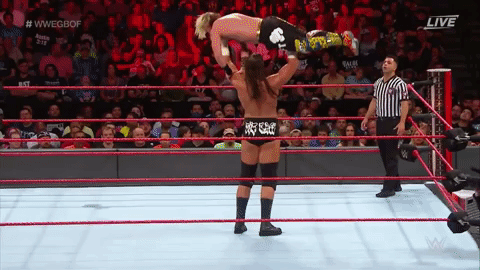 Winner: Big Cass
Team Extreme vs Cesaro and Sheamus – Tag-Team 30 Minute Iron Man Match
This match was a first for WWE and easily the highlight of the night, starting quickly right out of the gate with the Hardy's eating a pin from a diversion from Cesaro leading to big boot from Sheamus, earning them their first point in the 30 minute iron man match stipulation.
Once again the Hardy's teased their broken gimmick numerous times through out the match, leading to plenty of DELETE chants -- which are always DELIGHTFUL.
However the shining moment in this match for me, was that crazy innovative pin from the Hardy Boyz and some of the absolutely awesome spots, like this double team elbow drop from the top ropes.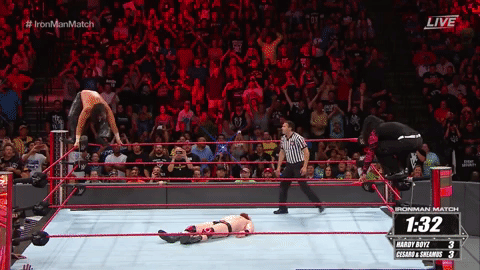 In the end however, Cesaro would get in one last sneaky pin on Brother N- Jeff Hardy, putting them ahead and would come out victorious in what was some solid tag team wrestling.
Notably at the end of the match it seems Matt Hardy took a legitimate cut above his eye and was bleeding a fair amount.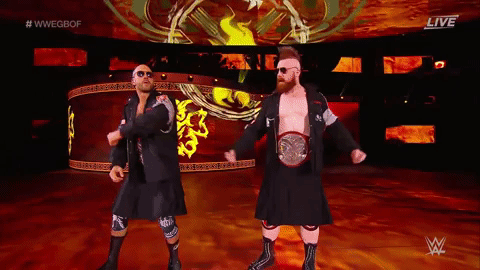 Winners: Cesaro & Sheamus
Sasha Banks vs Alexa Bliss – RAW Woman's Championship Match
Next up we had a match for the RAW Woman's Championship between Alexa Bliss and Sasha Banks with basically little to no build up what so ever on RAW. The woman's division in general in terms of story telling right now is basically a clusterfuck of nothing as of late.
As for the match itself, it had some botches here and there, but overall it was decent work. Alexa Bliss is fantastic on the microphone and with some more work in the ring could become a fantastic wrestler as well, her athleticism alone is a huge help in this.
Notably during the match she faked an injury in the form a dislocation in her arm (when in reality I guess she's double jointed or something) to land a dirty hit on Sasha Banks.
The match was then concluded with a count out as Alexa Bliss purposefully stayed out of the ring, which then resulted in a brawl by the announcer table and ended with a spot from Sasha Banks doing a flying double knees into Alexa, delivering a solid finish to what was otherwise a pretty sloppy and uneventful match.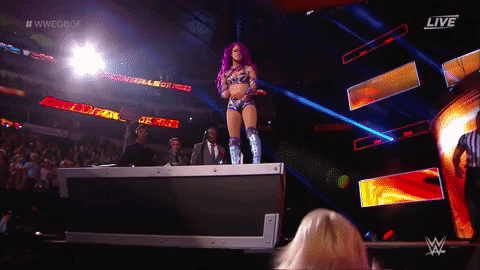 Winner: Sasha Banks / Title was retained however due to count-out
Miz vs Dean Ambrose – Intercontinental Championship Match
I miss Bo Dallas, does anyone else miss Bo? I miss Bo -- but alas -- now he's a part of the "Miztourage". As for the match itself, it was pretty decent work over all, but Dean Ambrose fell victim to the numbers game and simply couldn't over come dealing with Miz and the "Miztourage" at ring side constantly up to no good.
Dean Ambrose for me lately is really hit and miss. I feel he suffers from the same thing Randy Orton does, if he's bored or disinterested, he'll clearly show how bored he is in his wrestling.
Which thankfully wasn't the case this time, he has pretty good chemistry with Miz and the over all feud has been pretty solid. Miz himself is without a doubt one of the best heels in wrestling today, he can actually get a crowd angry and draw legit heat -- which lately -- unless you're a certain BIG DOG, that's a pretty great feat to achieve.
During the match itself Dean Ambrose was seemingly injured as well, notably bleeding a fair amount in the mouth through out the match. Hopefully this puts an end to the feud, as this feud has seen better days -- and matches. With any luck Curtis Axel or Bo Dallas turn on Miz and get a shot at the title.
Winner: The Miz
Braun Strowmen vs Roman Reigns – Ambulance Match
That's right, now it's time I talk about the match with the big man vs THE BIG DOG in an ambulance match. The stipulation itself being pretty simple, whomever can get their opponent into the back of the ambulance -- wins.
The build up for this feud has been pretty damn solid, had someone told me over a year ago that Braun Strowmen would be this much over and actually well regarded, I wouldn't believe them. But god damn, WWE have actually done it. Of course not without making the BIG DOG look strong as possible.
The match itself was big men, doing big moves. Power slams, samoan drops, everything you'd expect for a match like this. Probably my favorite segment in the entire match was Roman Reigns attempting to take chair shots at Braun Strowmen, only for them to be not very effective.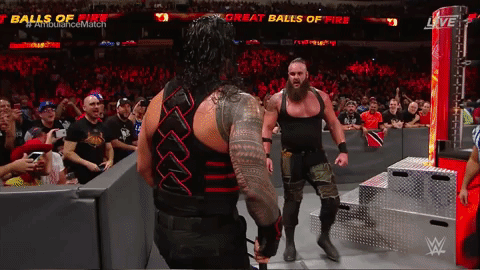 Then of course the match spilled outside of the ring and drew closer and closer towards the ambulance and up until this point it wasn't really anything too special, but soon things began to get pretty insane. After some spots on the ramp such as Braun Strowmen being sent through the bottom of the screen/titantron, they both had a battle right in front of the ambulance doors, each trying to shove one another inside.
In the end however Roman Reigns would attempt spearing Braun Strowmen into the ambulance, but instead Roman completely missed Braun and went flying into the back of the ambulance, giving Braun the win.
But it wasn't over, not for a long shot --shortly afterwards Roman Reigns reappeared, angry that he lost, he speared Braun and then proceeded to shove him into the back of the ambulance and drive off. Because remember guys, Roman Reigns isn't a good guy, he isn't a bad guy, he's THE GUY.
All I kept thinking to myself was: what if they booked an angle where Roman Reigns straight up kidnaps Braun Strowmen and brings him to a remote cabin/house in the middle of no where. They're both off TV for weeks, only showing clips of what's going on every now and then. Then something like straight out of the movie Misery, Roman has Braun handcuffed to a bed and super-man punches his legs until they're broken.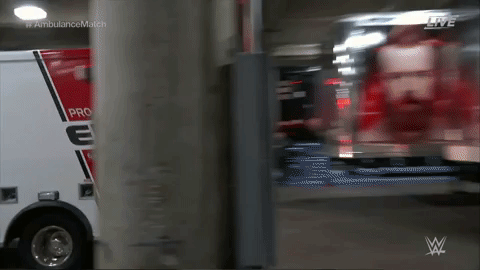 But no, sadly, instead Roman Reigns just backed the ambulance up into a trailer – because that's how THE BIG DOG handles losses. Then at this point RAW general manager Kurt Angle brought in the fire department to save Braun Strowmen from being trapped inside the ambulance, Braun emerged, refusing help, bleeding everywhere, and stumbled away swearing revenge on Roman Reigns.
All of course while this was going on, Ty Dillinger and Heath Slater had a match, in which Heath Slater won off camera. (The state of the PERFECT TEN ladies and gentlemen.) But aside from the stupidity in the random match off camera and how awkwardly long the ambulance rescue segment was, I've gotta admit -- the majority of this match was really entertaining and Roman Reigns continues to improve.

Winner: Braun Strowmen
Samoa Joe vs Brock Lesnar – Universal Championship Match
Next up we had the main event of the night, which as I discussed at the start of this, had easily the best build up of any match on the card, as each night Samoa Joe delivered some incredible promo work.
Right before the match could even start, Samoa Joe immediately attacked Brock and sent him through a table. Brock then got back into the ring and officially the match had started. From there you had your standard from Brock now and days, which is basically a number of Suplexes.
However Samoa Joe at one point during the match landed a low blow which the ref didn't catch, from there Samoa Joe attempted to put Brock Lesnar into his coquina clutch, bringing Brock Lesnar down to his knees and seemingly ready to fade.
However in the end, Brock would power out of it and place Samoa Joe on to his shoulders, which then concluded with a single F5, enough to put Joe away within less than a 10 minute time span.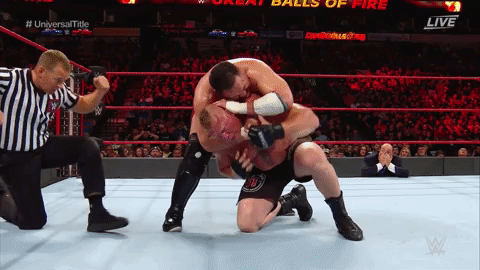 Winner: Brock Lesnar
So that was Great Balls of Fire! A PPV with a strong card, yet came off seeming like it was only created as filler until Summer Slam. Admittedly this took much longer than anticipated to write, due to heavy procrastination and watching Giant Bomb premium content as I recently purchased a membership (still watching through all of Metal Gear Scanlon) and being busy with life stuff in general. I hope you guys enjoyed reading it, stay tuned for another Infinite Backlog review in the near future, I'll see you all in two weeks for Battlegrounds and WRASTLETOID 3!
And if you're not there...
---
LOOK WHO CAME:
Dan Roemer
Wes Tacos 29
DeadMoon 22
Bukkake Waffles 15
bong264 6
Robo Panda Z 5
LastSeraph 5
D-Volt 1
Cooldaddioofmusic 1