How about that E3, guys? It was lackluster, but it had some decent news.
This year, we were introduced to some decent fighting game news at E3, and well… let me just say that my wallet will be going empty soon, and it's not just because of Super Mario Odyssey, Metroid Samus Returns, and other personal favorites of mine that are not fighting games. Anyway, let's talk about those fighters…
Marvel vs. Capcom Infinite
During Sony's E3 conference, we were treated with not only a trailer for Marvel vs. Capcom Infinite, but also a Story Demo for everyone to play right after the conference ended.
In the trailer, it confirmed Dante (Devil May Cry), Arthur (Ghosts & Goblins), Nathan Spencer (Bionic Commando), Zero (Mega Man X), Thanos, Black Panther (as DLC), Gamora, Doctor Strange, and Nova. We were also granted a couple of new stages along the way.
Now I did get a chance to play the Story Demo for the first time, and it seems that they went back to MvC2 controls with LP, LK, HP, and HK. There's no launch button like the MvC3 series, but it didn't matter. The Infinity Stones are fun to use, and tagging can help you get out of unsafe situations. Overall, I had fun with it. However, the character facial designs on the Capcom side are… scary.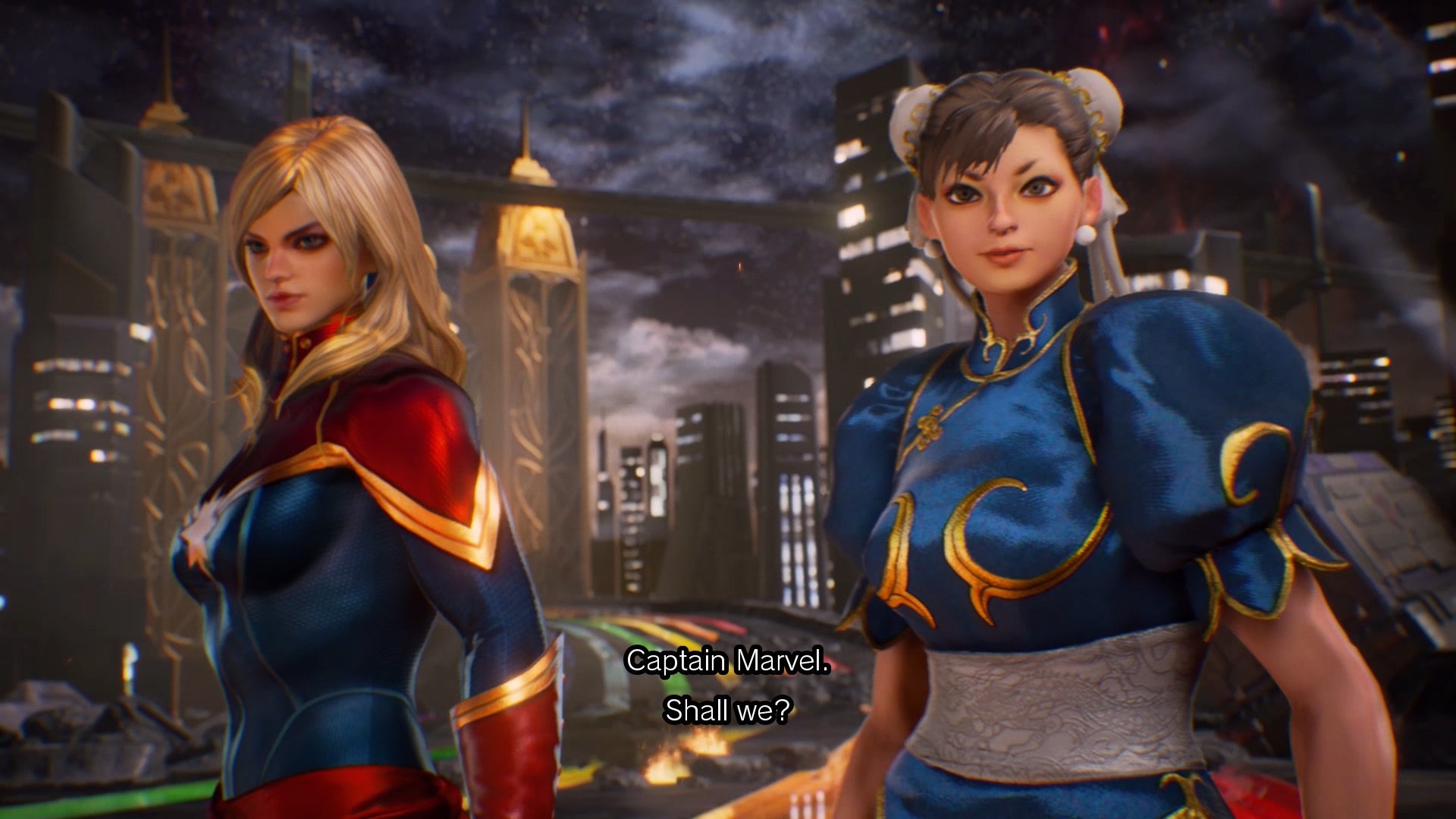 Marvel vs. Capcom Infinite is coming to PlayStation 4, Xbox One, and PC on September 19, 2017.
Blade Strangers
During Twitch's pre-E3 stream, we were granted with a brand new fighting game from Studio Saizensen. If you don't know who they are, they are the same team that made Sega's Blade Arcus from Shining, which you can get on the PS4 in Japan or Steam worldwide.
Blade Strangers uses characters from Japanese indie games such as Cave Story, Code of Princess, Umihara Kawase series, and more. Unlike Blade Arcus which used rotoscoped 3D models, they are using traditional 2D sprites this time around. However, just like Blade Arcus' PC version, it will have a Story Mode, Arcade Mode, Versus, Training, and Online Modes.
It has been said that they are going for the easy inputs of Super Smash Bros. series, but it will have the speed and complexity of Guilty Gear and Street Fighter.
This game will be coming to Nintendo Switch, PlayStation 4, and PC in the near future.
Dragon Ball FighterZ
Before E3 began, Dragon Ball FighterZ was announced by Bandai Namco. Arc System Works is once again developing the game this time around.
Based on what we saw on the trailer and gameplay footage, Dragon Ball FighterZ is a 2.5D fighter that is played similarly to Marvel vs. Capcom 2 & 3, Guilty Gear, Blazblue, and others from ASW. This game relies on traditional 2D fighters notations such as the QCFs and QCBs, and stays true to the anime fighter tropes.
According to the game's producer Tomomi Hiroki, the reasoning behind why the game went into that direction is because of two things. First off, the fans feel that Dragon Ball fighting games originate in a 2D space, which is why ASW felt that this game should go back to its 2D roots. The second reason is because of the popularity of eSports. By having a big anime name such as Dragon Ball getting involved in the eSports world, it was the only way to achieve this.
Although the game is 20% done, Dragon Ball FighterZ was the most talked about fighter at E3, winning several awards. I feel that this game will have so much potential in tournaments, and it might possibly be played at EVO Japan or EVO 2018 for example. If you are a fan of the Dragon Ball series, enjoyed playing 2D anime fighters, or just a fan of anime in general, I'd check out Dragon Ball FighterZ. There will be a closed beta for this game, so be on the lookout for that.
Dragon Ball FighterZ will be coming to PlayStation 4, Xbox One, and PC next year.
Dissidia: Final Fantasy NT
Dissidia: Final Fantasy was already out for the arcades in Japan only back in 2015, and the support for it keeps coming non-stop with additional characters. Last week before E3, a PlayStation 4 port has been announced under a new title: Dissidia: Final Fantasy NT. It was developed by Koei Tecmo's Team Ninja division, who has veteran experience in fighting games with the Dead or Alive series.
The game is based on the original Dissidia and Dissidia 012, both which were released for the PlayStation Portable years ago. However, the game's battle system was remade from the ground up since it involves 3v3 gameplay this time around. The console version will have a Story Mode, Offline Single Player modes, Online Mode, and more.
The developers are targeting a total roster of 50 characters from various Final Fantasy games. Characters from Final Fantasy I, II, III, IV, V, VI, VII, VII, IX, X, XI, XII, XIII, XIV, XV, Tactics, and Type-0 will duke it out with each other, including the original characters from Dissidia. Team Ninja has stated that they have no plans to add DOA characters into the game.
Dissidia: Final Fantasy NT will be coming exclusively to the PlayStation next year.
With all these fighting games coming out this year and next year, it's safe to say that I will be talking about them again on "Fighting Games & DLC to Look Forward to in 2018". This is getting good, y'all.
Before I end this, make sure you guys check out CEO 2017 this weekend. There's gonna be a lot of fighters such as Street Fighter V, Tekken 7, Guilty Gear Xrd REV2, and others! And if you haven't, go check out Tekken Royal Rumble. It featured Kenny Omega, Xavier Woods, Michael Murray, and Katsuhiro Harada. LET'S GO!
Until then… Train Up, Fighters!
---
LOOK WHO CAME:
Virtua Kazama
Uber Mashu 8
KeithTheGeek 8
NinjaSpeed 8
Wes Tacos 2