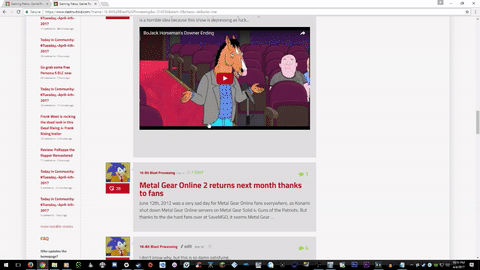 So it's been a while since I've made a blog post...
Mostly because I've been pretty busy -- with what you ask? I started a brand new job at a grocery store down the street -- WHOO! But money talks and considering I had none before this for a good while, I'm listening. Plus now I can afford all those fancy new video games each month. I plan on reviewing one new game for each month of the year for the Infinite Backlog channel. For April I plan on tackling Persona 5, for May I'll be tackling the weird Prey reboot-thing, and June I'll be taking on Rime because nothing else in June really interests me -- so another May release will have to do. All while of course still reviewing/playing games every other day on my backlog. (Pokemon Yellow should most likely be my next actual review.)
The next 30 days are gonna be fun, I plan on doing a written review of each of The Witcher books as well, I'm still trying to think up a catchy name (Infinitely Reading, Infinite Pages, etc) -- I'll figure out something.
The ultimate goal though will be saving up my money for a decent camera, lighting equipment, and some clip-on microphones (lavalier microphones) -- so I can then hopefully begin filming some videos in-person and possibly tackle a documentary idea I have on game collecting, long term preservation, and interviewing someone I know with a complete Xbox 360 collection.
In the meantime though I haven't sadly had much time to work on any video reviews because I've started writing for GameSkinny and joined their nine week "Journalist Training Program" -- Or as they call it the JTP -- If you survive the nine weeks they offer a college credit for freelancing or a professional recommendation, so far It's been a fun experience and I've been soaking up as much knowledge as I can while also pumping out articles as much as possible. (Which you can check out here!) -- Or for those interested I even made a tumblr page simply to showcase all my written and video work, the plan in my head right now is to more or less stick around at GameSkinny for now and keep writing articles and doing video reviews. I feel like once I have over a hundred or so articles under my belt -- maybe then I'll start shopping my skills around for actual payment some place.
The end goal of course to leave the bingo halls of freelance games journalism and then ♫I'm gonna take what's mine while you burn inside my light♪ -- Typing that made me kind of ashamed of myself -- but ♫HEY♪ -- while all the cool kids on the front page of the website are fighting over the Destructoid title in the DTF, it's time I give you after two days of writing, rendering, and creating wonderful eye candy gifs...
WRASTLETOID: Wrestlemania 33 Review
Taking place this year in Orlando, Florida on April 2nd, 2017 -- Wrestlemania 33 truly was a roller coaster of emotions, but saying it was a thrill ride -- could be pushing it.
Austin Aries vs Neville – WWE Cruiserweight Championship Match
The pre-show, really? The Cruiserweight division has been on fire lately and finally got some star power behind that title with Neville and even additional star power added to this match in the form of Austin Aries, so I was a bit disappointed to see the title being the first match on the pre-show. I personally would have it somewhere midway through the show itself -- but what can you do.
As for the match itself, It was solid -- although a tiny bit short. It had a good build up and story going into it, Neville as a heel is fucking brilliant and I think he should be holding that title for a straight year before dropping it. That top rope drop kick from Austin was beautiful and the finish of the match with the eye raking and the red arrow was wonderful, as much as I love Austin -- Neville I believe needs to hold that strap for a very long time to make it prestigious as it can possibly get, 205 Live desperately needs the star power.
Winner: Neville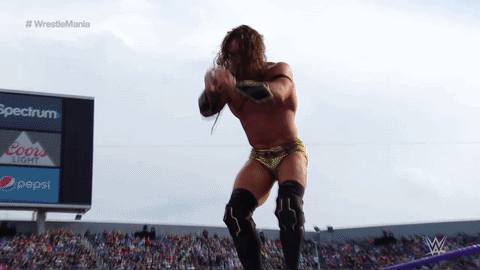 2017 Andre the Giant Memorial Battle Royal
Going into this I was fully expecting Braun Strowman to walk away the winner to make up for the fact he jobbed out to THE BIG DOG -- but to my surprise both him and The Big Show were eliminated by everyone else in the ring, booking this surprising logically. In the end Mojo Rawley took home the big ol' statue and the win -- thanks in part to Rob Gronkowski (how the hell does anyone even pronounce this?) -- who is with The Patriots or something, I don't know -- I don't follow REAL SPORTS!
To my surprise as well Da- I mean Killian Dain made his WWE televised debut, thankfully without any shave your back chants and he performed admirably.
Winner: Mojo Rawley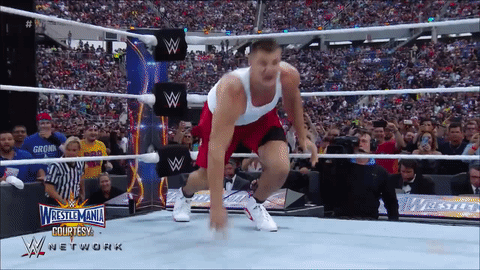 Baron Corbin vs Dean Ambrose – Intercontinental Championship Match
This match had some pretty good build up over all, that forklift assault from Baron Corbin on Smackdown Live was pretty great and I was hoping he'd win with Dean Ambrose still being booked strong and playing up the injury from the forklift the entire match.
In parts the match really dragged despite being as short as it was, but I've gotta admit -- that finish made me mark out and made up for it.
Winner: Dean Ambrose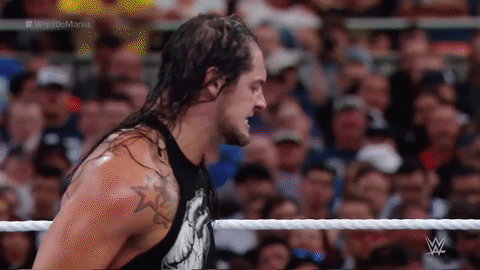 Shane McMahon vs AJ Styles – Regular / One Fall Match
This is the match pretty much nobody asked for or wanted (outside of the fight for who's yard Wrestlemania was) -- yet it ended up being possibly one of the best matches of the night, despite being the opening match of the main show itself, the match had a good length and momentum. AJ Styles proved once again why he is literally the best wrestler in the world right now, If I had one complaint; I felt it could have been a touch longer and they shouldn't have booked Shane to look so strong, the fact he was actually giving AJ a run for his money and landing as many hits as he was on the former WWE World Heavyweight Champion was a bit much in my opinion.
Winner: AJ Styles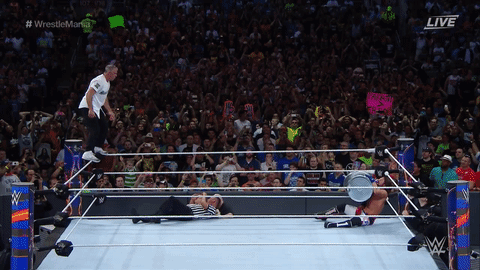 But I can't deny -- despite that spotty camera work, that coast to coast was beautiful.
Kevin Owens vs Chris Jericho – United States Championship Match
This was probably my most anticipated match on the entire card, the build up to this match and story-line is what I feel like more Wrestlemania matches need to aim for. The seeds were planted for this feud almost a year ago and finally reaching the conclusion to this feud was just simply exciting. But not only that it was probably one of the best tag-team/friendship break ups in wrestling I've seen in years -- the moment Jericho said "Why is my name on here?" -- I marked the fuck out.
Of course going into this match as a fellow Winnipeg-boy -- I was obviously rooting for Y2J!
Sadly, as much as I wanted Jericho to take home the win (I was that one mark rooting for him even against AJ Styles) -- I had my fun in the sun last year with that, Kevin Owens was more than deserving to win the US title this year. But if I were booking they'd be fighting for the big red Universal strap as the main event itself. The match was solid all around and a good length, I think it could have been a bit longer -- but over all this just proved once again why Jericho for his age is absolutely brilliant at what he does and the moment he decides to stop he should instantly be the headliner of the Hall of Fame that same year.
But let's not forget another fellow Canadian -- Kevin Owens, for he too was absolutely fantastic and wonderfully heelish during the match itself, from attempting to put away Jericho with the Walls of Jericho, telling him "You don't have any friends" -- and the finish of the match with the Power Bomb to the apron, to breaking up the pin near the end with only a single finger, over all the match gave Kevin Owens heel heat and made him look strong, I can't wait to see what might happen at Payback.
Winner: Kevin Owens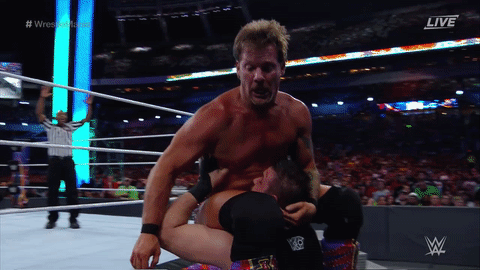 Sasha Banks vs Charlotte Flair vs Nia Jax vs Bayley – Fatal 4 Way Woman's Elimination Match – WWE RAW Woman's Championship
Probably the first disappointing match of the night for me sadly, but definitely not the worst -- last year's woman's triple threat match between Sasha, Becky, and Charlotte was absolutely fantastic and one of the highlights of the show for me despite some minor botches. Paul Heyman believes Charlotte Flair will one day main event a Wrestlemania and it's easy to see why -- her wrestling ability has come such a far way in such a short amount of time, her athleticism is incredible to say the least.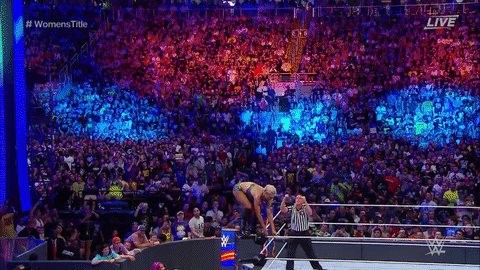 But despite all this, she wasn't walking away the victor tonight -- that credit went to Bayley who finished the match with a Randy Savage inspired top rope flying elbow to put away Charlotte and retain her title.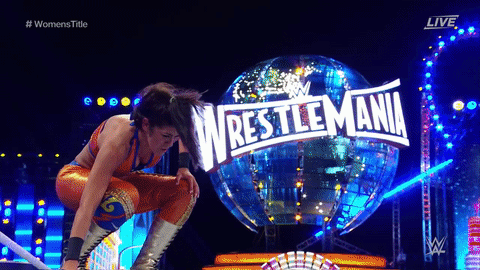 I thought the over all build up to this match was pretty weak, Nia Jax was seemingly put into this match because the writers had nothing better for her, but the way Nia Jax was eliminated was booked wonderfully and probably the highlight of the match for me.
Winner: Bayley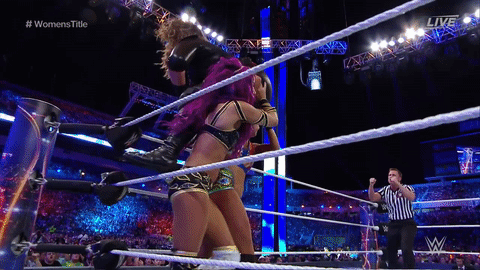 Ezno Amore & Big Cass vs Cesaro & Sheamus vs The Club vs Team Extreme – RAW Tag-Team Championship Match
Easily the biggest pop of Wrestlemania 33 was the return of The Hardy Boys, TEAM EXTREME, BROTHER NERO AND BROKEN MATT HARDY! (Jeff and Matt Hardy) -- But the build up for their return and execution of it was extremely well done, with The New Day seemingly entering themselves into the match -- only for the Hardy's to make their triumphant return.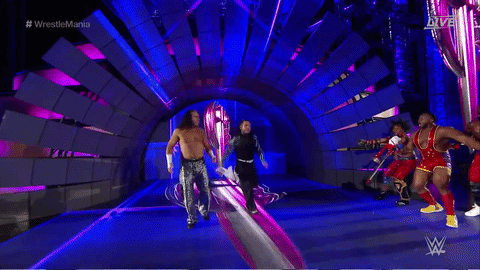 The match was tag-team wrestling at it's finest, it wasn't very long over all and the Hardy's themselves spent most of the time outside the ring itself while the others duked it out (probably because of last second booking) -- but the match over all was fantastic despite being a bit quick, The Club despite in recent months losing all momentum put on a great showing and that finish was fucking incredible as Jeff delivered his trademark Swanton Bomb to Cesaro and Sheamus from the top of a ladder while Matt stole the tag-team gold... One can only hope they DELETE the Smackdown Roster and go there instead, because JESUS it needs help.
Winner: Team Extreme (Matt & Jeff Hardy)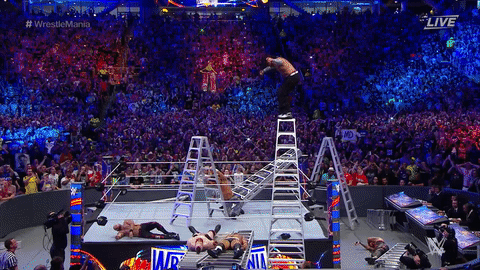 John Cena & Nikki Bella vs The Miz & Maryse – Mixed Gender Tag-Team Match
This was another match I don't think anyone wanted or asked for, yet we got it because... Total Diva's next season needed a story-line?... I was hoping The Miz would be walking away with the win considering he's been putting on the best heel performance of his career and John Cena was seemingly going off to Hollywood and strictly going part time -- but no, John Cena delivered a match finishing AA and Nikki delivered a... Samoan drop-thing... Bringing a boring end to the match over all.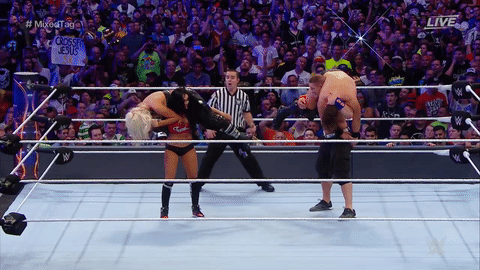 Then John proposed to Nikki Bella... (Nobody saw it coming!) -- Which is fine I guess, it got a crowd pop I suppose... But I wasn't crazy about the whole thing over all. John Cena said he was going to crush The Miz and he did exactly that. The match was drawn out, Nikki and Maryse's wrestling was almost painful to watch and over all this completely throws a bucket of water on Miz's hot streak in my opinion. I feel The Miz going over John Cena with Daniel Bryan as guest referee having no choice but to deliver the pin count would have only propelled their potential feud to the fucking moon; but what do I know -- I'm just some smark with a blog.
Winner: John Cena & Nikki Bella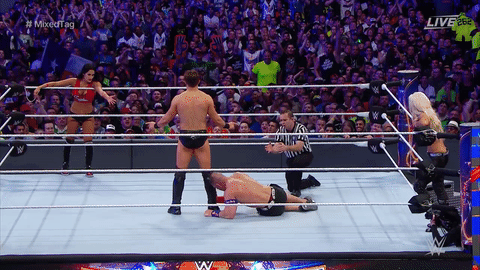 Triple H vs Seth Rollins – Unsanctioned Match (Anything Goes)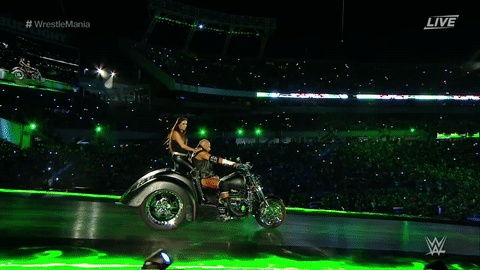 Triple H came out on a trike... I'm still sort of in disbelief that he thought this was cool looking, but okay -- as for the match itself it was pretty fantastic, it had good momentum over all, I loved the bit where they kept switching/reversing one another's Pedigree -- but it did drag on for a LONG while. I also thought the way they brought attention to to the sledgehammer was pretty smart, the finish over all was decent as Steph went through a light table bump and Triple H was put into a pedigree -- a satisfying win for Seth Rollins.
Winner: Seth Rollins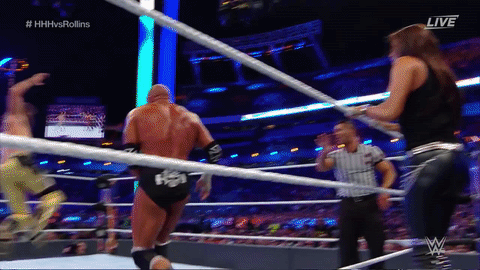 Bray Wyatt vs Randy Orton – WWE World Championship

I love how it almost looks low frame rate.
I expected Randy Orton to win, so it didn't shock me one bit when he did -- which is a damn shame considering this was for the WWE World Championship. It felt almost one sided even, with Bray only managing to use his ability to summon stock footage and showcase gross imagery on the ring-mat itself, it was a cool effect when it happened the first time -- but on repeat twice more I didn't think much of it, by this point I was pretty damn drunk as well, so maybe that's why.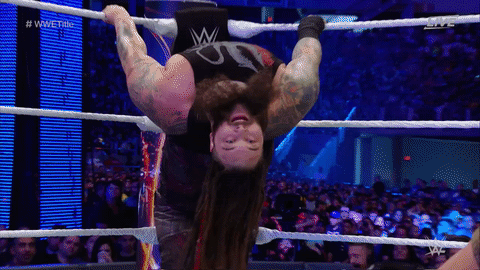 An RKO outta no where later, Randy Orton took home the win, Bray Wyatt was wasted once again. I didn't care much about this match in the end, it was short on time, it could have been great -- but I just don't think anyone was behind Bray Wyatt enough to make it great.
Winner: Randy Orton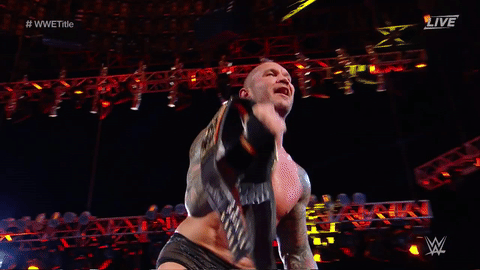 Brock Lesnar vs Goldberg – WWE Universal Championship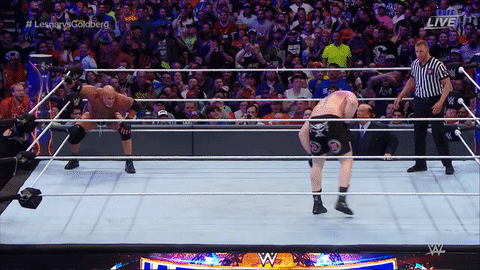 Big men doing big things, this match was nothing but Spears, German Suplexes, a Jackhammer, and an F5 to finish Goldberg off after 10 trips to suplex-city.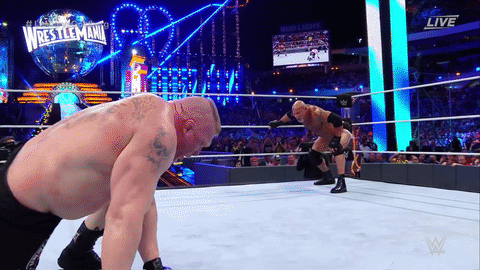 In my drunken state at this point, I marked right out seeing Brock jumping over that spear
It was the summer blockbuster of wrestling matches, it was under five minutes, it was basically two big dudes crashing into each other. I love technical wrestling, but I can't lie -- I do enjoy a match like this every now and then.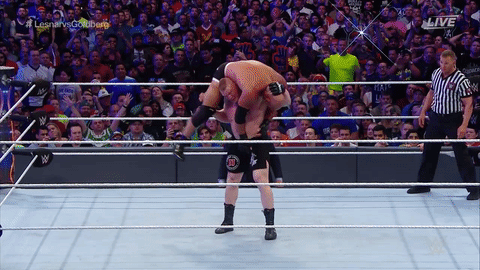 As expected, Goldberg wasn't sticking around -- Brock takes home the win and the Universal Championship, I can only hope he actually shows up more than his last title run.
Winner: Brock Lesnar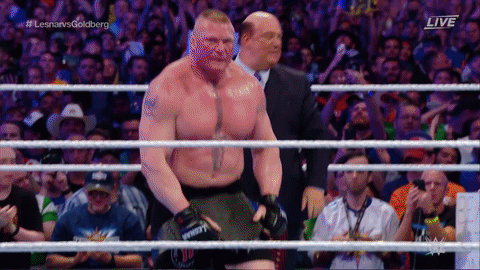 Alexa Bliss vs All Available Smackdown Woman's Roster – WWE Smackdown Woman's Championship Match
What weird circumstances, this match was originally destined for the pre-show -- the "WWE Universe" spoke up and they actually listened. I was honestly shocked that this match went above the Universal and World championship... Shocked because it also wasn't very good.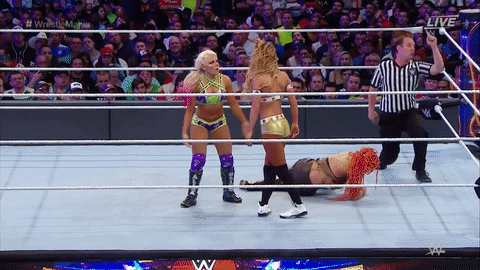 This match reminded me of a diva match... Both because of the length of it and the really dumb petty interactions like this during the match itself.
In the end, Naomi in her home town took home the Smackdown woman's gold in what was a pretty short -- cluster fuck of a match. It was obviously designed to be a pre-show match in design, yet nobody bothered changing the length or booking of it considering its place on the card. Great opportunity put to waste in my opinion, but bravo to Naomi -- it's been a long time coming.
Winner: Naomi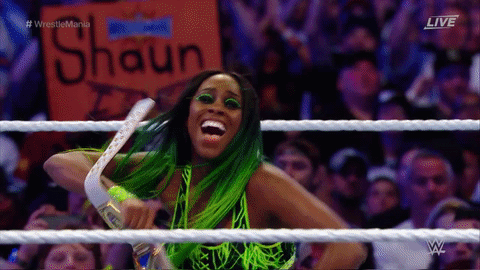 Roman Reigns vs The Undertaker – No Holds Barred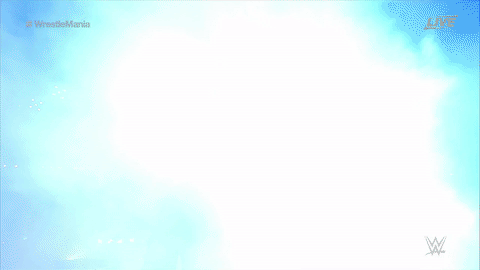 Another match nobody asked for -- but despite the blind hatred for Roman Reigns, I think this match was his heel turn. RAW on Monday only showcased this further and more importantly -- fully acknowledged the hatred for Roman. As for the match itself, I think this match despite a botched tombstone reversal was fantastic -- in terms of story telling that is. I knew something was up right away when Jim Ross was coming out to commentate, I knew right there and then, this was it -- this was the Undertaker's retirement. Going on last as the main event of Wrestlemania, which let me remind you -- Roman Reigns has done this now three times in a row. (Jesus christ) -- Having Jim Ross commentate the match itself, this match was exactly what Undertaker wanted in terms of a story-line, just perhaps not the person he imagined giving the honor.
But to Roman's credit, I think he honestly put on a great show and really sold his performance in this match, the whole feeling of this match was depressing -- in a good way. Watching Undertaker struggle to keep up with Roman Reigns and finally cave at the end, I think was a genuinely beautiful moment in wrestling story telling.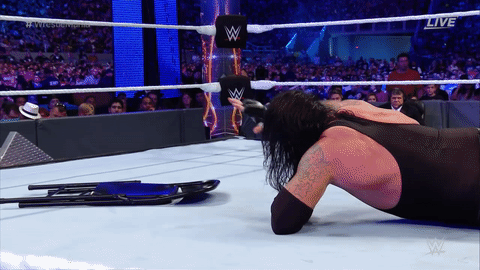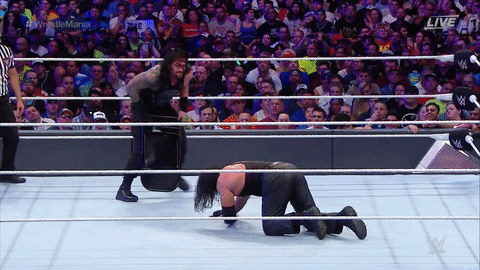 I honestly believe this was the turning point in Roman Reigns, taking out the Undertaker with no mercy.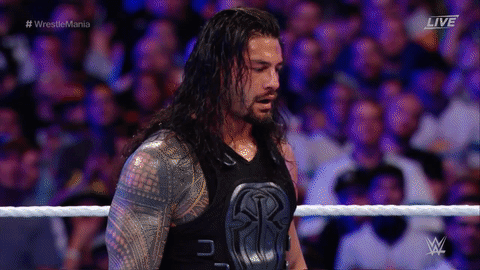 "You don't have the balls"
Then of course -- with Undertaker barely able to keep up at this point, somehow still standing, Roman delivered a final spear and the three-count.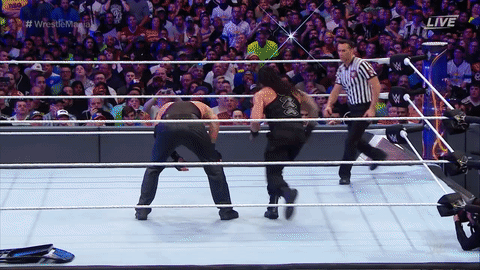 Of course after the ocean of boos had resided and in my opinion WWE going a little bit overboard with the fireworks and celebration for Roman winning, The Undertaker left all his ring gear in the ring, broke kayfabe -- kissed his wife and walked away to a chorus of "Thank you Taker" chants from the 70,000+ in attendance crowd, it was a memory I probably won't forget any time soon.
Winner: THE BIG DOG (Roman Reigns)
I hope you guys enjoyed today's blog, I hope to keep making WRASTLETOID for you guys for every WWE pay-per-view event, I won't be doing these for RAW and Smackdown because I'm not fucking insane and simply put -- I don't have the time to dedicate 5+ hours to watching it all every week.
If you enjoyed today's blog post GIMME THEM HEARTS AND FOLLOW ME HERE FOR MORE! -- SOAK IT ALL IN MAAAAAAAAAAAAAAAAAAAAAAAAAAAAAAAAAAAAAAAAAAAAAAAAAAAAAAAAAN!
---
LOOK WHO CAME:
Dan Roemer
Wes Tacos 18
homeoftheblues 15
Gajknight 11
Uber Mashu 8
Ray Porreca 7
LastSeraph 5
Dvv402 1