Thank you all soo much for the love and support of my last blog! After thought and consideration I decided to make a new blog about the biggest boobs in video games and anime shows.
As with butts, boobs have always had a big part in video games and anime. Most female characters are usually used as eye candy for the gamers that are playing them. As a female myself, growing up it always kind of bugged me that females were always portrayed as skinny waisted, big boobed bimbos. But as I have gotten older I have noticed that some of my favorite characters not only have huge boobies but have a great personality. So here is my thoughts of the biggest boobed girls that I just adore!
#1 Ellie (Borderlands 2)
Ellie is a spit fire with boobs for miles. Juice and I have just started playing Borderlands 2 and when we finally met Ellie I just couldn't help but smile. She is a country bumpkin, with lots of love and sas. A perfect combination of body and personality that any guy (or gal) can love. Also if you are needed a fun light-hearted game to play I would highly recommend Borderlands 2. It is easy to pick up and play. I have never been a big fan of first person shooters but I am totally enjoying this.
#2 Ivy (Soul Calibur 2)
Ahh, Ivy. A kickass fighter that has a sword that turns into a whip. Perfect for fighting dragons and demons, and then quickly switching to naughty bed time fun! I have a lot of love for Soul Calibur 2. It was my first button mashing game that I ever played. I had never quite figured out the dynamics of Ivy, of using her sword verus her whip, so I never played much of her. I always did admire her though, to be able to fight with such little armor and still kickass. She was quick to make this list.
#3 Taki (Soul Calibur 2)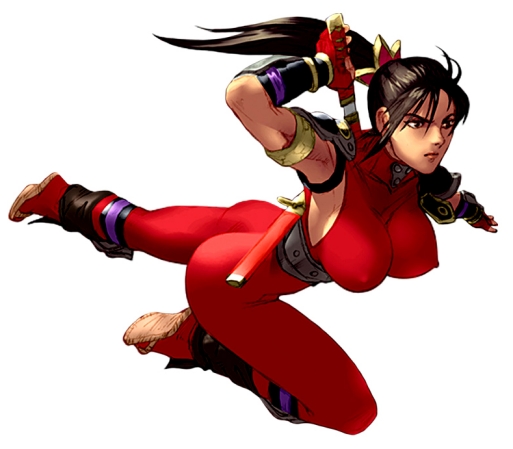 I always seem to double dip in my list but how can you not include Taki? Boobs for days and nipples to contend with. Skin tight outfit and as agile as a ninja. I was fairly good at playing Taki. Though I usually opted out of wearing the skin tight red costume. I went with the white less revealing one. I may stream this game sometime and play Ivy and Taki, to show off their huge tracts of land.
#4 Akeno (High School DxD)
Now I know I put Akeno on my last list as well, BUT Akeno has the largest boobs in this show. So I won't go on and on about her because we all know that she has the whole package. Nice round juicy butt, large bouncy boobs, skinny waist and a sweet personality. She is naughty, nice and full of spice!
#5 Mami (Madoka Magica)
I know what you are probably thinking, Mami doesn't have that big of boobs, in fact they are pretty insignificant compared to the rest of this list. BUT if you are basing it off of her compared to the rest of the characters she has the biggest and perkiest boobs. You can't help but notice them while watching this show. And how could I miss an opportunity to put a girl from my all time favorite show. ;) Mami is the sweet, caring, and nurturing motherly type that every person needs in their life. She looks out for everyone she cares about.
I hope you enjoyed my list! Who would be in your top five? Are boobs better than butts? Leave a comment below about your thoughts! And tune in next week for my next list! If you have any recommendations about what my next list should be let me know!
Also, cocks.
- Don't forget. Always, somewhere, someone is fighting for you. As long as you remember her, you are not alone. - Madoka Magica
---
---
LOOK WHO CAME:
Yue chan
Occams 48
Jiraya 34
ikiryou 31
Wes Tacos 27
Robo Panda Z 23
Agent9 21
TheLimoMaker 21
vxxy 19
TheBlondeBass 15
Zaboru 14
Dreamweaver 11
iam16bit 10
Elsa 10
GoofierBrute 8
DeadMoon 7
BruceZ 6
Gajknight 5
Sailor Zebes 5
CelicaCrazed 4
triggerpigking 2
Electric Reaper 1
Pizza in a Tangle 1
JPF720 1