Aaron "Mxy" Yost was an admin for the Dtoid Forums, and hosted/produced the Radio Destructoid podcast with some of the other Dtoid community managers. He also has a dark secret that must never be revealed, lest the world be split asunder.
Pronunciation: "Miks-yez-pit-lik" Most people just pronounce it "Mixie" for short.
I'm a riddle, wrapped in a mystery, inside an enigma; but perhaps there is a key. That key is Russian national interest.
I am a tale told by an idiot, full of sound and fury, signifying nothing.
I'm not sorry for the things I've said. There's a wild man in my head.
I am two with nature.
I'm a bird who doesn't sing because I have an answer, I sing because I have a song.
I mostly come at night... Mostly.
I'm an alligator, I'm a mama-papa coming for you.
I'm the space invader, I'll be a rock 'n' rollin' bitch for
you.
I'm like, you know... this guy.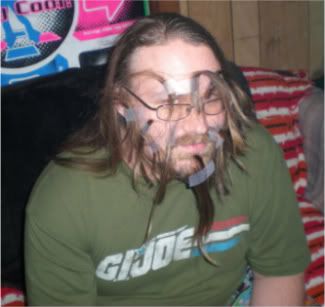 You should listen to
Radio Destructoid
! It's the best podcast ever, except for those other ones that are better.
Ben
and I make videos. You love them and want to subscribe to our
YouTube channel
:
FOOTBALL!!! Blitz: the League 2 Destructoid contest
Left 4 Dead: Interview with a Zombie
Resident Evil 5: A Lesson In Tolerance
Maniac Mansion: Requiem For a Hamster
Castle Crashers Outtakes (Terminator Contest)
Left 4 Dead 2: Interview with a Zombie 2
L4D2 Interview 2 Outtakes
Using Adrenaline in Left 4 Dead 2
The Man-lympics
The Man-lympics Outtakes and Bonus Footage
The Package
Project Mario Vlog: Episode 1
Project Mario Vlog: Episode 2
You can also listen to our ravings about geek culture every week on
Airport Road: The Podcast
!
My Web 2.0s:
360voice
Digg
Facebook
GameTap
Guitar Hero
MySpace
Rock Band
Steam
Tumblr
Twitter
Xbox.com
YouTube
Licensed Games That Don't Entirely Suck:
#1: DuckTales
#2: Chip 'n Dale Rescue Rangers
#3: The Super Star Wars Trilogy
#4: The Dungeons & Dragons Arcade Games
#5: The Warriors
Wii Code:
8534 9943 5696 5337
SSB Brawl Code:
2750-0776-6751
Mario Kart Wii Code:
2363-6044-4563
Much love to
domataos
for my
cblog banner
,
itemforty
for my
avatar
, and
The GHost
for my
DToid card
, as well as every single Dtoider out there for helping to make this the best community on the Interwebs.