HELLO EVERYONE ONCE AGAIN I MAX APPLESAUCE AM COMMANDEERING THIS BLOG FOR GREAT JUSTICE AND THE BETTERMENT OF ALL YOUR KNOWLEDGE ORGANS! IN THE INTEREST OF ULTIMATE INTEGRITY I MUST TELL YOU I HAVE NOT BEEN PAID BY MARVEL TO TELL YOU HOW MUCH BETTER MARVEL IS THAN DC EVEN THOUGH BATMAN IS TOTALLY AWESOME AND SUPERMAN IS OKAY SOMETIMES BUT MARVEL IS STILL WAY BETTER EVEN IF MY NEW BOAT ISN'T A PRETTY COLOR! ALSO THESE WERE THE FIRST EPISODES I SAW OF BOTH SHOWS AND I DIDN'T REALLY KNOW WHAT WAS GOING ON BUT THERE ARE PROBABLY GOING TO BE SPOILERS OR WHATEVER!
ROBIN WILLIAMS I KNEW YOU'D NEVER REALLY LEAVE US!!!
THIS IS MARVEL'S AGENTS OF SHIELD SPACETIME VS. DC'S LEGENDS OF TOMORROW PROGENY SO SHUT UP!
MARVELOUS SHIELD AGENTS STARTS WITH A DIRTY HOBO CARVING A CRACKPIPE OR WHATEVER IT IS FILTHY HOBOES DO AND THEN A MAN COMES OUT AND TELLS THE HOBO TO GO AWAY AND BE POOR AND SMELLY AND HATED SOMEWHERE ELSE SO THE MAN CAN MAKE ALL THE RESTAURANT MONEY! THEN THE MAN TRIES TO HOLD HANDS WITH THE HOBO BECAUSE HIS RESTAURANT IS FULLY STOCKED WITH HAND SANITIZER AND PAPER TOWELS SO HE'S NOT WORRIED AND HE JUST LIKES TO HOLD HOBO HANDS SO MUCH YOU KNOW!? BUT THEN SOMETHING HAPPENS AND HE STARTS TALKING AT THE SKY ABOUT DAISIES!
SUDDENLY SHIELD IS LISTENING TO THE MAN TALK TO 911 AND THEN THEY GO TO THE MAN AND HE SAYS HE SAW THE FUTURE AND THAT'S HOW HE KNEW THE GIRL'S NAME WHICH IS DAISY WHICH IS WHY HE WAS SAYING HER NAME UP AT THE SKY! SO HER NAME COULD GET STRAIGHT UP IN THE AIR REALLY HIGH AND THEN RAIN DOWN IN EVERY DIRECTION SO SHIELD IS MORE LIKELY TO HEAR IT! SCIENCE IS AMAZING!!! AND THEN SOMETHING CALLED HYDRO ATTACKS AND TRIES TO STEAL THE HOBO WHICH DOESN'T MAKE ANY SENSE BECAUSE HE DOESN'T HAVE A HOME SO HE CAN'T BE BEHIND ON HIS WATER & POWER BILLS! ALSO DAISY TRIES TO HOLD HIS HAND BEFORE HE GOES BECAUSE SHE WANTS DYSENTERY I GUESS? SHE SEES AN EDITOR'S FLASHY DEMO REEL AND THEN SHE IS SAD BECAUSE SHE THINKS EVERYONE'S GOING TO DIE IN THE FUTURE!
"IF I HURRY MAYBE HE CAN GIVE ME PINK EYE!"
AN ADORABLE TINY SCIENCE MAN COMES OUT AND SCOTTISHES UP THE PLACE WITH A FANCY EXPLANATION FOR WHY THEY'RE ALL DOOMED AND SHOULD JUST GIVE UP! SOMETHING ABOUT WHAT IF WE WERE 2D AND FLAT AND LIVED ON A STACK OF PAPER AND WE COULDN'T SEE 3D AS ANYTHING BUT INDIVIDUAL PIECES OF PAPER AND ANY LINES OR WHATEVER ON THE EDGE OF THE PAPER STACK WOULD ONLY BE VISIBLE ONE SEGMENT AT A TIME AND WOULD APPEAR TO MOVE THROUGH TIME?! I DON'T REALLY KNOW WHAT ANY OF THAT MEANS BUT I KNOW HE WAS ALL THERE'S NOTHING WE CAN DO TO STOP THE LINE ON THE PAPER AND I WAS LIKE WHAT IF YOU GET THE PAPER WET AND THE LINE WASHES AWAY!? ALL YOU HAVE TO DO TO CHANGE THE FUTURE IS GET EXISTENCE WET!
I KINDA MISSED WHAT HAPPENED NEXT BUT SOMETHING ABOUT CHUN LI FROM THE STREET FIGHTER MOVIE TRAINING FOR THE MISSION TO SAVE THE HOBO EXCEPT THEN SHE COULDNT GO BECAUSE A BLACK MAN WANTED TO SHOW HER HOW HE CAN TURN INTO SONIC THE HEDGEHOG! I'M GUESSING HE WAS JALEEL WHITE AND SHE WAS A HUGE URKEL FAN!?
OUR CUTE COUPLE COMPARING LEFT HANDS!
MEANWHILE THERE IS AN OLD MAN AND HE IS HAPPY TO SEE NEO FROM THE MATRIX BECAUSE I THINK THEY ARE IN LOVE MAYBE!? THEY TALK ABOUT NEO GETTING BETTER AND THEN THEY GO TO BUY A CORPORATION BUT THE BUSINESS MAN DOESN'T WANT TO SELL TO THE OLD MAN SO NEO MAKES THE HOBO TOUCH THE BUSINESS MAN AND HE'S SO DISGUSTED BY HOBO COOTIES THAT HE GIVES THE BUSINESS OVER TO THE OLD MAN! THEN NEO MELTS ALL THE BUSINESS MAN'S BUSINESS FRIENDS BECAUSE THEY WERE PROBABLY AGENT SMITHS!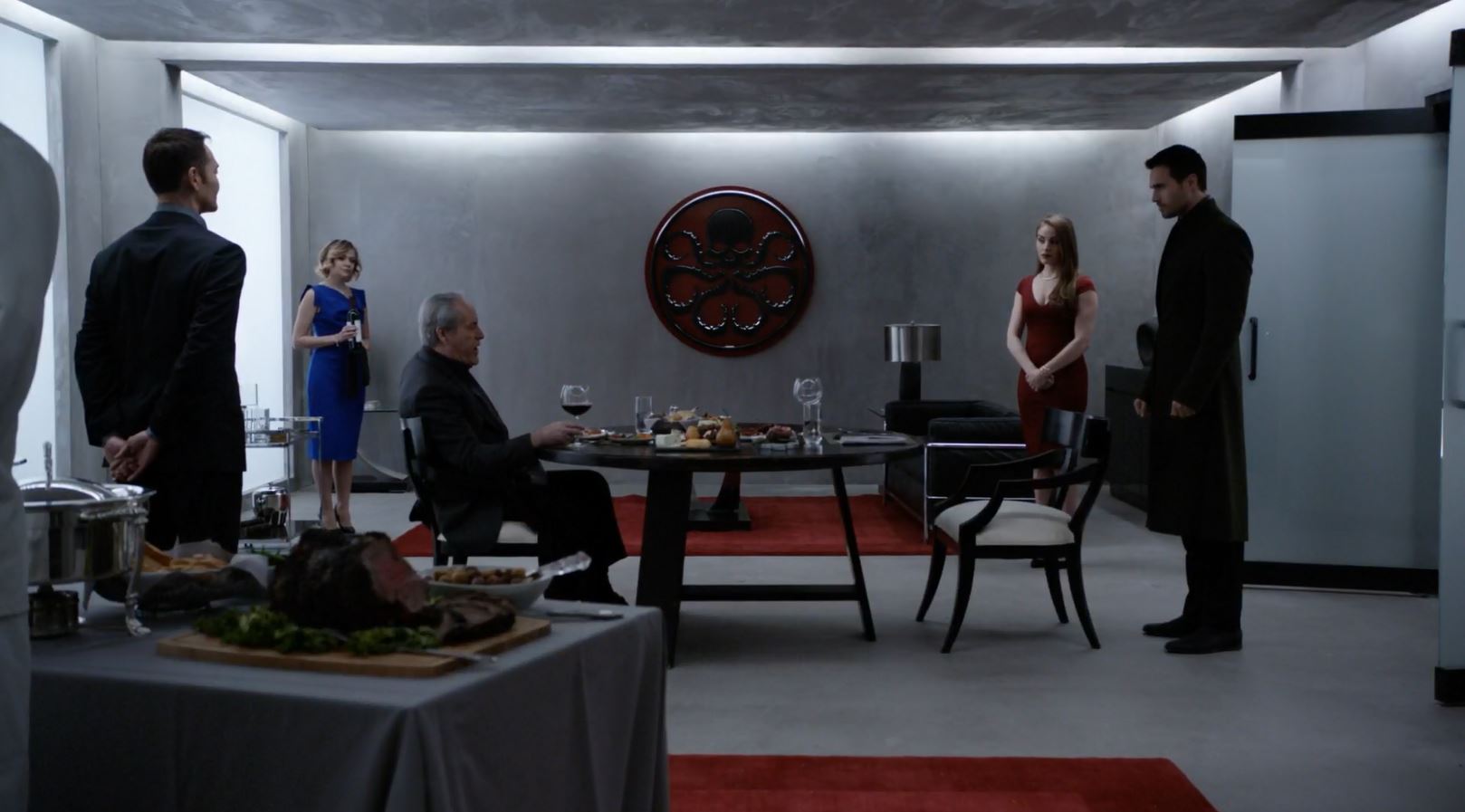 STARTING THE DAY TOGETHER WITH A ROMANTIC BRUNCH!

NOW ITS MISSION TIME! THE DAISY GIRL GOES INTO A BUILDING TO PUNCH A BUNCH OF GUYS AND SHOW OFF HOW GOOD SHE CAN DO CHUN LI'S FIGHT CHOREOGRAPHY BUT THEN SHE THROWS MAGIC WAVES OR SOMETHING AT A DUDE WHICH WOULD HAVE MADE THE WHOLE THING SO MUCH QUICKER IF SHE JUST DID THAT TO BEGIN WITH! THEN COULSON SHOWS UP WITH A GUN JUST LIKE IN HER VISION AND OH NO HE'S GOING TO SHOOT HER BUT THEN HE SHOOTS A MIRROR INSTEAD AND KILLS THE GUY ON THE OTHER SIDE AND WHAT A SURPRISE THE THINGS IN THE VISION ARE COMING TRUE LIKE ADORABLE SCOTSMAN SAID BUT THEY AREN'T HAPPENING THE WAY THEY THOUGHT THEY WERE GOING TO BECAUSE THEY ALL JUMPED TO CONCLUSIONS THIS IS AN UNEXPECTED TWIST!!!
MEANWHILE CHUN LI AND JALEEL WHITE ARE HANGING OUT AND THEN JALEEL GOES INTO A BOX AND TURNS INTO SONIC AND CHUN LI CRIES BECAUSE HE LOOKS TERRIBLE AS SONIC AND DOESN'T EVEN RUN FAST WHAT A RIP OFF!
HE EVEN HAS BANDAGES ON HIS ARMS OH WAIT NO THIS IS A SCREENSHOT FROM SONIC BOOM 2!!!
ALSO MEANWHILE NEO GIVES THE OLD MAN A ROBOT EXOSKELETON SO HE CAN DESTROY UGLY FURNITURE AND THEN HE AND DAISY GO TO THE ROOF TO HAVE A FIGHT AND EXOSKELEMAN IS TOTALLY BEATING UP DAISY BUT THEN THE HOBO TOUCHES HIM AND HE GETS SO GROSSED OUT THAT HE CHOKES THE HOBO BUT DAISY USES AFTER EFFECTS TO THROW THE OLD MAN ACROSS THE ROOF SO THE OLD MAN LEAVES AND CALLS HIS OTHER BOYFRIEND WHO IS HANGING OUT WITH NEO AND DOESN'T WANT TO COME HOME SO UH OH LOVERS TRIANGLE!!!
DAISY AND THE HOBO LIE DOWN ON THE ROOF TOGETHER AND TALK UNTIL THE HOBO DIES OF BOREDOM! BUT FIRST SHE TOUCHES HIM BECAUSE SHE'S INCAPABLE OF LEARNING AND GETS A VISION OF HER FUTURE WHERE SHE IS PLAYING ADR1FT ON OCULUS RIFT!
THERE'S POTATO CHIPS EVERYWHERE! IF ONLY HOMER WERE HERE!
ALSO THERE'S A FIRE AND THE ADORABLE SCOTSMAN AND HIS ADORABLE GIRLFRIEND ARE STANDING ON THE GROUND AND THEY SEE THE ASH FLOATING DOWN AND THEY REALIZE THAT DAISY'S HOBO-INDUCED VISION WASN'T OF SNOW BUT OF ASH SO THEY SMILE AND HOLD HANDS SMUG IN BEING RIGHT ALL THE DAMN TIME AND ALSO THEY SEEM TO HAVE FORGOTTEN THAT AS FAR AS THEY KNOW IF THEY'RE RIGHT THEN DAISY IS DEAD BUT I GUESS THEY DON'T REALLY LIKE DAISY ALL THAT MUCH! ALSO DAISY ISN'T ACTUALLY DEAD SO IT'S OKAY!
IT WAS A GOOD SHOW AND I LIKED THE SUPER POWERS SO I DECIDED TO CHECK OUT ANOTHER SHOW THAT'S ABOUT TIME TRAVELING SUPER HEROES BECAUSE SURELY THAT ONE WILL HAVE EVEN MORE SUPER POWERS!
TIME FOR THE PRE-MISSION BOOGER CHECK!
LEG ENDS OF TOM ORROW BEGINS BY TELLING US THAT RORY POND FROM DOCTOR WHO STOLE A TARDIS AND PRETENDS TO BE A TIME LORD NAMED RIP HUNTER SO HE COULD TRY TO KILL A GUY NAMED VANDAL SAVAGE BECAUSE DEAD FAMILY! RIP HUNTER AND VANDAL SAVAGE! SERIOUSLY THAT'S THEIR NAMES! TIME TRAVELING RIP HUNTER WHOSE NAME WOULD ONLY BE ACCEPTABLE IF HE HUNTED FOR TIME RIPS OR SOMETHING AND BAD GUY VANDAL SAVAGE WHOSE NAME WOULD ONLY BE ACCEPTABLE IF IT WAS SOMETHING ELSE ENTIRELY!
ONCE THE BACKSTORY IS ESTABLISHED THE EPISODE BEGINS WITH RORY POND WALKING INTO A ROOM WHERE THERE'S ANOTHER RORY IN A JAIL! PROBABLY IN THERE FOR STEALING RORY'S NAME! RORY AND RORY TALK ABOUT HOW RORY WANTED RORY KILLED BUT SOMETHING CALLED A SNART DIDN'T DO THE KILLING RIGHT!? BUT THEY GET BORED OF TALKING AND RORY DECIDES TO GO TO THE FUTURE!
THE WHOLE TEAM DECIDES TO GO FOR A NICE STROLL BECAUSE THEY CAN AND SUDDENLY IRON MAN SUITS SHOW UP TO STOP A CRIME! SUPERMAN LOOKS CONFUSED AND THINKS THE SUITS ARE HIS AND THEN HE DECIDES THAT INSTEAD OF HELPING WITH WHATEVER THE MISSION IS SUPPOSED TO BE HE'S GOING TO INSTEAD GO OFF AND LEARN ABOUT ROBOTS!
ONE OF THESE THINGS IS NOT LIKE THE OTHER! ONE OF THESE THINGS JUST DOESN'T BELONG!

THEN RORY GOES TO A MEETING WHERE HOODLUM BARBARIAN SUGGESTS THAT THERE ARE TOO MANY PEOPLE ON THE PLANET AND A BUNCH OF THEM NEED TO DIE WHICH IS TRUE AND I THINK I'VE ALREADY DISCOVERED THE PROBLEM OF THIS SHOW AND ITS THAT HE'S THE REAL HERO AND RORY IS A MORON WHO HAS NO IDEA WHAT HE'S DOING! THEN THIEF BRUTAL MEETS A KID WITH A NAME I HAVE NO IDEA WHAT IT IS AND I GUESS THE KID IS FUTURE HITLER OR SOMETHING AND THE GUY WHO TALKS LIKE A 20'S MAFIA BOSS WANTS TO KILL THE KID BUT THAT WOULD MAKE THE EPISODE TOO SHORT SO THEY DECIDE TO INSTEAD INFILTRATE THE FUTURE NAZIS AND KIDNAP THE KID AND ASK HIM NICELY TO NOT BE HITLER!
DO YOU GET IT!? THEY'RE FUTURE NAZIS! I DON'T KNOW IF YOU GET IT BUT THEY'RE SUPPOSED TO BE LIKE NAZIS BUT IN THE FUTURE!
MEANWHILE SUPERMAN IS TALKING TO KAYLEE FROM FIREFLY ABOUT ROBOTS AND IT'S REALLY A SHAME BECAUSE KAYLEE DESERVES MUCH BETTER IN HER CAREER! SHE TALKS ABOUT HER GREAT-GRANDFATHER STARTING THE COMPANY AND THEN THEY SEE SUPERMAN'S HEAD-STATUE ARE ALL LIKE WHAAAAAAT!? THEN INSTEAD OF DOING ANYTHING WORTHWHILE SUPERMAN INSTEAD MOPES AROUND WONDERING HOW HE HAD A KID BECAUSE SURELY HE ISN'T EVER GOING TO GO BACK TO HIS OWN TIME AND HAVE HIS OWN FAMILY EVENTUALLY!
EXCEPT HE DIDN'T HAVE A KID BECAUSE THEY FIND OUT THAT HIS IDENTICAL TWIN THAT HE COMPLETELY FORGOT EXISTED IS ACTUALLY THE GREAT-GRANDFATHER AND DID I MENTION SUPERMAN IS SUPPOSED TO BE A SCIENTIST!? THIS IS ONE OF THE BEST WAYS TO SHOWCASE THE DIFFERENCE IN WRITING QUALITY BETWEEN THESE TWO MULTIMEDIA CONGLOMERATES! MARVEL'S SCIENTISTS EXPLAIN IN BRILLIANT DETAIL THE CONCEPT OF VIEWING FOURTH-DIMENSIONAL SPACETIME AS A THREE-DIMENSIONAL BEING WHILE DC'S SCIENTISTS DON'T UNDERSTAND HOW TIME WORKS!
I'M BORED! THIS SHOW IS BORING! WHEN IS LITTLE MAN GOING TO BREAK BIG MAN OUT OF PRISON!?

SO THEY KIDNAP THE KID WHO I THINK IS NAMED DER MEGATRON WHICH MAKES SENSE IF HE'S A FUTURE HITLER! AND THEN RORY STEALS THE KID FROM HIS OWN SHIP AND TAKES HIM TO A LAKE TO POINT A GUN AT HIM AND CRY A BIT! THEN THE KID ACTS LIKE A CREEPY PSYCHO WHO IS OBVIOUSLY EVIL AND RORY DECIDES THAT KILLING HIM IS BAD AND ASKS HIM TO STOP BEING EVIL!
BUT BACK AT THE SHIP THE KID'S DAD AND MISCHIEF-MAKER FEROCIOUS HAVE SENT THEIR NAZI ARMY TO SHOOT AT THE PEOPLE WHO KIDNAPPED THE KID BECAUSE WHEN A BUNCH OF PEOPLE ARE HOLED UP IN A STRUCTURE WITH A HOSTAGE THE FIRST THING YOU DO IS OPEN FIRE ON THEM WITHOUT NEGOTIATIONS! 30 MINUTES INTO THIS 40-MINUTE SHOW THE GOOD GUYS FINALLY REMEMBER THEY HAVE SUPER POWERS! SUPERMAN DRESSES IN HIS IRONMAN SUIT AND THEN SHRINKS BECAUSE HE'S ANTMAN! SUPIRANTMAN FLIES OUTSIDE AND GETS HIS TEETH KICKED IN BY ROBOT IRONMANS SO HE GOES TO KAYLEE TO ASK HER TO TURN OFF THE ROBOTS AND POTENTIALLY BANKRUPT HER MULTIMILLION DOLLAR CORPORATION AND PUT THOUSANDS OF PEOPLE OUT OF WORK!
MAYBE RORY SHOULD FOCUS ON KILLING CHARLIE MANSON INSTEAD OF LECTURING NAZI CHILDREN!
BACK ON THE BATTLEFIELD RORY SHOWS UP WITH THE KID AND ASKS HIS DAD TO TAKE HIM BACK SO HIS DAD DOES AND EVERYONE GOES HOME BUT THEN LOOTER CRUDE TELLS THE KID A STORY ABOUT SOME OTHER DAD WHO IS SO STUPID THAT HE BELIEVES A PROPHECY ABOUT HIS KID TAKING HIS THRONE SO HE BANISHES THE KID FROM THE KINGDOM BUT THAT JUST MAKES THE KID ANGRY SO HE KILLS THE DAD AND TAKES THE THRONE! THIS MAKES DURR POKEMON DECIDE TO KILL HIS OWN DAD AND TAKE OVER FOR ABSOLUTELY NO REASON BECAUSE THERE'S NO PROPHECY OF HIM DOING ANYTHING AND HIS DAD DOESN'T KNOW THE FUTURE AND HAS NO REASON TO BANISH HIM!
THE TARDIS'S DUMB VOICE EXPLAINS TO THE GOOD GUYS THAT THEY DONE MESSED UP AND NOW ALL THE BAD THINGS THAT WERE GOING TO HAPPEN IN 5 YEARS ARE INSTEAD GOING TO HAPPEN IN NEXT WEEK'S EPISODE! THANKS MORONS! RORY WONDERS IF HE MADE A MISTAKE BY NOT KILLING HITLER AND INSTEAD ALLOWING 600 BILLION INNOCENT JEWS TO DIE JUST SO HE COULD FEEL WARM AND FUZZY FOR A MOMENT!
A BEHIND-THE-SCENES LOOK AT THIS GUY DISCUSSING WITH THE WRITER EXACTLY HOW HE FEELS AFTER READING THE SCRIPT!
THIS SHOW SUCKS! MARVEL'S SHOW HAD A FEW CHEESY BITS AND ONE OR TWO MINOR LAPSES IN JUDGMENT BUT IT WAS ALSO FILLED WITH FUNNY MOMENTS AND CLEVER WRITING AND GREAT ACTION AND DRAMATIC MOMENTS AND CHARACTERS THAT FEEL LIKE REAL PEOPLE! DC'S WASTE OF TIME WAS FILLED WITH TERRIBLE ATTEMPTS AT ONE-LINERS AND BORING SCENES THAT WENT NOWHERE AND IDIOTIC PLOT CONTRIVANCES WITH PAPER-THIN ONE-NOTE CHARACTERS THAT STILL MANAGE TO FEEL INCONSISTENT AND THE ONLY LAUGHS I GOT OUT OF IT WERE WHEN I WAS LAUGHING AT HOW MUCH OF A TRAINWRECK THE WHOLE THING WAS! THE ONLY TEARS CAME FROM THE REALIZATION THAT THE SHOW ABOUT AN ENTIRE TEAM OF SUPERHEROES HAD LESS ACTION AND FEWER SUPER POWERS THAN THE SHOW ABOUT SPIES!
I GIVE MARVEL'S AGES OF SEALS A REALLY KICKASS CAKE OUT OF 10!

I GIVE DC'S LOG ENTS OF TAMARA THIS THING OUT OF 10!

MAX APPLESAUCE OUT!!!
- I shit my pants on Christmas once.
---
---
LOOK WHO CAME:
MechaSlinky
Raikus Magical Holidays 11
Gajknight 10