Is there a difference between American and British Shovels? Maybe. But they didn't localise the game properly in that case so my point still stands.
Shovel Knight has clearly lied to us all. If we watch trailers of this "acclaimed" "indie" "game" we can clearly see that if he is holding a shovel, he has never been trained properly in its use. I, on the other hand, have been trained in the way of the shovel, the spade and indeed the mattock, and feel compelled to expose this fraud – especially now that he has insidiously wormed his way into getting an amiibo (fig. 1).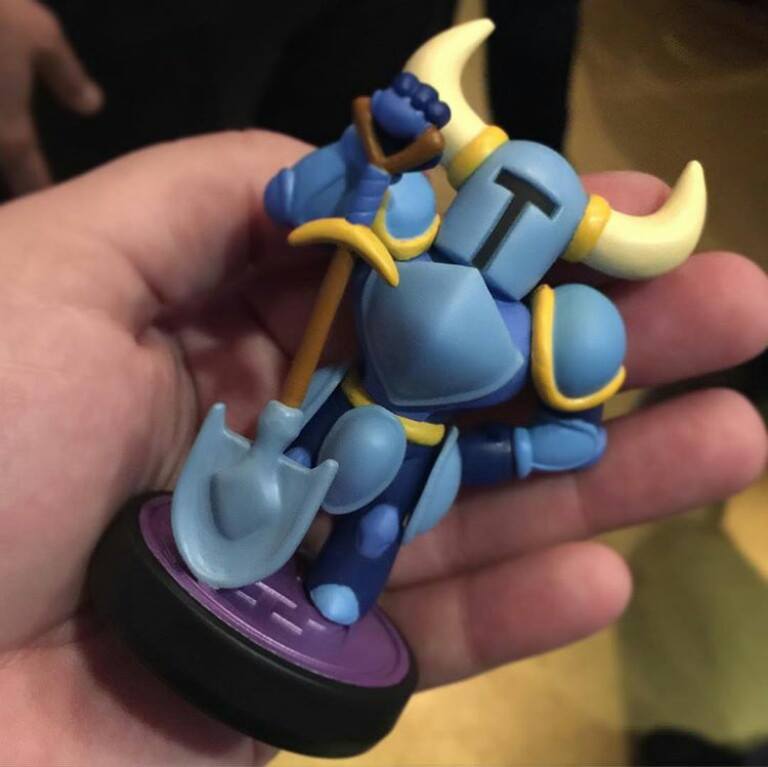 Fig. 1 Shovel Knight amiibo
Observe how at exactly 1:28 Shovel Knight uses his "shovel" in a downward motion to break up some fresh earth, shovels are in fact extremely poorly suited to this job, and are often curved and more so designed for a horizontal scooping motion. Had shovel knight really been holding a shovel he probably would have simply damaged it, or worse injured himself (fig. 2).
Fig. 2 The largely blunt and curved shovel would fail to break through the ground to any significant degree.
Fig. 3 Diagram illustrating proper shovel use.
If we examine figure 3 we can see how a shovel should be used, with the dominant hand on the handle providing the bulk of the force, and with the lesser on the shaft acting as a guide. If more force is needed you can then easily apply your body weight in order to achieve deeper penetration. What is key here is that the shovel should really be used to clear up loose created by other more efficient tools, never actually used to loosen the earth. Had we been breaking up soil horizontally we would use a mattock, vertically a spade.
Fig. 4 Diagram displaying how the sharper, flatter spade would cut deeper into the earth.
If we examine fig. 4 we can clearly see that what Shovel Knight should be holding is a spade. But Spade knight doesn't sound as good does it? Shovel Knight is a franchise built around one giant lie, I say we sue Yacht Club for all they are worth for false advertising or some bollocks.
I'm not just bitter that Shantae doesn't have her own amiibo. Shut up.
---
LOOK WHO CAME:
Cynric Cyning
M Randy 10
Retrofraction 9
Asterion 4
lewness 1
Agent9 1
extatix 1
Gajknight 1
GodEmperor Paige 1
Avoclefo 1