So today, Jim Sterling has posted a podcast of an interview he participated in between himself and Digital Homicide, the developer most famously known for the game The Slaughtering Grounds. If you've been following the saga then skip ahead, if not, I'll try to summarise it here.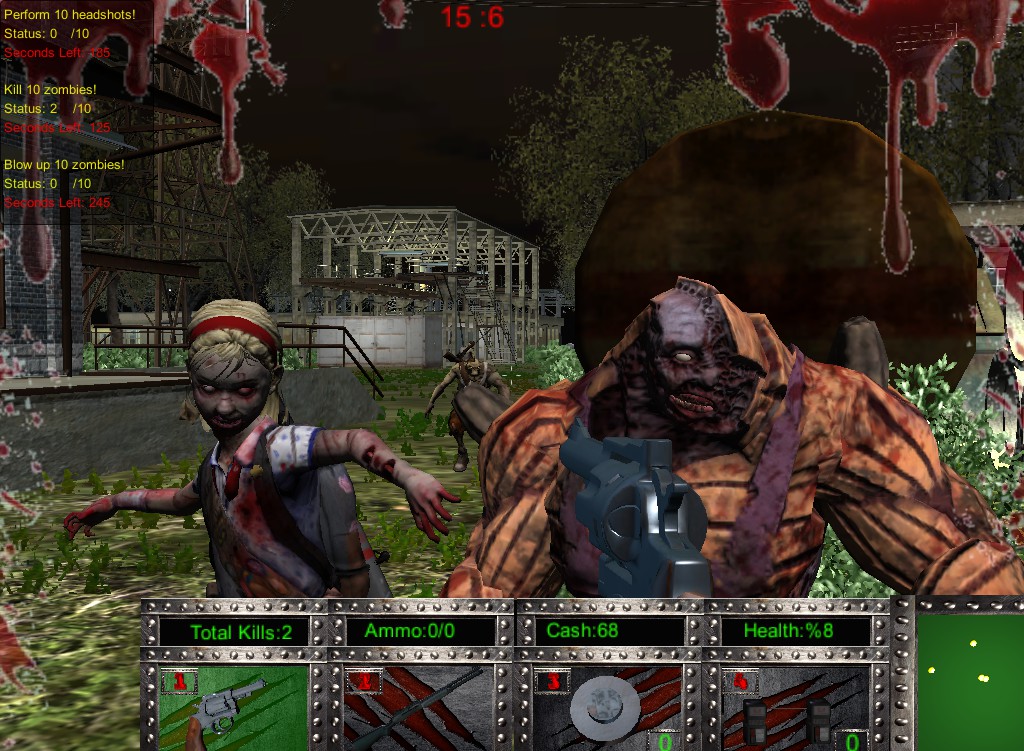 Digital Homicide released The Slaughtering Grounds on Steam Greenlight. I'd give a description (the picture above probably tells you more than enough), but check out the store page and most importantly, this Jim Sterling Squirty Play video where all this all began. The video is a very harsh critique of the game and for good reason. What happened next started an entire saga of PR disaster. Digital Homicide (hereby now referred to as DH) posted a Review the Reviewer video (which has since been taken down) where they personally attacked Jim for his video and subsequently tried to have Jim's video removed from YouTube.
The bitterness between the two parties has continued for some time, Jim has refered to the incident several times in his Jimquistion series and has continued to review or provide first play impressions for future DH games, and DH has written comments on its steam forums attacking the practices of Jim and others who do similar work.
---------------------------------------------------------------------------------------------------
So we now come to today's interview which if you can stomach the absurdity and poor audio quality does go on for over and hour and a half. DH approached Jim about conducting the interview in an attempt to make the conversation about the whole ongoing saga more open. The conversation in full can be found on Jim's Patreon post here or listen below:
The conversation is, well, I found it mostly amusing if a little cringeworthy at times. It's very clear that neither party has any intention of backing down from their respective positions and its mostly full of unanswered questions, attempts at logic that make little to no sense and a few insults thrown in as well, plus a bunch of stuff Jim tries to say when he can get a word in edgeways. There are several different topics that are brought up, such as YouTube distribution, the definition of what Jim's job actually is (DH compares him to a leech), whether or not the gun sounds are any good etc. There are a few points about these topics I want to focus on in this post, that I was surprised Jim didn't bring up himself.
1. Backpedaling

In the original video, Jim makes several points about certain assests in the game that were used poorly or were blatant rip offs. The most famous being the blood splatter image that was taken directly from a google image search.




In the interview, DH commented on how things like this had been changed or removed from the game and that the game is now only 99 cents (at time of writing the game is on sale for £0.15 on the UK store). The issue here is these changes are all completely irrelevant to the arguement as the video he is complaining about was released before any of these changes were made. He also mentioned that the game can be refunded on Steam for consumers who are dissatisfied with the product. Another mute point in his argument as again, Steam refunds is a practice that had not been implemented at the time of Slaughtering Grounds release. He claimed people don't need to see Jim's bad reviews, but at that time, watching that Slaughtering Grounds video was well worth the time and saved you from spending $10 on the game. At the time of the game and the videos release. Jim's suggestion in response that he was trying to get across was that the game should have been made available to play for free, likening it to practices such as putting the game on Newgrounds. DH can backpedal all they like with claims that things have changed and improvements have been made but the point was that the game, in the state that Jim played it in and created that video around, was not worth $10 and should probably have never been made available for sale in the first place.

2. Both Parties Create Their Work In The Same Way

Throughout the interview, DH agreed that the way he had created the game was to purchase Unity store assets and then put them together using his code, with his coding being the time and effort that warranted to game having a price tag. His only defense for this practise was to try to liken it to how Jim creates his videos, using gameplay footage from a developers game, adding other images or assets that Jim has either purchased, been given permission to us, or is using in compliance with fair usage. It was his claim that Jim cannot complain at his work in this way, when Jim does exactly the same with his work and earns around $10'000 a month from Patreon by putting other people's assests together and simply adding his critique. Besides the fact that the two create completely different mediums of work and so a comparison like this is unfair to begin with, what neither party discussed was the way that Patreon operates. Jim tried touching on it at one point when he talked about starting out as an amateur creating videos without pay which over the years he has refined into a career, but this thought process got lost from DH talking over him and changing the point constantly. The point here is that Jim's Patreon is completely optional and you "the consumer" are not required to pay any money whatsoever to access his material. He does claim advertising revenue from YouTube videos but this is at no monetary cost to the viewer. Those who do (disclaimer: I am a supporter of Jim's Patreon), do so out of choice, because they like Jim's work and wish to support him. On the flip side, what DH did by buying Unity assets whilst was not incorrect or wrong, but charging $10 for that product and then trying to compare it to what Jim does is unfair without the proper context.

3. Apologies

For my final point, I find the ending of the interview unfair and really think Jim should've said something about the apologies. DH claimed that they had both apologised to each other and that they can accept these apologies and move forward. DH did apologise for the Review the Reviewer video that was posted, saying it was an over the top reaction. He didn't apologise for anything else. Jim on the other hand, did not apologise for anything, and quite rightly so, he has nothing to apologise for in my opinion. Jim shouldn't have accepted DH's claim that he had apologised, because he hadn't and shouldn't have to and this creates a false impression that Jim has accepted some sort of guilt, that he agrees that he has done something wrong. Jim's methods and personality can be pretty extreme at times and not everyone would agree that the way he delivered the original video was appropriate. DH clearly thinks that, I most certainly do not but that's why I enjoy Jim's work. That being said, Jim still didn't do anything wrong. Though a topic of negativity, DH creating Slaughtering Grounds with cobbled together assests and no artistic cohesion wasn't wrong, it was poor, but not wrong and DH made no attempt to apologise for that so to suggest that Jim had apologised for the way he presented his material was simply delusional. Whilst I very much doubt it would come up, this could be used as fodder by DH in the future against Jim, if they use to claim his admission of guilt. It's unlikely, but then again, if you did just listen to that interview, you wouldn't see it as a big surprise. I certainly wouldn't be surprised if they used the fact that Jim's dildo is not an accurate representation of the average male penis against him.
So those are my thoughts on the subject. For everybody's sanity, let's hope that this sees the end of this whole ordeal. Although as Jim stated in the podcast, awards season at the end of the year is when will next likely hear him talk about Digital Homicide once again. Question is, will DH do something in the mean time or have we got a backlash from this interview to look forward to? Let's hope whatever form the next installment comes in, its slightly more brief. In the meantime, I will continue to support Jim's Patreon account, watch his videos and not purchase any content from Digital Homicide. Then again, I actually bought the PC version of Arkham Knight, I've already been a sucker once this year. Once a year is enough.

Thanks for reading!

Oh and thank God for Jim.
---
LOOK WHO CAME:
Nick R P Green
Jared Ari 1
Perfidious Sinn 1
Retrofraction 1
siddartha85 1
molamolacolacake 1
Nick R P Green 1
Johney 1
Gamemaniac3434 1
Elan Bard 1
Rathclav 1
extatix 1
GodEmperor Paige 1
Ziel 1
James Internet Ego 1
Kyle Mulholland 1