When I'm given the option to create a character in an RPG or hunter game, I tend to go a little overboard, I guess. I'll sit there and spend hours messing with the options - especially if I know that character is going to be playable in an online game. I don't want a character that looks like all the others. When my character looks like another it actually ticks me off and I go back and change my character a little. I want my character to stand out.
I actually do think how you go about character creation might say something about you as a player. I mean, I don't have any hard science to back it up, but I doubt people often go for Commander Shepard's defaults in Mass Effect because they look nice, but because they don't care for this stuff and just want to play the game. Nothing wrong with that, really. It might be a little boring, but if you're just raring to go and don't care to fiddle with hair color, noses and eyebrows I suppose I can't fault you fo that. If you're just doing single player it's not like you're out to impress other people with your Shepard, really.
Then again you can replay cutscenes in Freedom Wars, screengrab the images on your Vita and share them with the world if you want, so maybe a little creativity wouldn't hurt after all.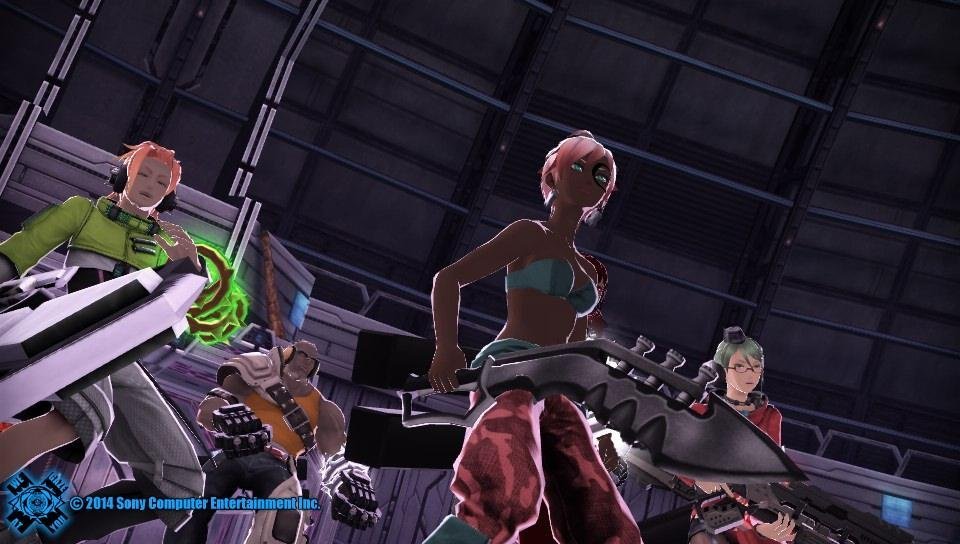 Other people might want to project themselves into a game's world, make a character in their own image as best as the tools allow. That's not terribly creative, either, but I very much get it. It's practical. It's you. Other people just want to be creative and stand out or they stumble on to an aesthetic that just works for them. I'm somewhere between these three options myself more often than not. I want to see or project something of myself into the games I play, but sometimes aesthetics and even the setting of the games themselves bear and influence.
In Freedom Wars, I chose the New York Panopticon as my "home," as it were, after an opening sequence featuring many story characters. Assuming the ruined city I was in was actually New York I figured I'd make someone that looked like they were from New York. I also have a thing for white-haired anime women, particularly pixie cuts (go figure), but aesthetically I felt that white-ish hair looked cooler on someone with a darker skin tone. Many of the characters in the intro were already Caucausian or Asian, so making my character look African-American just seemed to fit. Nothing really "social justice" about it, she just felt like she made sense. I liked what I saw.
Then I gave the white hair pink or purple highlights and named her Ripley, after Ellen Ripley from Alien. As for her lovely android partner, who I have renamed Ruby Nyx because her colors scheme is mostly red and black, she is just the sum of all my attractions rolled into one sexy robot lady. Tall with dark, red hair and nerdy cute half-rim glasses. I'm not short like I made Ripley, I just thought was cute to make her small because she destroys giant robots all the time and carries a massive chain gun, but I do have a certain weakness for taller women so that is why Ruby is taller. As for the face paint, well, it doesn't feel like a Mad Max-ish post-apocalyptic world without some face paint.
I was going with all kinds of face paint on Ripley. At first, I went with ones that reflect the suits of playing cards, but it was a bit too cute. The crecent moon matures her look a bit. As for why Ruby has flames coming out of the bottom of her left eye and all over her left cheek, I just think it's sexy.
So Ripley look's was based more on aesthetics, location and a dose or realism. The only thing i projected into the character was her gender and a hairstyle I like. I guess you could say once I have an idea for my character, they might take on a life all their own. Were this something like Dragon Age with a stronger western fantasy aesthetic, the results would be different. I would be a redheaded elf. Okay, I'm not a natural redhead, but still.
Ripley comes from a post-apocalyptic future, though, so I base my choices based off modern settings. Interestingly, I made similar choices with my Fallout: New Vegas character, except she favored NCR gear and didn't get the robust costume options you get in Freedom Wars. I really like it when I'm given customizable outfits or armor. That's gives you a whole extra layer of options to personalize your character with. Sure, catsuits and bikini tops might not be good for defense considering the situations in Freedom Wars, but I think if a giant robot slaps you across the map it probably doesn't matter how much armor you had on - it will just hurt.
So catsuits and bikini tops are in. Ruby's becoming a bit too classy, though. She's started taking a liking to fur coats - yes, this in the post-apocalyptic hellscape we live in. Did you know she sits there, sipping chardonnay and smoking while she evaluates the results my daily work as I'm resting in my cell? That she watches me in my sleep? That she looks down on me and I kind of like it when she does that?
Anyway, yeah, I get into my characters. I literally do spend hours customizing each bit of them. They give you thirty slots to save outfits for both your Sinner (player) and their Accessory (android) in Freedom Wars, so naturally I have nearly filled up each slot. The look above is my favorite, though. I'm even working on weapons that match the outfits. Swords, massive chain guns, sniper rifles and spears - all of them. Ripley may be a prisoner living under socialist totalitarian rule and working off a million year prison sentence, but I'll be damed if she isn't going to look good working for the greater good of Panopticon.
Something else about this process becomes so personal that I can't bring myself to make a new character that is different from the one I originally made. I have actually tried to make characters different from Ripley and Ruby in Freedom Wars on an internal save file, but I keep coming back to their looks. Same thing in Skyrim, my Dovahkiin is forever a redheaded female Nord that loves sporting the Savior's Hide, other fur-based armor and is a vampire hunter that loves crossbows and becomes a wearwolf. My MU in Fire Emblem: Awakening must have short purple hair that covers one of her eyes, even on a replay.
Like I said, not much of this is scientific, but it is expressive. I know my motives, at least. It's less about escapism and more about feeling I've put my mark on the experience, that I can stand out or be able to express myself. And personally, there's alway been a certain comfort picking a female character has provided me since I'm trans - especially before when I was in the closet and dealt with the depression that can come alongside gender dysphoria, but that facet of it is for an upcoming blog. Suffice to say it helped that games like this felt like they were speaking to me rather than someone else.
Anyway, so what drives you when you create a character?
---
LOOK WHO CAME:
Whispering Willow
Batthink 1
OverlordZetta 1
Punished Nietzsche 1
Gajknight 1
Floppablecat 1
SirNode 1
Robo Panda Z 1
Ben Davis 1
Dreamweaver 1
scarritt 1
Elsa 1
Sotanaht 1