2014 was an interesting year of gaming for me. It was a year of transition, personally, and in gaming. It was the first year I got a PS4 and tried out "next gen" gaming. But instead of PS4 leading the way, many of the best experiences were seen on other systems.
1) Rusty's Real Deal Baseball (3DS)
April 3rd, 2014
I feel like this is the most underrated title of 2014. This is the "Wii Sports Resort" of the Nintendo 3DS system. The game was built entirely to capitalize on 3D vision, and is structured in a bite sized format that is perfect for handheld gaming.
Iwata pitched the game in Nintendo Direct by describing how hard the team at Nintendo worked on capturing the "real feel" of specific baseball actions. When you see a game being pitched to the public not on story, graphics, or premise - but instead just on the quality of the controls and the feel of the gameplay, you know you have something special on your hands.
I logged probably 50 hours into this game and still didn't finish all the various trials, or tire of going for more high score challenges. But in addition to the gameplay, the game is probably the funniest and most interesting depiction of a working class comedy I've seen in gaming in the last several years. This is Nintendo at their weirdest - depicting a canine version of the 90s sitcom "Roseanne," with a litter of juvenile delincquint pups out to terrorize their over-worked and hopeless father as he runs his business on the razor's edge between staying open and bankruptcy. It's silly, it's goofy, but it's got a feel all it's own, and it's not something you're likely to see in other games any time soon.
In addition to the phenomenally polished gameplay, and the quirky story, the game innovates even in the pricing model - with the whole game incorporating haggling to lower the real life / real money price of the mini-games you purchase by persuading the father to lower his store prices in the story. It's pretty ingenious to see them set the story up with the ultimate loser underdog, but then encourage the player to haggle him down to the bone so he doesn't make any profit at all. Almost every aspect of this game is fun.
2) inFamous: Second Son (PS4)
March 21st, 2014
This is pretty much the most gorgeous looking game of 2014, and the game that showed off what the PS4 is really capable of. Not only is it visually stunning (I mean .... REALLY visually stunning), but it incorporates some of the most original and unique super powers I've seen in any comic setting in a long time. It's more reminicent of the television show "Heroes" than it is a video game, and each power is gorgeously depicted and fun to use.
Another big surprise for me was just how likeable Delsin was as a main character. I'm sick of Troy Baker, but this felt like the role he was born to play. This felt like he was closest to playing a version of himself in real life. It was charming, natural, believable, and engaging. It was infinitely better voice acting than he did in The Last of Us with that awful fake accent, or in Shadows of Mordor, where he was good but largely monotone and forgettable (not to mention outclassed by the voice acting of his game co-star Celebrimbor). Delsin wasn't a tortured anti-hero. He wasn't raised by a pack of wolves and misunderstood by society, with a chip on his shoulder that justifies mass murder. He was just a normal guy that suddenly got access to incredible power, and he had fun with it! And he tried to do the right thing. That simple premise was power, and believable, and more importantly, just fun to play as.
The story also had a great villain who had her own interesting motivations, and was one of the only middle-aged women I've seen in games. It had interesting side characters like Eugene, Reggie, and Fetch (played by my favorite voice actress ever, Laura Bailey). And it was set in a very cool city that we don't see enough of.
Speaking of Seattle, the game also had the second best OST of the year.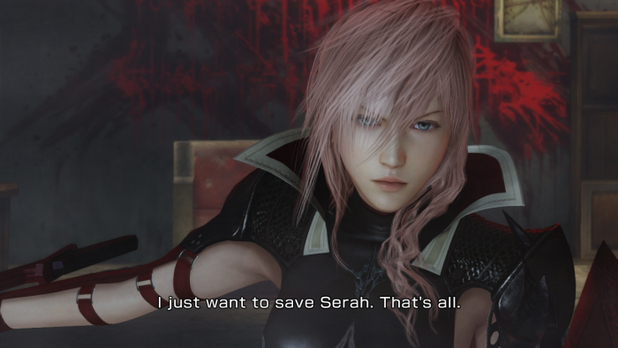 3) Lightning Returns: Final Fantasy XIII (PS3)
February 11th, 2014
This, on the other hand, was the #1 OST of 2014. That's one track out of 80. This could literally win a spot in the top 10 just from the music alone. It outclasses everything else this year easily. It's a mix of 3 top tier composers going for about 10 different styles. You could spend 3 months just digesting the music alone. There are single tracks that pack in more emotion than anything in The Last of Us.
I loved this game, despite some obvious imperfections that come with the package. It has some graphical blemishes, and some side quests are trial and error, but it's easy for me to overlook flaws like that when the total package is so fearlessly original, creative, and full of fun and emotion.
I actually loved the story. I followed the story throughout all 3 games, and read all the datalogs, and debated about the mythology, and wondered and speculated and dreamed about where it might go. And this game tackled that mythology head on and doesn't hold back. It introduces wild new concepts and most importantly, it really makes Lightning a likeable character. There were moments before the first boss fight where I was almost jumping out of my chair because the dialogue was so badass. There were other moments where it was campy, silly, and totally cheesy. But at no point was I bored. At no point did I set the controller down or leave the game unplayed. I was sucked into the world and it was unlike anything else I'd ever played.
The exploration is vast and provides a ton of space for discovery. But at the same time, you have a clock ticking in your face and the urgency to push on where ever possible. It's the odd feeling of having a vast open world, but at the same time - constantly timing your sprint button so you don't lose max fatigue, or jumping over railings on a staircase to shave a second off your traversal time as your round a corner around town. That combination of opposites is unlike anything I'd played before. Do I want that in every single game ever? No. I'm not someone who traditionally loves time limits. But as a unique experience to play once in a while, it is definitely different.
The battle system pushes farther into action than the series ever has before. And did I mention the game is diabolically difficult? It's literally the only game besides Soul Calibur V that I needed a strategy guide for since 2006. And I didn't use a guide for Demon's or Dark Souls.
4) Diablo III: Ultimate Evil Edition (PS4)
August 19th, 2014
I have played several top-down view action games like this over the years, but actually never got into Diablo before. I was way more into Hunter, Champions of Norrath, Dungeons and Dragons (Xbox), and X-Men. That all changed with this game.
It's a 10/10 game. There aren't really any flaws. You put it in the system, and you're going to keep playing without downtown, with perfect pacing, until you hit the ending credits. And you'll be shocked at just how long the game actually is. Then when the credits are done, you'll keep playing for hours and hours more. Then, you'll start all over and do it again with a new character.
The game is that good.
5) Metal Gear Solid V: Ground Zeroes (PS4)
March 18th, 2014
This is the perfect example of the "year of transition" that was 2014. This game is a demo. But it still absolutely belongs on the top 10 list of anyone serious about gaming. That's a statement about how weak the launches of PS4 and Xbox One have been this year, and also a statement about just how truly insane this game actually is.
Yes, you can run through it in 2 hours, or 10 minutes. But I probably spent over 40 hours just playing this stage over and over and over again. Each time I'd find some new, subtle detail that fascinated me. The guards would react in a way I hadn't seen prior. I'd find a new item. I'd find a new pathway. I'd find a new order of events. I'd find something I knew I could do better next time if I played it just one once more. The gameplay is insanely polished, and it all feels fair. When you lose, you feel the urge to immediately try again.
Nothing else this year really compares to the feeling of pure wonder and excitement I had when I did my first extraction under heavy fire in this game. I was playing for about an hour, doing a perfect stealth run throughout the whole base. I rescued all the hostages - battered, and broken as they are. I snuck into the heavily guarded base without killing or even alerting anyone - pure ghost run. I got to the main target to extract, and saw how brutalized and tortured she was. Then as I'm trying to extract her from the base, I get spotted and draw first blood. Do I restart and try again? No, I was sucked into the moment and pressed on. This girl needed out of here, no matter what it took. I was in the middle of an intense firefight while I was trying to call in a rescue chopper on my iDROID. I tried to hold them off as they attempted to flank me and call for backup. As I saw the chopper approaching I knew I had to make a move for it so I tossed out smoke grenades all over to cover my escape and grabbed the hostage and ran through a hail of bullets to get on the chopper. They're firing on us as we fly off, and I'm firing back from the open doorway, all with no loading, all totally seamless.
And it's all 1080p, 60fps. And MGS V will be 200x bigger.
6) Donkey Kong Country: Tropical Freeze (Wii U)
February 21st, 2014
Pretty much among the top 3 most polished 2D platformers in the history of video games. What does this game actually do wrong? I can't think of anything. Running left to run is engaging, because it's so silky smooth, and the controls so perfectly weighted. Just the simple act of jumping in and out of water as you transition between land and water blew my mind ... because it's just flawless.
That sums up this game. It's just platforming P-E-R-F-E-C-T-I-O-N. A 10/10 game. There is really no weak link. The graphics, the OST, the characters, the gameplay, the level design. It's all there, and it's hard as hell too. Probably still the most difficult Nintendo franchise out on Wii U. There's no holding back for casual gamers here. They can buy power-ups at the shop if they want which is nice for them. But everything about this game's design is for serious players wanting to master the gameplay.
7) Velocity 2X (PS4, Vita)
September 2nd, 2014
This is the most shocking one on my list personally. I hate indie games for the most part. They're often over-hyped in the press, have shoddy gameplay, and almost always are a lesser version of something I played 25 years ago on NES, or SNES.
This game is one of the rare exceptions to that rule.
As far as I can tell, Futurlab has managed to create the best and most creative shooter since Ikaruga. Let that sink in, because I've thought about it a lot and it's absolutely 100% true.
Everything about this game is pushing the boundaries, and it's pushing it where it counts - the gameplay. You can warp in any direction, you can warp fast, you can warp slow over long distances. You can even get out of your ship and run as the pilot in platforming levels and warp there, or throw warp grenades and go over longer distances. Some of the levels are brilliant speed runs. Some are elaborate PUZZLES. Yes, a shooter with stages that are puzzles. You won't even know what I mean until you play it for yourself.
It also has one of the best boss fights of 2014, without question. There's a really satisifying gameplay gimmick they throw in the fight that is extremely neat when you first see it.
Reading about this game won't do it any justice because everything good about it is in the actual feel of playing it, and the gameplay and controls. It's in the intricacy of the level design, and how it's designed to help you creatively and smartly use your powers. I didn't even feel like I had a handle on playing it well until level 30. Then it "clicked" and I couldn't put it down until the game was beaten. Then I went back and replayed everything and again and destroyed my old scores. There is a legitimate learning curve to it, and it's so satisfying when you reach the top of that curve. It's worth the effort.
8) Bayonetta 2 (Wii U)
October 24th, 2014
This one has been covered so much in the press and in GOTY lists that I don't feel the need to elaborate too much. It's the most polished action game of the year.
What most won't tell you though is that the story is actually fantastic. It's a really interesting mythology, and a world rich with history and detail. Every enemy has an interesting name and history. Every location has a history. Every character has a history. You get to see more history of the Umbra Witches. None of this is bad. None of this is cheesy. It's awesome, and Bayonetta remains one of my favorite characters ever.
Please make a Bayonetta Amiibo Nintendo ...
9) Mario Kart 8 (Wii U)
May 30th, 2014
This doesn't need to get covered much either as you all know the drill. It's just insanely polished, and fun to play. It makes most PS4 games look ugly. It's gorgeous. It's fun. It's a 10/10 game.
10) Strider (PS4)
February 18th, 2014
I almost didn't want to put this one on my list to be honest with you. If I change my mind about any of them, I'd swap this one out for another one. Regardless of that, I felt compelled to give it the last spot on the list because it deserves recognition.
Strider has the best 2D action combat and action platforming ..... ever? Yes, ever.
I remembrer when I first realized that I might be thinking that was the case. I was alarmed. Better than the old Striders? Yeah. Better than Ninja Gaiden on NES? This is a tough one, but honestly, yeah it's significantly better. Better than Symphony of the Night? Yeah, it blows it away actually. What 2D combat is better? There isn't any. It's silky smooth and extremely fun. You have a ton of options and every action feels good to do.
The game has it's limitations; lackluster story, environmental design that blends together a bit. But how anyone can put other 2D games like Shovel Knight on their list over something like Strider - that is just massively more polished, I will never know. The combat in this is just light years ahead - and it all feels responsive, snappy, fluid and fun. And it's 1080p 60fps.
Honorable Mention:
The Legend of Korra (PS4), Kirby Triple Deluxe (3DS), Geometry Wars 3 (PS4), Captain Toad: Treasure Tracker (Wii U), Super Smash Brothers (Wii U), Castlevania: Lords of Shadow 2 (PS3), Hyrule Warriors (Wii U).
---
LOOK WHO CAME:
Shinta
Jordan Devore 1
EdgyDude 1
PhilKenSebben 1
Dreamweaver 1
GoofierBrute 1
Ben Davis 1
vxxy 1
Roberto Plankton 1
Zombie Orwell 1