Hello Dtoiders,
my name is Saul (well, not in real life...), and maybe you've even seen me posting the odd comment here or there, so I'm not really new to this place we affectionately call Dtoid.
To be honest I'm very nervous right now because this is my first attempt at blogging AND I'm not writing about videogames. But I feel like we have enough videogame-centric stuff around here, and I don't want to be the 400th person to review GTAV, Destiny or (insert other hyped game here) for you...plus a little diversity is good, right?!
Anyways, for months now I've been kicking around the idea of doing a blog focused on films - horror films in particular. If there's anything I love as much (or more) as a good videogame, it is a good, bloody horror movie! Old School, New School, Slasher flick or Creature Feature, I have a soft spot for all kinds of horror put on celluloid.
Just so you know, this one is my favorite of all-time:

To kick things off though, I'm going to talk about two movies that are not straight horror (see, I don't want to confine myself to horror only) yet deal with dark subject matter nonetheless. But trust me, they are both absolutely worth watching, in fact I was blown away by both of them!
First off we have this little indie-masterpiece called "Blue Ruin".
Where to begin? This movie was shot on a tiny budget of 425.000$ (even had a Kickstarter campaign!) and features no big-time actors, but it doesn't show. Beautifully shot and with great acting it rivals any bigger Hollywood Thriller I dare say!
I found it to be instantly gripping, even though (or because) the first 15 minutes or so are almost devoid of any dialogue. We follow the daily routine of Dwight, a 30-something homeless man. There's no big exposition, so we don't know the reasons as to how he became homeless. We see him scavenging for food in dumpsters, taking the odd bath in other people's homes when they're gone and reading by night with the help of a flashlight in his stranded car.
His life of no direction is shattered when Dwight gets the news that the killer of his parents is going to be released from prison. Struggling with his emotions, he decides to pack his stuff, re-start his worn-down car and head for his hometown, determined to bring down the guy who ruined his life.
I won't tell you anymore of the plot, just know that it's not your average "revenge-flick" with big explosions and an ex-military, "Punisher"-like guy laying down the law. This is a somber film, close to life. Dwight doesn't know anything about fighting or killing, he's an everyman who probably doesn't grasp the consequences of the actions he's about to commit, breaking loose a spiral of violence in the process.
Let me tell you, my words really don't do this film justice, please, please go watch this movie! It's one of the most intense, suspenseful movies I've seen in a long time that stayed with me long after the credits rolled!
Oh, and I wasn't entirely right about no big-time actors being in this movie...we have Devin Ratray, better known as Buzz from "Home Alone", Kevin's bully cousin! Taddaaa. An he knocks it out of the park!
Next up we have another Crime-Drama/Thriller from Director Jim Mickle, of "Stakeland" fame, which is by the way one of the best Vampire-horror flicks ever, go check that out as well!
As you can see on the poster above there are some fine actors involved, Michael C. Hall (Dexter), Sam Shepard (Brothers) and the immortal Don Johnson, plus the awesome Nick Damici (Stakeland, again!).
I won't spoil the plot for you, because this movie thrives on its many twists and turns. Yet it is similar in theme and tone to "Blue Ruin", which means the loss of loved ones and how violence breeds violence are central topics.
But, let me give you the basic premise: Set in the 80s (Yeah!) in a small town in Texas, Michael C. Hall plays Richard Dane, a husband, father of a little son and small-business owner. All is great in his mundane world until one night there's a burglar in his house. Wakened by the noise, Dane jumps out of bed, grabs his revolver and slowly approaches the source of the noise. You can sense he's not good or accustomed to this, danger and guns I mean. When he confronts the burglar, he's so tense and on edge that he pulls the trigger, more by accident than anything. Blood splattered all over the wall and his nice couch. The local newspaper praises him as a hero who defended his home and family, much to Dane's disgust. That's when Russel (Sam Shepard) enters the picture, an ex-convict who happens to be the father of the guy Dane just shot...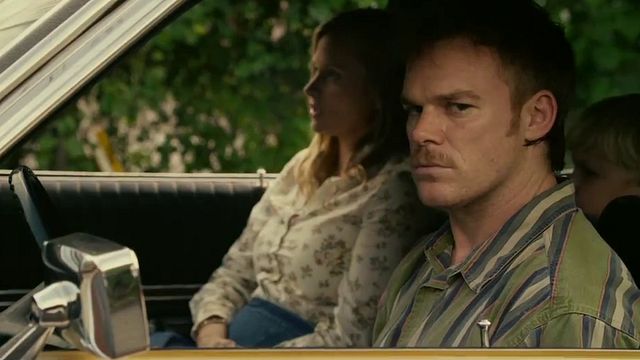 What follows is, excuse the cliches, a true thrill-ride. It's violent, smart and gripping-your-seat suspenseful. Well, at least for me. And Don Johnson is at his best, chewing the scenery and all. Also worth mentioning is the score which really reminded me of John Carpenter's The Thing with its dark, brooding synthesisers and how faithful the 80s were re-created. Michael C. Hall with a mustache and mullet is pure gold!
So there you have it. Do yourselves a favor and watch BOTH movies! Or let me know your thoughts if you've already seen them.
Also, since this is my first attempt at this blogging thing, let me know what I could do better in the future. Or just ask me random questions.
The next thing I've planned is probably a Top10 or Top20 list of my favorite horror movies, just in time for Halloween. Maybe some recent horror recommendations. I don't know yet.
See you around. Cheers, Saul.
---
LOOK WHO CAME:
BetterCallSaul
Morty 1
Dreamweaver 1
Gajknight 1
Luckrequired 1