I think just about every gamer has heard of the majesty that is Resident Evil 4. Upon its release on the Gamecube, it was heralded as one of the greatest video games of all time. Its revolutionary new camera system, featuring a sharp "over-the-shoulder" perspective changed action, horror, and 3rd-person shooter mechanics forever. Now, the game has been often imitated, even by its sequels, but in the eyes of most gamers, nothing has topped it.
Having played the Wii version, it is easy to see why.
I have no history with the Resident Evil series. I've played a very short bit of Resident Evil 5 long ago, and didn't care for it. Sometime later, I picked up a copy of Resident Evil 4 Wii Edition for a dirt cheap price. But, it stayed on my video game shelf since then, collecting dust and forever being one of the many games I'll "get to eventually."
EVENTUALLY.
But, with Halloween around the corner, and me needing something to hold me over until Bayonetta 2 drops and changes my life forever, I decided to give this zombie game a try.
I'm glad I did.
If you don't know, Resident Evil 4 is about Leon S. Kennedy, a recently promoted government agent who has been sent to MiddleOfNowhere Europe to search for the president's missing daughter, Ashley Graham. Upon arrival, it's not only clear that Ashley has indeed been taken here, but that something really strange it going on in the village. The people have become mindless drones, moaning and dirty, and will kill Leon on sight. Leon must not only find Ashley, but escape with her alive.
And so the game begins.
As of writing this, I have not finished the game, so it's possible my views will change. But suffice to say, the storyline isn't amazing but it's very serviceable, with good voice acting, and some wacky and some not-so-wacky characters making up the cast. Leon himself, with his emo haircut, seems more like an anime character than a real person, but his wisecracks are bad enough to be enjoyable and makes for good company as you explore the village.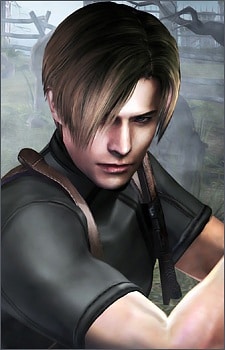 Plus, his hair screams "tortured soul."
I think what impressed me most upon my initial boot-up of Resident Evil 4 was how "not-ugly" it is. It looks dated, but it seems to have aged more gracefully than many other games of its ilk. The town is ugly as it should be, as are the zombies you encounter. But it's the art style that makes it ugly, not the graphical limitations of the time.
Controls took some getting used to, though. Leon doesn't move like most characters do. He can only walk forward or back, and he needs to rotate in place to aim his direction. I'm used to it now, but it felt unnecessarily tricky at first. To shoot, you press a button which has Leon plant his feet on the ground and raise his weapon. I thought, since this was a Wii game, I'd be using the WiiMote to aim my weapon. And I do, but you use the left stick to aim the camera. Bringing the WiiMote to the edge of the screen does not move the camera at all. You have to use the left stick and WiiMote in tandem to be effective at shooting. It's wonky, it took some getting used to, but I understand why they did it.
The camera is unnaturally glued to Leon's back, making it so that you can only see what he can see. You have no idea what's behind you because of this, and more than a few times a zombie snuck up behind me. It works well at creating a sense of unease, as if you can never see the whole picture. I liked it. According to some reviews I read, the WiiMote makes the game too easy. Having not played the other versions, I cannot comment on that.
I hesitate to call the game scary though. Ammunition seems to be readily available, and many times I have more ammo and health packs than I know what to do with. Plus, when your shotgun can blow the heads off the zombies, it's hard not to feel empowered. This doesn't detract from the game though—it just makes it less scary than I anticipated.
Shotguns hurt zombies too.
Something that had me initially worried was the fact that a lot of the game consists of an escort mission. You find Ashley early on, and it's your job to ensure she makes it out alive. She has her own health meter and everything, so I was preparing myself for the worst.
Quite the opposite, actually. Ashley is excellent at standing behind Leon when he's firing at zombies, keeping her mostly out of harm's way. If she's in front of you, she'll duck out of the way as well, thereby not getting in the way of shooting. You can only give her two commands, "wait" and "follow", but I never felt like I needed more than that. It's not so much that Ashley is smart enough to take care of herself, more that she's smart enough to not get in the way of Leon protecting her. Escorting her around never once felt like a chore, and for that, I am very thankful.
In fact, something about the game that may sound like damming it with faint praise, but really isn't, is how not-annoying the game is. Yes, enemies are bullet sponges, but never to an obnoxious degree. Boss battles are challenging, but never frustrating. Puzzles are not overly strenuous. There is no point in the game that I felt was poorly conceived, poorly designed, or just annoying. Nothing.
That alone, is a great accomplishment, and one that Resident Evil 5 couldn't match.
As of this writing, I just started chapter 5. I hope to finish at least the main campaign before Bayonetta 2 drops on the 24th. But even if not, I am glad I got to experience this game. Playing it, it's very clear why it is considered one of the greatest games of all time.