Howdy-do, fellas! Weekly Dtoid is back in the game and it's playing for keeps! This week we have waifus. Lots and lots of waifus. Also, narwhals (if you're into stuff like this). Whatcha waiting for? To the waiwhals and beyond! Now with 300% more tunes to keep you in the funky mood while reading in the 'hood.
___________________________________________________________________________________


UncleTunes


Funky time? You betcha!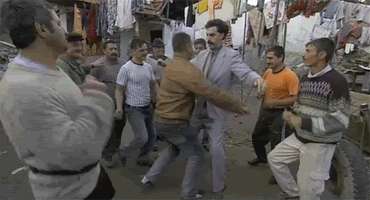 ___________________________________________________________________________________


Uncle's Weekly Yackety-Yak


Thank you all for that sweet support you've cheered up me with! "Weekly Dtoid" is building up to be a regular thing and I hope to continue making it as informative and entertaining as possible. Although, there will be a pattern, I will not be using the same formulaic structure over and over again. So expect some unexpected changes from time to time ;)

Last week, I stumbled upon new Gravity Falls episode "Soos and the Real Girl" (Disclaimer: I'm totally not advertising this overly genius artistic piece of a show). It was about a local sidekick, Soos, a sweet lovable manchild buffoon, who has a heart of gold and a great sense of humor, yet quite insecure about his relationships (he almost married a cute girl once, while pig was being trapped in his body). So, main heroes of the show decided to help him find "that special one" and make his adorable "your life is my soap opera" latino grandpa proud. It may sound like a cliche trope about somebody's road to maturation and taking responsibility, but Gravity Falls is extremely aware of any cliches and always takes a thoughtful (and gut-bustingly hilarious) approach to any problem.

"But I'm about to meet her parents! Her dad is an octopus-man!"


So, our heroes thought it would be a good idea to rent a date sim from a local videogames store... The one that previous owners returned with the words "destroy at all costs" carved on the cover. Yep, that's Gravity Falls for you, folks. I won't spoil it any further, because it deserves to be seen (it ends not as predictable as one may think and there's a secondary plot concerning living animatronics).


"Hello, friends. Hoo Ha the owl is dead."


What stuck with me, however, was Soos' attitude when he was playing the game.
*chooses option "I am impatient! Date me now!"*
- "Ah, I messed up!"
- "That's okay. Try again!"
- "Wow, I'm learning! And games are making it fun."

That reminded me to add one more thing to the list of reasons why we love videogames so much. They're not only fun, but also value our mistakes much less than they would cost in real lives. Games create such situations where we are forced to decide what to do and how to do it, but if we fail there's always a chance to undo our faults. Yet, I don't think it's a bad thing. In a sense, game could be a good teacher. The one that cares about you and shows that there are different approaches to every situation. The one that doesn't blame you for making a step forward. The gentle kind... with enough waifus to keep you interesting.

Uncle's jabber has come to an end. Next stop: waifus and narwhals.
___________________________________________________________________________________


Some rules, concerning the list:

1. No "Early Access" stuff. Only finished products (and yes, swarmed-with-bugs chef-d'oeuvres destined to be patched kinda count, too).

2. No DLCs, unless they could be considered "addons". So, yep – no Dead or Alive costume coverages, you adorable fapping nerds you.

3. Last week's games only. That way, we could have some time to weigh in on our experiences and let the hype train rush past our station.

4. No Japan releases, sadly. For two reasons: firstly, Japanese isn't one of my strong suits; and secondly – you wouldn't want to get teased by funky games that we may get but probably wouldn't (for various reasons, including "Eff' you, West!"), right?

5. Underlooked stuff is top priority. I'm not completely unbiased, but I do know when some game gets a lot of attention and when it doesn't. However, that doesn't mean I will skip big releases. Just not gloss over them so intensively.

Onto the waif...I meant, video games then!




___________________________________________________________________________________

Uncle's Personal Picks


Forza Horizon 2 (Xbox One, Xbox 360)
Developer: Playground Games (Xbox One), Sumo Digital (Xbox 360)
Publisher: Microsoft Studios
Reviewed by Brett Zeidler

I never was a Forza fan. I've never bought an Xbox. I've never planned on getting One. But after seeing Horizon 2's gorgeously uplifting hip intro and incredibly captivating backgrounds, all played to the sounds of strangely relaxing euro-beats, I was initially sold. It indeed looks and plays like a sumptuous catharsis-inducing carnival. Fun, flashy, quick and breathtakingly amusing (especially when you're riding your Rover with Wagner's "Ride of the Valkyries" banging from the inside), Forza Horizon 2 deserves all the hype it got and then some more. Just play it and relax. Life Is Beautiful, you see?





___________________________________________________________________________________


The Notable Stuff


Persona 4 Arena Ultimax (PS3, Xbox 360)
Developer: Arc System Works, Atlus
Publisher: Atlus
Reviewed by Kyle MacGregor

While everybody here went crazy calling dibs on Smash characters, someone out there captured all your favourite waifus. Now you're the only one who could bring them back, Black-Dynamiting your way through. Just kidding, it's not the official premise (but hell, it'd make a day-one buy for me). Though, the game is one of the best among this year's fighthings. Made by genre vets (Guilty Gear and BlazBlue series' creators), for fans all over the world, it's a match made in waifu heaven. You can watch waifus fighting, you can play as a waifu, you can even beat the shit out the waifus you don't like while playing as another waifus. Give the game some tough love already!
By the way, if anyone's interested, Mitsuru-senpai is already dibbed :P


Super Smash Bros. for Nintendo 3DS (3DS)
Developer: Sora Ltd., Bandai Namco Games
Publisher: Nintendo
Reviewed by Chris Carter

Super Smash Bros. returns! Many things had been said about the game, so here's a picture of Kirby Palutena! Ooooh, baby, you're so royal!


Sherlock Holmes: Crimes and Punishments (PC, PS3, PS4, Xbox 360, Xbox One)
Developer: Frogwares
Publisher: Focus Home Interactive

Taking the best from Sherlock Holmes adaptations, old and new, Frogwares managed to create their own vision of legendary detective in their most slick game to date. Crimes and Punishments (nod to Dostoevsky, y'all!) presents an interesting take on Holmes' mysterious personality by branching narrative into a couple of stories from different periods of his life. Fans of narrative-driven adventures won't be dissapointed.


Ranko Tsukigime's Longest Day (PS3)
Developer: Crispy, Inc., Grasshopper Manufacture
Publisher: Bandai Namco Games

Companion piece to Sunrise's Short Peace project (four anime shorts + one video game), Ranko Tsukigime's Longest Day is a side-scrolling platform game that follows the titular heroine, a schoolgirl-assassin who is tasked with killing her own father. And yes, her weapon of choice is a sniper rifle that fires bullets when played like a violin. That's Suda51 story for you, folks.


Starwhal: Just the Tip (PC)
Developer: Breakfall
Publisher: Breakfall

"The local multi-player space narwhal fighting game...! The heart-piercing action...! Starwhal: Just the Tip is a simulation of dreams in an ocean of the mind." - if these quotes from Steam Store don't get you excited for the game (or at least, put a stupid grin on your face), then you just don't like fun. Or narwhals. In which case, beware. Cause they're so awesome... and deadly.


Middle-Earth: Shadow of Mordor (PC, PS3, PS4, Xbox 360, Xbox One)
Developer: Monolith Productions
Publisher: Warner Bros. Interactive Entertainment
Reviewed by Chris Carter

Nice God of War-style story supported by its revolutionary stealth mechanics borrowed straight from Assassin's Creed and universally-aclaimed Arkham-style brawling. Would be a great title if it didn't look so unispired and repetitive. The atmosphere and cleverly-told story are definite highlights, though. And music is epic enough to make battles seem even more brutal.


Natural Doctrine (PS3, PS4, Vita)
Developer: Kadokawa Games
Publisher: NIS America

As unique take on tactical RPGs, Natural Doctrine isn't beautiful nor user-friendly enough to bring new players into the mix. Hardcore fans of Japanese strategies and those seeking for a game soundtrack to feed their ears upon, should definitely pay attention to the title. To those, curious about mechanics - here's a gameplay "guide" trailer (in Japanese, cause it's way more accessible that way, am I right?).

___________________________________________________________________________________[/color]


Also, on this week:

Wrack - pure indie-shooter fun following the best traditions of Doom, combined with Borderlands' visual flair. May surprise you, if you're fan of stuff like that. On Steam;
Chariot - cute platformer rolling out on Xbox One and PS4, premise is morbidly fun and gameplay seems like a amusing time-waster;
Futuridium EP - high-octane old-school shooter with 3D graphics is being remastered for PS4 and Vita;
Skylanders: Trap Team - the return of toy figures-oriented action-platformer, including a sharkcreature with fonny accent. Available everywhere (except PC, yep);
Outland - Housemarque's stylish platformer finally lands on Steam;
while Second Chance Heroes, co-op action-arcade about historical figures dealing with the end of the world, makes its way onto PSN;
Pier Solar and the Great Architects - turn-based RPG, inspired by classics and made exclusively for Sega Genesis in 2010, is now coming to Steam and PSN. It may not be the prettiest, but you've gotta give the fellas credit for being ambitious (there's even Dreamcast version planned!).
___________________________________________________________________________________


And... that's all for now, boys and girls! If you have any critique, words of advice or if you just want to tell us your opinion and have a nice chat, you're more than welcome! And if you'd like to delve into dispute about any given stuff, I'll hear you out and gladly accept the challenge. It's not like I'm some kind of Spanish inquisition...
---
LOOK WHO CAME:
Uncle Terror
Occams 1
Dreamweaver 1
Barry Kelly 1
Whispering Willow 1
Luckrequired 1