When I think back to my time with Little King's Story, one of my favourite games of all time and to my mind surely the best original game of the console generation, I feel something like heartbreak. There is some kind of beautiful innocence to the presentation of that game, and my mind wanders to the positively stunning final level and very final cutscene in the game; I can't say any more for fear of spoiling it, but it is something nobody talks about, despite how deeply it's ingrained itself in my subconscious, like only a sparse few such sequences in games ever do. Equally heartbreaking is it to think of the game's poor performance, and that the main mind behind Little King's Story, Yoshiro 'miserable Japanese guy' Kimura hasn't been able to get another project off the ground.

The latter article has put Kimura back on my mind. I'd totally forgotten his PS2 title Chulip, was announced for PSN. It's apparently been on there for several months now. I've started playing it. I immediately fell in love with the game. There are so many good things in this game; it would take me an hour to explain! That said, the more I play it, the more its gameplay has proven an obstacle in my enjoyment. There's a complete game walkthrough in the software manual which has unfortunately proven entirely necessary, the game is too slow going, I get game over way too often, poopie causes way too much heartbreak... er, yeah, I'm not going to try to explain that one. But despite all these issues, I keep coming back to the game, and I must see it through. It's hilarious, and ferociously unique, and on some other mysterious level, it resonates with me, in a similar way to Little King's Story. It's nowhere near the same level as Little King's Story, and for the record, I think Little King's Story has incredible gameplay to match its presentation, but Chulip is nonetheless evidence of a major talent. One which deserved the resources to reach its true potential in Little King's Story, and one which deserves the resources to make even more games.
Finally playing another game by Kimura has once again reminded me of this Neogaf post I saw some time after playing Little King's Story, which has stuck with me. It is about Moon: Remix RPG Adventure, an untranslated Japanese PS1 game, which seems to be considered by many of those who've been able to play it as one of the greatest games ever made. It would seem that Kimura, back then, was part of a dream team known as 'Love-de-Lic', supposedly at the height of their creativity. That none of their games have made it out of Japan seems almost criminal.

With Kimura and Love-de-Lic on my mind, I've been trying to look into it more to find out exactly where the Moon guys have ended up, what games they've been involved in. It seems the three men most instrumental in that game's making are Kimura, Taro Kudou, and most of all, Love-de-Lic founder Kenichi Nishi.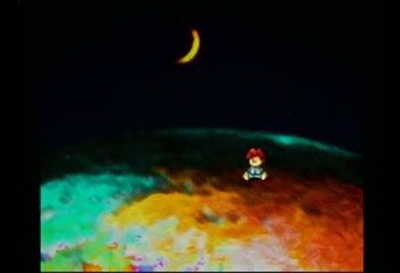 First off, Kimura, we know, made Chulip and Little King's Story. After Love-de-Lic broke up, he formed his own studio, 'Punchline', which only made two games: Chulip, and the localized albeit very rare PS2 survival-horror title Rule of Rose, which I believe Kimura was heavily involved in but not the main mind behind. He then worked with Cing/TownFactory on Little King's Story, and since has worked briefly at Grasshopper and elsewhere, but hasn't been quite at the helm of another project, that I know of.

Taro Kudou meanwhile formed his own studio along with fellow Love-de-Lic guy Kazuyuki Kurashima called 'Vanpool', which've done a lot of things for Nintendo. Kudou, it turns out, was the guy behind Freshly Picked Tingle's Rosy Rupeeland, which I so wish had made it past Europe. But his first and perhaps most interesting game there, the one selected by the aforementioned Neogaffer as the second best LdL game, Endonesia, is confined to Japan.

Finally, Kenichi Nishi seems to have had the biggest career since Love-de-Lic, but also the most frustratingly unlocalized. He formed the studio 'Skip Ltd.', which've grown and made all sorts of things. But three games in particular were headed by Nishi, the only one to make it outside of Japan being Chibi-Robo. Chibi-Robo! How I want to play this game. But it's kinda rare now. I saw it in an EB Games once, a couple years back, prominently displayed. I was tempted and so wish I'd bought it, but it was $30 which seemed really high for a used Gamecube game, and at the time I still thought there was hope that the New Play Control version would get localized. But it never did. Anyhow, the other two include the Gamecube adventure title GiFTPiA, and, what's long been my most wanted unlocalized Wii game, Captain Rainbow. Anyway, Nishi has since formed another studio called 'Route24', and has made weird stuff like LOL on the DS, and some iOS games or something. Apparently he wants to do a Moon: Remix RPG Adventure sequel.
Point is, these are some of the most talented game developers in Japan, and it's incredibly disheartening that their games are so underrepresented outside their home country. For a minute I imagined Nintendo announcing a bundle with New Play Control Chibi-Robo and Captain Rainbow (and GiFTPiA for good measure why not), and now I'm so depressed I want to cry, because of how badly that's so not going to happen. Games don't have their Criterion Collection, someone to pluck them from obscurity and translate and rerelease them; it's too much work and there's not enough interest. It's awful, but it seems the time has passed on Love-de-Lic's games, unless I'm to learn Japanese...

...That's not entirely true. Moon: Remix RPG Adventure, the "greatest game yet made", has a fan translation underway. If there's one thing I hope someone takes away from this blog... it's to be as excited for this project as I am.
---
LOOK WHO CAME:
Grethiwha
BulletMagnet 1
Elsa 1
Roberto Plankton 1
Marcel Hoang 1
ninjapresident 1