Little Inferno
can't easily be placed in any one gaming genre. It's as much a sandbox game as it is a puzzle or mystery solving game, as it is an adventure game. It's odd and quirky and dark like the Tim Burton-esque visuals would imply and yet it is as heart warming as it is unique. All of these it is in spades but non of them singularly it is completely. As a comparison
Little Inferno
reminded me more of Trash Panic than any other game, and like Trash Panic it has a formula of non-formula that works.
There are more than 50 objects to interact with and a strange story and almost point and click adventure feel to some portions of the game. It is a fun and silly game that is worth your time and attention. The game's story is about warming the world - the gameplay is about a feel-good experience. It delivers again and again. In fact, deliveries are how you receive objects to burn after having selected them from interestingly themed catalogues. If you are in the least bit interested or confused, don't wait another second check
Little Inferno
out! As a title that is beautiful in its simplicity, experience it.
Recommended Most For Those Who Liked The Art and Play Style of:
-Don't Starve
-World of Goo
-Gish
-Burning Sand
-Phun
-Katamari Damacy
and especially
-Trash Panic
- Also recommended for anyone with abstract pyromania.
P.S.
My strong suggestion is do not look up anything for
Little Inferno
at all.
Ever. Not so much as a trailer or a screen shot.
That's a lot to ask but trust me, get a copy of
Little Inferno
.
It will feel so good not knowing what to expect.
Go in cold. Play it and then show it to a friend..
---
LOOK WHO CAME:
Bibbly
ChillyBilly 1
PhilKenSebben 1
Bibbly 1
shaxam1029 1
---
About Bibbly
one of us since 11:41 AM on 02.16.2011
Hi!, My name is
Aaron but you can call me Bibbly if you like
. I make stuff out of things. Here's a sample of a thing made with stuff:
I am from Canada.
It is important you know that I am from Canada because we spell colour and flavour with a U and sometimes use British vernacular, probably because of Coronation Street and East Enders.
I'm a student in something called 'pre professional journalism'. Whatever that is. I'm a major of Philosophy and a minor in Sociology, mostly because critical thinking and the analysis and understanding of social behaviors makes me horny.
My ambitions include creating a fully animated rotoscoped feature length animatronic musical and to build a 'fusion' reactor in my backyard out of little more than a high power laser and an industrial vacuum. Both of these things are possible believe it or not.
My hobbies include
Canadian Moose Throwing
which is easier than it sounds and
Snow Mobile Diving
which is a sport that takes place after a failed attempt at extended hydroplaning or bad jump.
You can hit me up on Skype @: Bibbly53
And Email me @:
[email protected]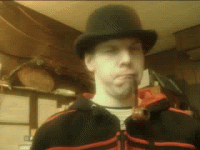 Stay classy.