Hi!, My name is
Aaron but you can call me Bibbly if you like
. I make stuff out of things. Here's a sample of a thing made with stuff:
I am from Canada.
It is important you know that I am from Canada because we spell colour and flavour with a U and sometimes use British vernacular, probably because of Coronation Street and East Enders.
I'm a student in something called 'pre professional journalism'. Whatever that is. I'm a major of Philosophy and a minor in Sociology, mostly because critical thinking and the analysis and understanding of social behaviors makes me horny.
My ambitions include creating a fully animated rotoscoped feature length animatronic musical and to build a 'fusion' reactor in my backyard out of little more than a high power laser and an industrial vacuum. Both of these things are possible believe it or not.
My hobbies include
Canadian Moose Throwing
which is easier than it sounds and
Snow Mobile Diving
which is a sport that takes place after a failed attempt at extended hydroplaning or bad jump.
You can hit me up on Skype @: Bibbly53
And Email me @:
[email protected]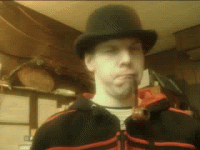 Stay classy.