So my free games post from
last night
was quick and dirty. I was tired and after 3 games and minimal writing I got lazy. Tonight I strive not to fix that. Soooooo, who wants some free stuff?
First off, thanks to taterchimp soooooo damn much. Tater provided me a link to download
Ark-22
, which I breifly wrote about last night, but couldn't find a link to. Originally released in 2005 or 2006 and built on gamemaker, Ark-22 is a blast.
Ark-22 is an old school (think ALTtP) action-rpg. It has good length (around 12 hours or so, if you're the curious type) and is a lot of fun to play. The writing is pretty damn good, and the world is nicely detailed. I highly recommend giving it a shot.
Neptune's Pride
Neptune's Pride is almost like the long lost days of e-mail games. You don't have to be constantly on it, just log in once in awhile. Problem is, once you're hooked that doesn't happen. You will end up monitoring your fleet all the time and plotting backstabs and the next planet or system to conquer. It is a web based game so all you need is a log-in (you can use your google one) and off you go, you 4x loving sob. Perfect for work or school downtime. Self created or otherwise. Start your empire
here
.
Wing Commander Saga
Built as a mod for Freespace 2 originally and then becoming it's own stand-alone thing. Saga brings back some good ole WC. Not much to say other than that really. I highly recommend playing prologue first, which can be found
here
, while the full game, can be found
here
.
Prime Minister's Questions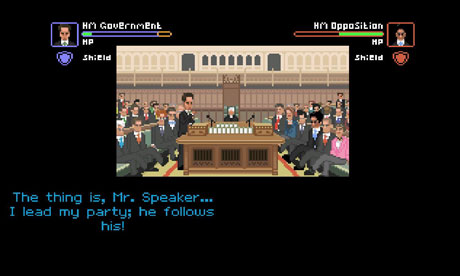 An amusing little game that reminds me of insult sword fighting. It's a decent time waster, I enjoyed more for novelty than anything else. Worth checking out for sure, if you have even a passing interest in such things.
Alright, well between the two blogs I've done this week about free shit, I am done.
SWEAR TOOOO MEEE
You want more? Fucking find it yourself ;p. Check out Kongregate, Adult Swim Games, Indie DB, Newgrounds all that easy to find stuff. There is a ton of free games out there, that are worth your time, if you look and research, not just flash stuff (of which there are SOME good ones). I don't now if any of you saw the La Mulana
review
today, but I'm off to play that. If you're interested, you can find the original
here
. This
wiki
should help.
---
LOOK WHO CAME:
PhilKenSebben
smurfee mcgee 1
Arttemis 1
Char Aznable 1
Tarvu 1
M Randy 1
tekbunny 1
Ben Davis 1
RavePossum 1
PlayBoyMan 1