Today my Dovahkiin, Nia Mistquiver, entered Riften's Ratway to be greeted by a surly high elf that said Nia was ugly and would fix it for 1,000 septims. Knowing high elves are snobby and mean and being one that snipes Thalmor for fun, I took issue with her statement. 
I mean, just look at this face. It could win pageants. I worked a good thirty minutes working on this face before sending it off to the chopping block in Helgen many months ago. Nia has been told to stay away from people's husbands, even!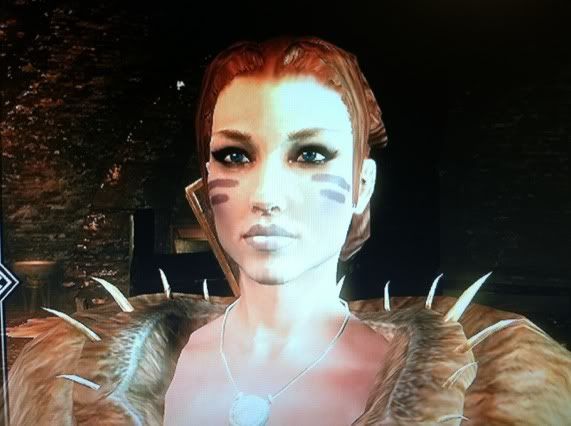 But as I thought about it, she didn't really look like the Dovahkiin that shouted at dragons, that joined the Stormcloak rebellion, the one who had slain Alduin, became the Listener of the Dark Brotherhood, head of the Thieves Guild in addition to being a werewolf. She still looked like a fresh-faced barmaid. 
So I took the icy elf up on her offer. New war paint, some blush for the cheeks, darkened the complexion a little, tweezed and arched the eyebrows, let Nia's hair down and a made it a little wild, made her eyeshadow a little more earthy. Leaf green.
Oh, and if those vampires can have cool glowing red eyes, I wanted Nia to have cool eyes, too, so they've gone from blue to silver.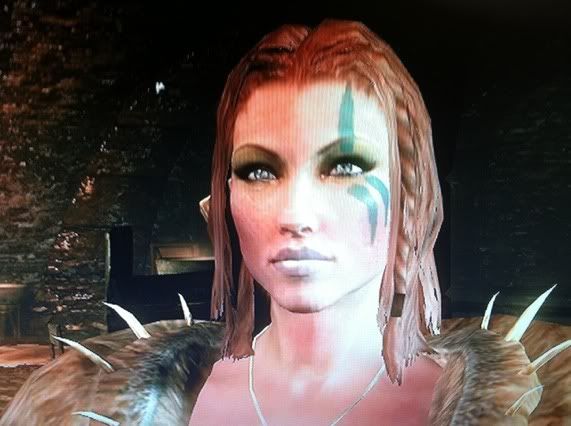 All in all. Nia's looking more traveled and experienced. 
And fabulous. A fine Dovahkiin makeover, if I do say so myself. I thanked the elf, then made Nia shoot her with a crossbow from the shadows for x3.0 damage! Plus it's an enchanted crossbow with exploding bolts, so that really stung.
It's sort of funny how real your characters can become to you, to the point you might even push them to age gracefully. I'll sink an hour into this kind of thing with each new RPG I start if the option's there, so it was nice Dawnguard lets you update your character's look.
So how's your Dovakiin looking lately?
---
LOOK WHO CAME:
The Silent Protagonist
M Randy 1
Bill Zoeker 1