Apologies in advance to anyone who can't look at Mega Man 3 the same way after this.
In the original Mega Man, the robots are designed to perform industrial tasks, and conveniently double as a world domination task force for Dr. Wily. For the second attempt, Dr. Wily takes things a little more seriously and designs 8 robots who are all basically walking weapons (unless youíd like to argue that Quick Man has a nonviolent purpose). For me, the first two titles are the only stories where Dr. Wily takes himself seriously.
Formerly, I would lump Mega Man 3 with its predecessors. On my most recent play through, courtesy of the Anniversary Collection, I started to notice some peculiar characteristics on the third title. Initially, I wrote them off as products of an overactive (and Internet-tainted) imagination, and longed for the days when Dr. Wily turning into an alien at the end of Mega Man 2 still scared the shit out of me. But as I finished the game, there was no question: sure as Mega Man 6 is full of racial stereotypes, the robot masters of Mega Man 3 are part of Wily's new perverse scheme, bent on luring Mega Man into some bizarre trysts.
Rather than make an overarching argument, Iím going to go through each boss and share exactly what Iíve found when I took a closer look at the functionality of each one. But first, let's take a look at the stage select screen. In all other games, the center piece is either a static Mega Man or a sigil of the boss. Here, Mega Man's eyes follow the cursor wearily between each robot master. And upon closer look, their twisted intents are blatant: just look at how hungrily Hard Man is eyeing our protagonist!
Top Man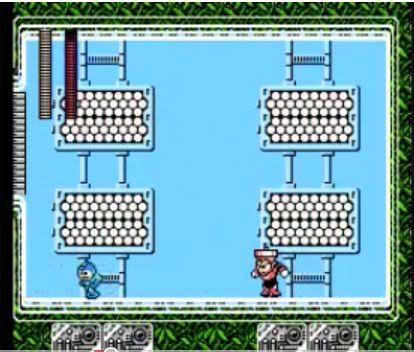 He clued me in, so Iíll start with him. At a young age, my friend and I would snicker about how Top Man liked to be on Top. And that really says it all. Look at that smirk on the stage select screen, thatís the smarmy little smile of mechanized rapist. His strategy is to dazzle the eye with spinning tops, and then whips himself into a spinning sexual frenzy at poor Mega Man, no doubt intending to buffet the blue bomber with a whirling steel shaft. He even grasps his crotch MJ style and throws out a fisting salute. Thatís a pose that will strike fear into robot virgins for generations to come.
Magnet Man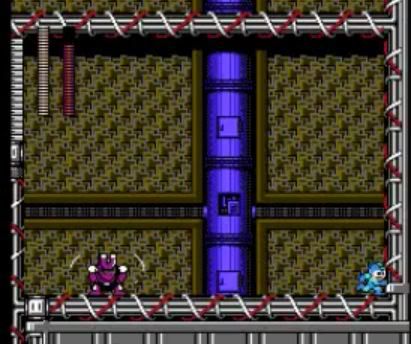 Atop his head is a giant U, as in ďTonight. You.Ē Like his depraved buddy Top Man, Magnet Man opts to distract and lead his prey by launching three magnets, no doubt designed to intimidate and confuse. The loud noise emitted with each launch serves to further distract so that he can deploy the trap Ė a magnetic field that drags Mega Man helplessly towards his captor. The double M can barely contain his excitement when the blue guy shows up, so much that his knees quiver in anticipation.
Hard Man
Obese and bound in leather, Hard Man is clearly a Bear in the robotic community, and he wants Mega Man as his cub. Upon entering his lair, Hard Manís animalistic urges take over, growling and thrusting his arms in the air. As his name implies, this robot master likes it rough Ė he starts by literally fisting our hero, then loses control and simply pounces, crushing Mega Man in rolls of robotic fat.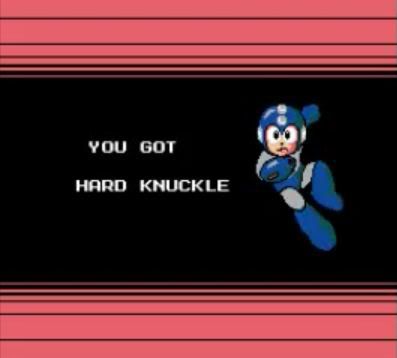 Snake Man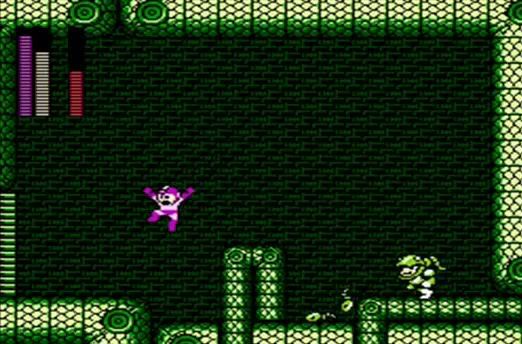 Green penis cannon. It's pretty obvious what those trouser snakes are searching for.
Spark Man
A younger version of myself might be skeptical at this point Ė how could a walking power plant possibly be a meant for dirty activities? Well, thanks to the Internet and an insatiable curiosity, itís quite obvious that Spark Man is all about erotic electrostimulation (hey don't look at me like that, I learned about it from Wikipedia!). He doesnít just want to put his angular dong into M squared Ė the Sparkster wants pain with his pleasure. Spark Man can be seen shocking himself through the freaking head, building his pleasure, before launching his flashy discharge. And once his helpless victim has been subdued, he leaps with reckless abandon, ready with his evil rods.
Shadow Man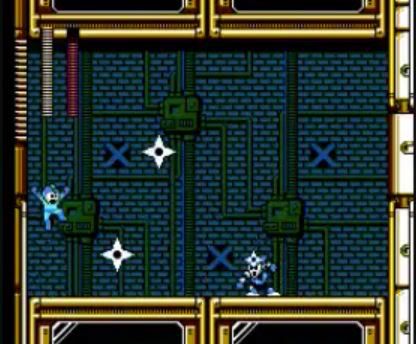 Shadow Manís game is obviously bloodplay, with all his vats of the crimson liquid, brought forth by his endless supply of throwing stars. The only way to halt this vile ingress is to completely dominate Shadow Man, utilizing Top Manís trademark robot crotch-y whirlwind to beat the bastard into submission. But this clearly plays right into his desire to be a switch. Thatís why his life bar goes down so fast. Just look at how eager he is to accept it in the above screen shot.
Gemini Man
Also known as Mťnage ŗ trois man. He is only defeated when overloaded with the green penis cannon. Need I say more?
Needle Man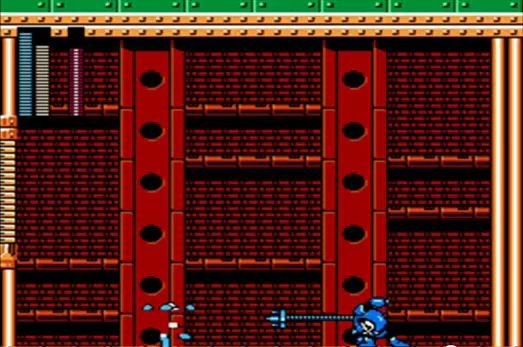 Wrapping up our list of cybernetic perverts is the robotic gimp. Heís sealed up in a vinyl suit, complete with a big red ball gag. Clearly turned on by piercings and injections, Needle Man flings his needles endlessly, pummeling Mega Man so that he can get close enough to launch his spiky tri-penis apparatus, allowing for maximum penetration. More than likely, Needle Man was Hard Manís cub until a scrawnier, sexier robot came on the scene. Desperate for the suffocating embrace of his lumberjack bear, Needleman is a scorned lover out for vengeance.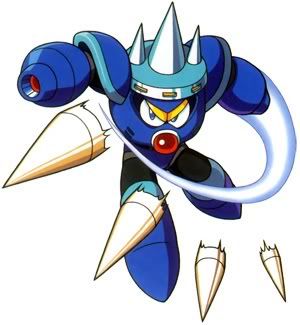 Proto Man
He shows up occasionally, and serves as the interlude between Dr. Wily's bodysuits and the castle stages. His pattern of attack is simple and laughable. He's obviously trying to help Mega Man from the other side, as if to say to the other robots "hey, look I'm gonna get him! Yeah look at me hop suggestively!"
Dr. Wily
Of course, we all know Dr. Wily was quick to cover his tracks, playing the whole attempt off as renewed world domination attempt once Mega Man showed up at his doorstop. So aside from the attempted Mega gang bang at the end of stage 3, the rest of the game is relatively innocuous. At least until, Wily shows up in this wide-eyed robot spewing white bursts from a flexible tube-like appendage, which just happens to be located in the nether quarters - luckily, some well placed hard knuckles can render his nefarious yogurt hose flaccid.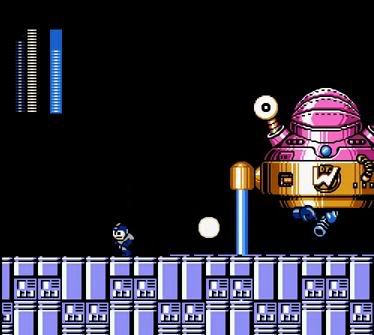 People refer to this as the fake Gamma, but I'm thinking once again that Dr. Wily had a quick backup plan to obscure his dirty secret. Look at what is purported to be the actual "ultimate weapon":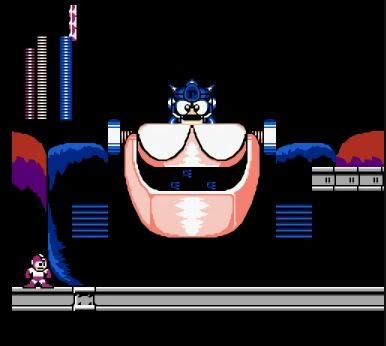 Yeah, it's a big mouth and some other robot's head awkwardly grafted on top who just chatters mindlessly, probably asking to be released from its awful existence of being half torso, half Julia Roberts-sized mouth with what looks like a white bra draped on top. While Mega Man dispatches this sin against nature, Dr. Wily quickly threw together a cockpit (which apparently draws eyes on the mouth-boob abomination). Then when the Doc finally shows up, it's a classic case of him declaring that if he can't have the Blue Bomber, no one can.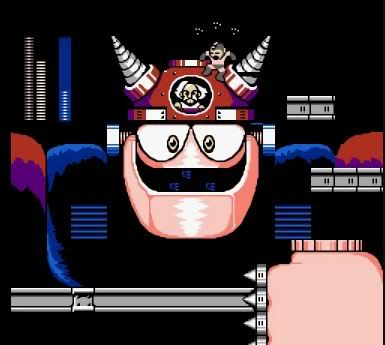 The only way to stop the maniacal old deviant is to give him all the robo wood he can handle. It's up to the Top Spin or Search Snakes to bring this perverted chapter in the series to a close, leaving Mega Man to wander along a grassy field, tracing Dr. Light's journals trying to figure out what went so very wrong, wondering if he'll ever sleep comfortably again.
On a serious note, what exactly is that thing floating on top of the tree?
---
LOOK WHO CAME:
Dr Light ate your Magicite
Char Aznable 1
Beyamor 1
CoruptAI125 1
Saxopwned 1
falsenipple 1