For five days of the week, I go to school. There, I study with quiet dedication, stopping occasionally to participate in some light-hearted banter. After school, I go home. I haunt the internet and I play games. At some point, I realise that it is getting late. I switch off my laptop and my 360 and I go to bed. For five days a week, this is everyday life. It is my existence.
On the weekend, I invariably venture into the outside world with my girlfriend. A fun day is had by both of us. We wander slowly around the small town in which I live, and perhaps lie down by the river for a few hours when the sun is shining. Occasionally, on the following day or the day preceding my weekly excursion, I visit my closest friends. We talk about games, gaming and the gaming industry in general. We venture down to the local park and stuff ourselves on cheap food. This is my week.
YES!
Also... YES! (giggity)
As Iíve said, I begin to visualise these fictional characters as real people. Their lives are inextricably linked with my own. I can tap into their existence at any time. When Iím sitting in an overheated classroom, pretending to listen to a dusty old maiden rant on about an impossibly mind-numbing subject, Iím thinking about tackling those infernal Taken who insist on plaguing Alan Wake. Iím weighing up the pros and cons of detonating Megatonís dormant bomb. Iím daydreaming. My imagination isnĎt bouncing around the classroom, itĎs exploring fictional worlds expertly crafted by the magicians we mere mortals refer to as developers.
I feel that my point is a little vague. I feel that Iím slowly descending into a bout of incessant whining. I began by explaining how happy I am and ended by detailing the relentless boredom I frequently face. I hope that Iím not whining. I hope that Iíve explained why Iím such an avid gamer. I hope that I have provided you with an insight as to what itís like living the life of a perpetually bored teenager. I hope that this post will resonate with somebody out there, and I hope that that someone will recognise the crushing boredom of a middle-class childhood; the constant need for escape from mind-numbing reality.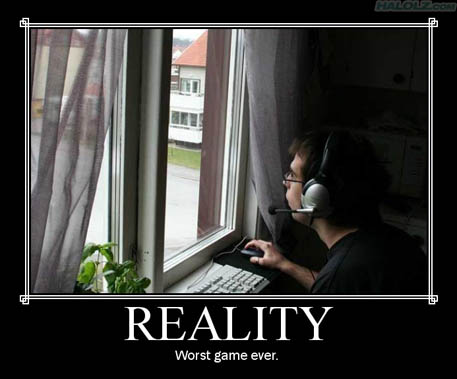 ---
LOOK WHO CAME:
Lord Death of Murder Mountain
Lamadude64 1
Sean Daisy 1
Stephen Beirne 1
Kaggen 1
Poopy McNugget 1
Nihil 1
LawofThermalDynamics 1
Glitchmaster8 1
WolfyBoey 1
Fraser Brown 1
Ben Davis 1
MrMacphisto 1
JJJEnigma 1
32BitSin 1
ManWithNoName 1