Spring is in the air! You know what that means right?
GAME HAUL TIME! (not that it has to be spring for a good game haul post)
I think I remember saying last time around that I probably wouldn't be doing another one of these until after I moved, which is going to be this summer. Turns out I was wrong, mostly because I didn't realize just how much stuff I've accumulated since February.
In typical ChillyBilly fashion I will start with the older stuff first and then work my way up to the current gen stuff.
Alright, on to the show! (
I'm gonna keep the descriptions to a minimum to help make the post "smaller" and not so overwhelming, like some of my haul posts in the past
)
My vintage section this time around is going to be pretty small, so small in fact that there is only one item, and here it is;
WONDER WIZARD SCORE BOARD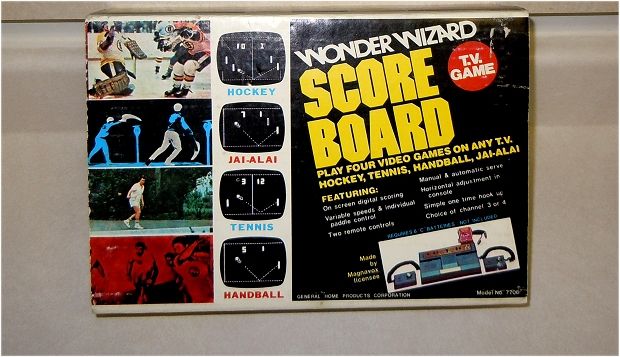 My vintage collection has stalled lately mostly due to the fact that I haven't really found any good deals on any of the old stuff. I was pretty excited to find the above item though and was even more excited when I saw how good of shape the box was in. The
Wonder Wizard Score Board
was released in 1977-78 by
General Home Products
, it's basically just a clone of another machine released the same year in Europe.
Up next we have some games that I found while browsing one of my local Goodwill's. The games are for a system called the "
Socrates Educational Video System
". The
Socrates
was an educational game console released in the 80's. It didn't really take off but it has become somewhat of a collector's item over the years.
SOCRATES GAMES
I searched and searched all over the Goodwill that I found these at hoping that they would have the system as well but nope, no system, just games. The games listed are as follows:
State to State, Hodge Podge, Memory Mania
and
Facts 'N Fractions
. As I mentioned above, these games are all "
Educational
", they have graphics that are on par with the
NES
.
Moving on....Here we have the one lone PlayStation game;
GRAND THEFT AUTO COLLECTION
Not really much to say about this one, it's
Grand Theft Auto
, the collection. This set includes the original
GTA, GTA2
and
GTA London
. Everything is still intact and all of the posters and inserts are all accounted for.
Next we have some
PlayStation 2
games!
DISGAEA 2, SOUL NOMAD and THE WORLD EATERS
and
SHINING FORCE NEO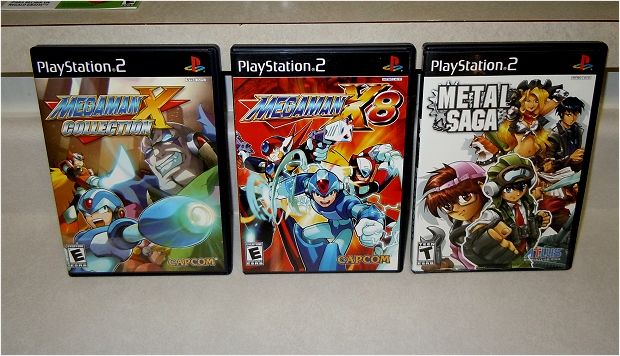 MEGAMAN X COLLECTION, MEGAMAN X8
and
METAL SAGA
CASTLEVANIA LAMENT OF INNOCENCE
and
STAR OCEAN TIL THE END OF TIME
Oh look, I also managed to snag a few Original
XBOX
titles!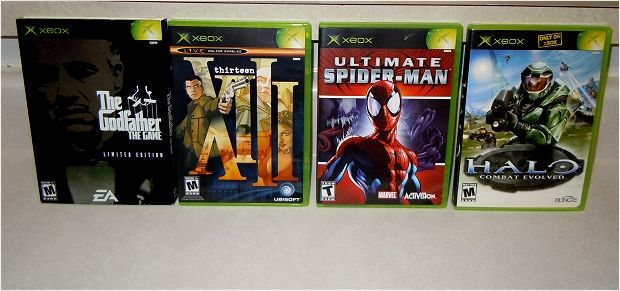 THE GODFATHER THE GAME LIMITED EDITION, XIII, ULTIMATE SPIDER-MAN
and
HALO COMBAT EVOLVED
This next item I am REALLY excited to share, like REALLY, REALLY EXCITED! (because I've wanted one for like, ever and stuff)
GAMEBOY MICRO 20TH ANNIVERSARY EDITION!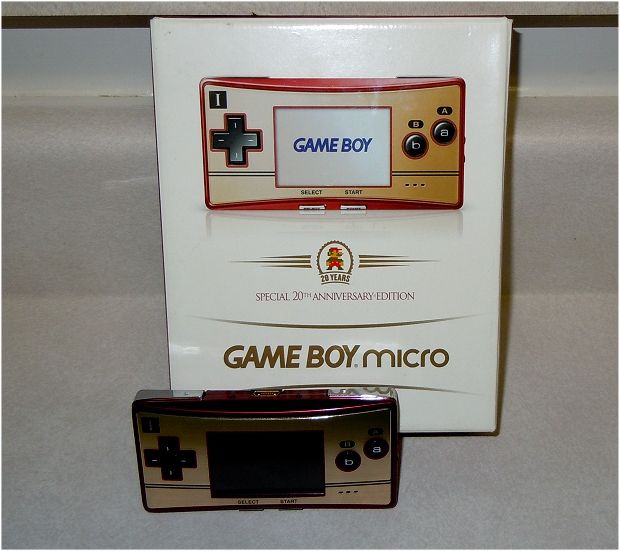 I wish I could tell you that I found this at some Goodwill lying on the shelf, and that I walked out only paying like $5.00 bucks for it. Sadly, this is not the case. I will say this though, every penny that I spent on this sucker was worth it.
This next picture is totally random and doesn't really fit chronologically but eh, here it is;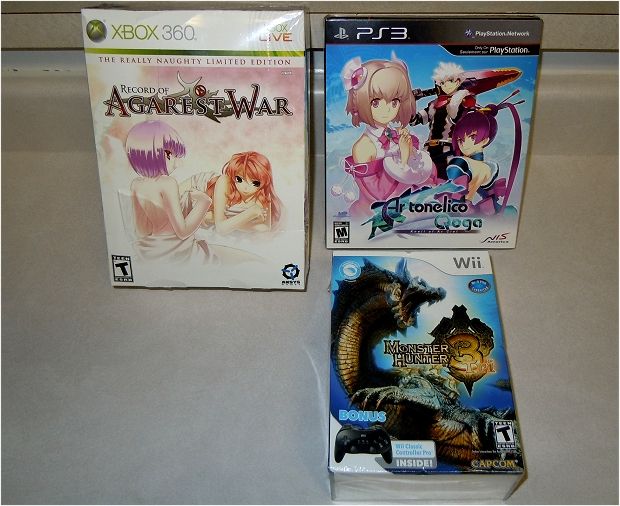 RECORD OF AGAREST WAR: THE REALLY NAUGHTY LIMITED EDITION, AR TONELICO QOGA
and
MONSTER HUNTER TRI with the CLASSIC CONTROLLER PRO
Now I am aware that
Nintendo
just released the shiny new
3DS
but that doesn't mean that the
DS
is dead, not by a long shot! In honor of the
Nintendo
having an amazing
DS
library I give you these;
NINTENDO DS GAMES!
First up:
SPIDER-MAN SHATTERED DIMENSIONS, LEGO BATMAN, OKAMIDEN, MEGAMAN STARFORCE 2 ZERKER X SAURIAN, ATELIER ANNIE ALCHEMISTS OF SERA ISLAND, LUNAR DRAGON SONG, DRAGON QUEST IV and PRINCE OF PERSIA the FORGOTTEN SANDS
ATARI GREATEST HITS VOL.1 and 2, DIGDUG DIGGING STRIKE, NEW CARNIVAL GAMES, GTA CHINATOWN WARS, TRACKMANIA DS, MAHJONG JOURNEY (because Mahjong), DEMENTIUM 2 and RIVER CITY SPORTS CHALLENGE.
Also pictured the
Okamiden
pre-order goodie, it's a "paint brush" stylus with decorative
Okamiden
screen cleaner thingy.
And rounding out the DS games we have these lovely first party Nintendo titles:
DIDDY KONG RACING DS, DK JUNGLE CLIMBER, WARIO MASTER OF DISGUISE and MARIO HOOPS 3 on 3
.
Next we have some
PSP
goodness!
SPACE INVADERS EXTREME, VALKYRIE PROFILE LENNETH, METAL SLUG XX, JIKANDIA (with Jikandia cell phone strap pre-order item), THE 3RD BIRTHDAY and JAK and DAXTER THE LOST FRONTIER
.
Last but not least for the
PSP
games we have;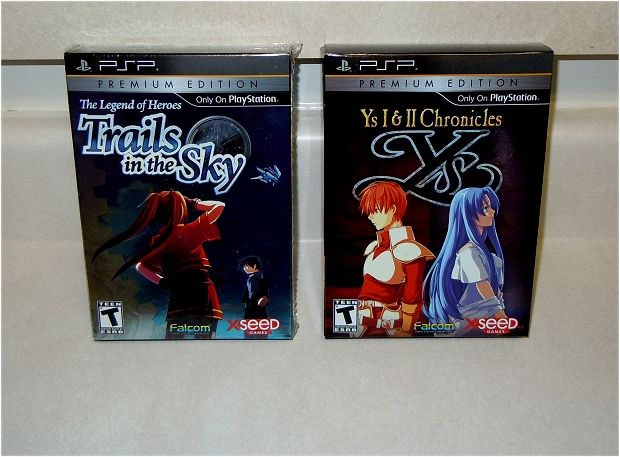 THE LEGEND OF HEROES TRAILS IN THE SKY PREMIUM EDITION and Y'S I & II CHRONICLES PREMIUM EDITION
OH NOES! WE'RE ALMOST TO THE END!
Well, sorta. I can't forget the Wii, 360 and PS3 stuff now can I? Of course not!
Wii GAMES! (plus one for the GAMECUBE)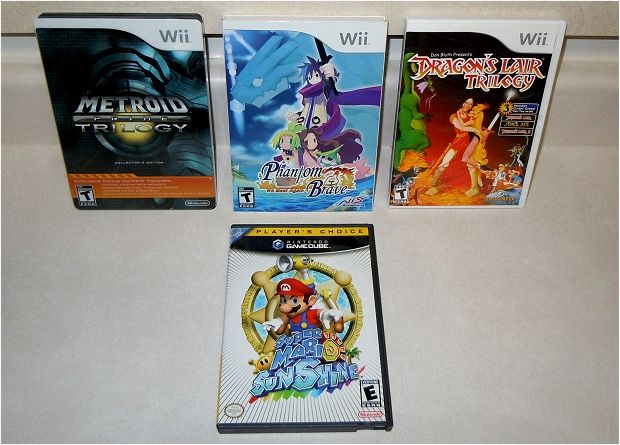 METROID PRIME TRILOGY COLLECTORS EDITION, PHNATOM BRAVE, DRAGONS LAIR TRILOGY
and the one lone
GAMECUBE
game,
MARIO SUNSHINE
.
It took me forever to finally track down a copy of
Metroid Prime Trilogy
in good condition, I can't believe how hard it is to find this friggin game.
I didn't really
need
this next item but I just
had
to have it.
RAVING RABBIDS WiiMOTE CHARGER
! Seriously, this thing is awesome, and it has light up eyes to tell you when your Wiimote is fully charged (blue) or still charging (red).
I know what we need, we need some Xbox 360 games! Right? Right? =/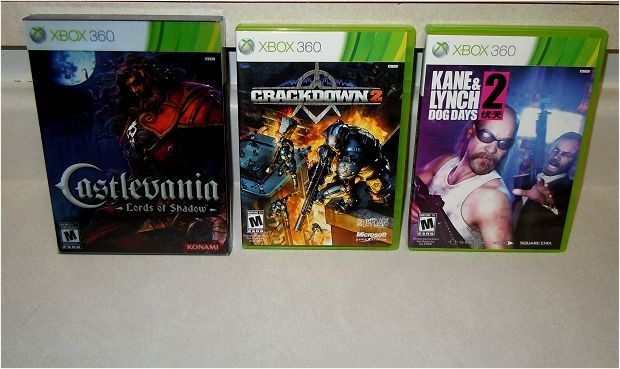 CASTLEVANIA LORDS OF SHADOW COLLECTORS EDITION
(I highly recommend this game if you love hack 'n slash type gameplay. The story is good, the music is GREAT and the environments are amazing. Seriously, if you need something to play for a bit until the next big thing hits you could do a LOT worse than this game),
CRACKDOWN 2
and
KANE & LYNCH 2 DOG DAYS
.
MARVEL vs CAPCOM 3
(which I suck at),
DRAGON AGE II
(great game),
BULLETSTORM, HOMEFRONT
(such a missed opportunity here) and
CRYSIS 2
(one of my favorite games so far this year).
And finally: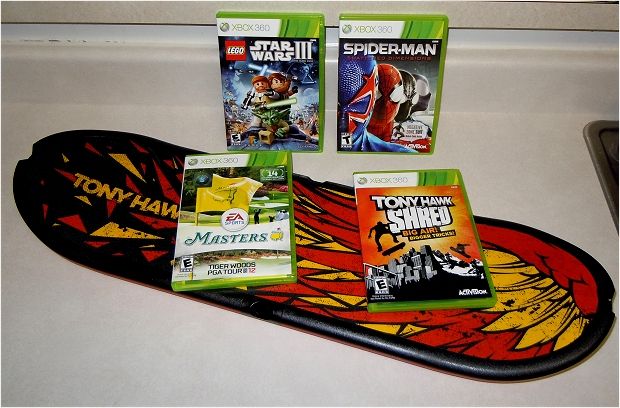 LEGO STAR WARS III, SPIDER-MAN SHATTERED DIMENSIONS, TIGER WOODS 12 and TONY HAWK SHRED
. Say what you will about Shred but my 6 year old daughter LOVES it. If I can get her to love skateboarding AND video games at the same time then I am all for more
Tony Hawk
games.
And here we have our only PS3 title since my last post;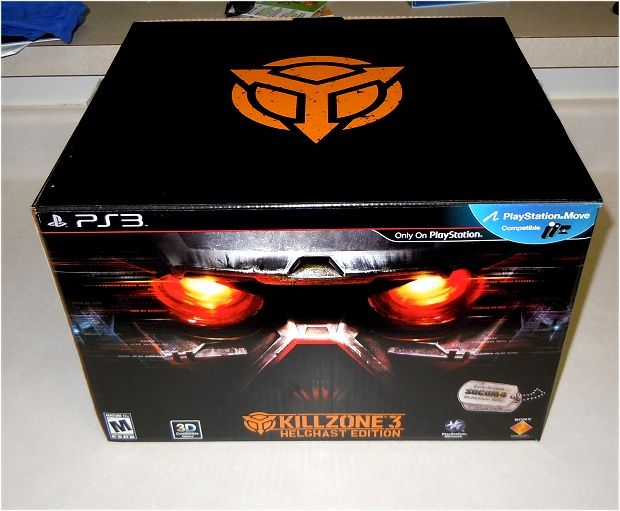 KILLZONE 3 HELGHAST EDITION
. I was gonna post more pictures of the contents and all that but I figured most of you already know what you get with this version.
Last but not least....
So some of you may or may not have heard that there was this new handheld that just hit the market, something along the lines of 3D without the need of glasses. I believe it's called the
NINTENDO 3DS
and it's pretty much the greatest thing ever. Like, ever.
How good is it?
Good enough for me to buy not one but....three?
NINTENDO DS POKEMON WHITE VERSION and 3 NINTENDO 3DS's (BLUE, BLACK and BLACK)
Now before you start questioning why I bought three let me tell you why, One is for me, the other is for my daughter and the third, well the third was because my girlfriend has a feeling that the black one will be the more "collectible" one since most of the advertisements you see for the 3DS are for the Aqua Blue version.
Now it wouldn't do me much good to have those 3DS's without any games to play would it?
STEEL DIVER, PILOTWINGS RESORT, RIDGE RACER 3D, LEGO STAR WARS III, SAMURAI WARRIORS CHRONICLES, SUPER STREET FIGHTER IV 3D, NINTENDOGS + CATS and GHOST RECON SHADOW WARS.
If you have a 3DS and want to add me as a friend here is my code,
3050-7571-6291
. Just make sure to let me know that you have added me so that I can return the favor.
Well, that's about it. I hope you weren't too bored, I really did try my best to make this condensed as possible, I swear. =)
Until next time, which should be in a month or so, happy gaming and have a good night!!!
~ChillyBilly
---
LOOK WHO CAME:
ChillyBilly
Elsa 1
BuckeTheaD zOmbiE 1
KingOfRedLions 1
JJJEnigma 1
Ben Davis 1
Rob Morrow 1
Yorda 1
King Chrono 1
NOVENO 1
CelicaCrazed 1
ArcticFox 1
doifX 1
TezElNerdo 1
Kraid 1
Dao2-SKP 1
Funktastic 1
manasteel88 1
Jonathan Holmes 1