A gamer's collection and setup is a window into what sort of gamer he or she may be. With that in mind, the following string of photos are a quick insight into what sort of gamer I am. There are some missing items, most notably my 360 and games: the former is under repair, the latter is currently on loan to a friend until the system returns. But for the most part, this is a good snapshot of what I've kept over the years, plus a cat who kept wandering in and out. Each photo can be clicked to view the full sized version.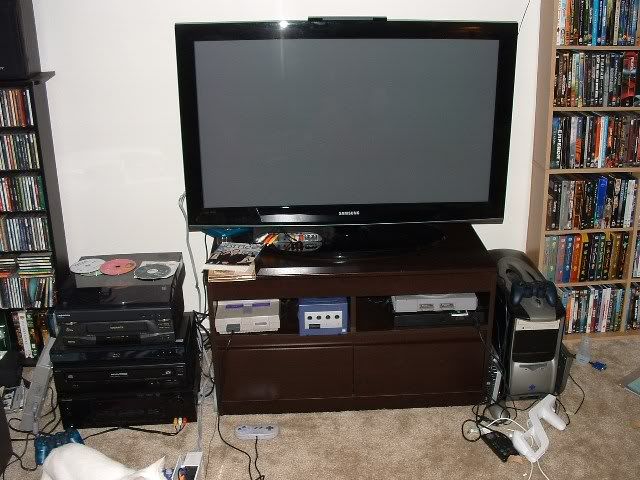 Here is the unexploded view; the currently active systems, games, and accessories are neatly tucked away for the most part.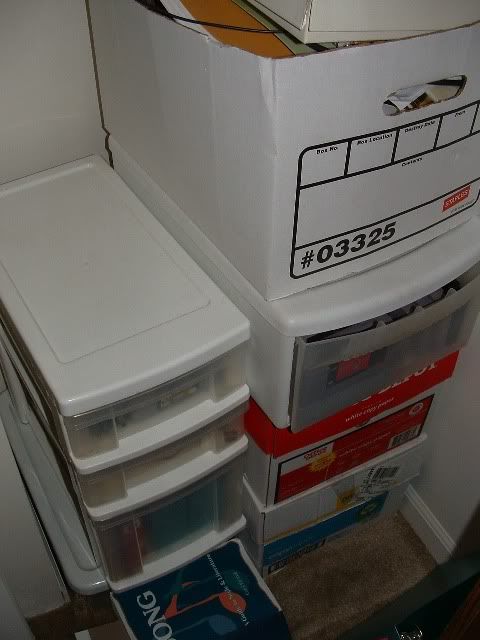 Unfortunately, I just don't have enough room to keep all media available at all times due to space constraints, and as such, a majority of items reside in this nearby closet.
As you can see, with almost everything dragged out, our little living room becomes just a little cluttered. Naturally, I did this when my wife wasn't home. Her reaction to this photo was simply "Oh my..." Now, for some closeups...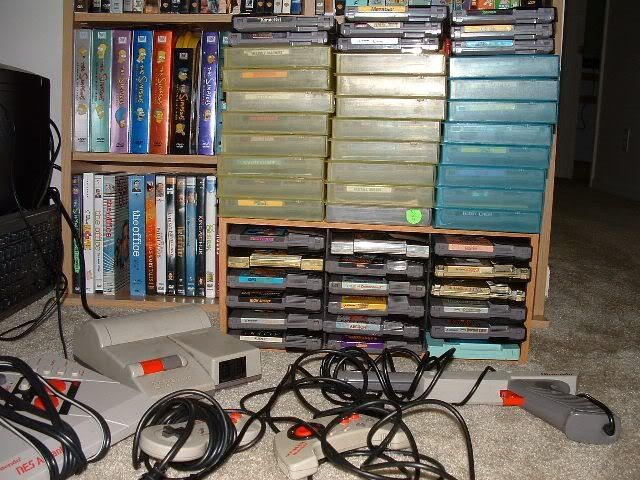 My NES games and accessories. Most of the games in cases have their instruction manuals, and most have my last name written on the back, as was the custom in the day. We traded the front loader and original controllers towards the cost of the top loader when it first came on the market. I wish we had kept it now, but at the time, being able to actually play games on the first try was paradise.
My N64 wheel. Not much to say here, other than to apologize for my penchant to arrange things in a thoughtful manner.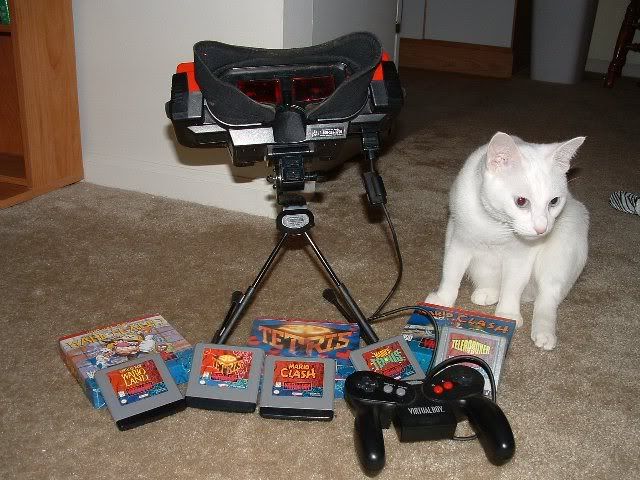 Yes, I own a Virtual Boy, and I still break it out once every couple months for one reason: it's fun. People really look down on this thing, and I would never argue it should have succeeded, but in spite of all that, Teleroboxer is still a blast. I haven't yet found a boxing game so satisfying. Maybe if another game comes along where I can beat the gears out of robots and block throwing stars with my fists that has the same fluid controls, I'll finally box the VB up, but until then...
Likely my favorite part of this whole estate. I love me some TG-16, and would sell a great many things before letting go of my ability to play Blazing Lazers on that magnificent stick.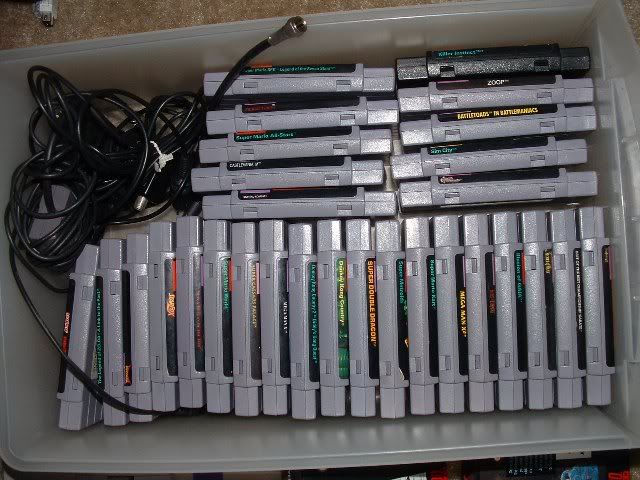 A zoom on my SNES titles.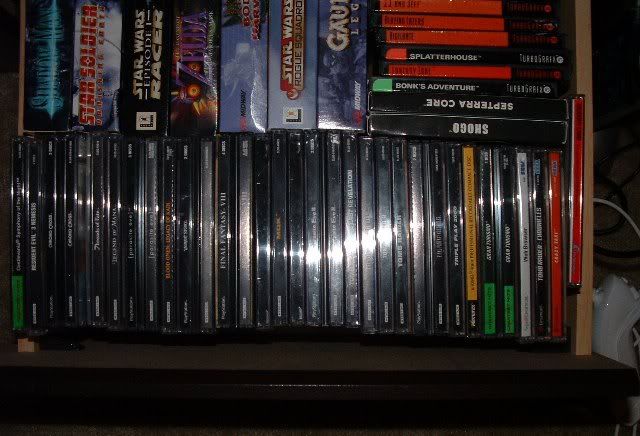 PSX and my meager Dreamcast selection. Sadly, I had a good handful of DC titles at one point. They were in storage at my dad's house, and while bringing back some boxes, I stopped for a bite to eat. I chose my eating location poorly, because shortly after, I was relieved of 11 DC games and some other stuff that was in the box. The surviving titles were in another box that was still in storage.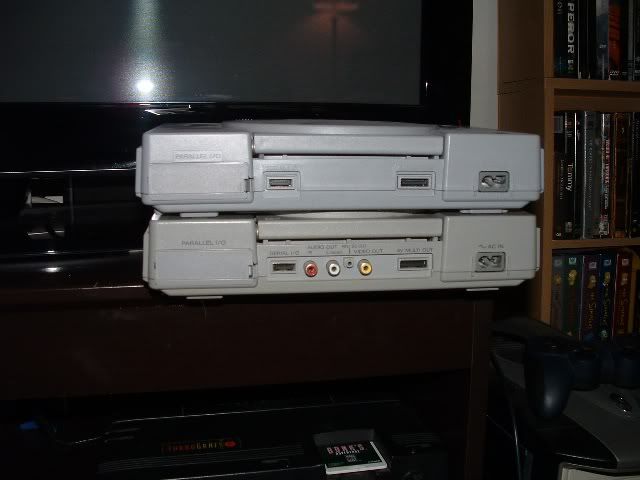 This is why I keep two PSX's. The top one was actually free, given to me by a poor soul who didn't know about turning the unit upside down. It reads considerably better than the other, which works out nicely. Also the bottom unit may or may not contain a certain chip.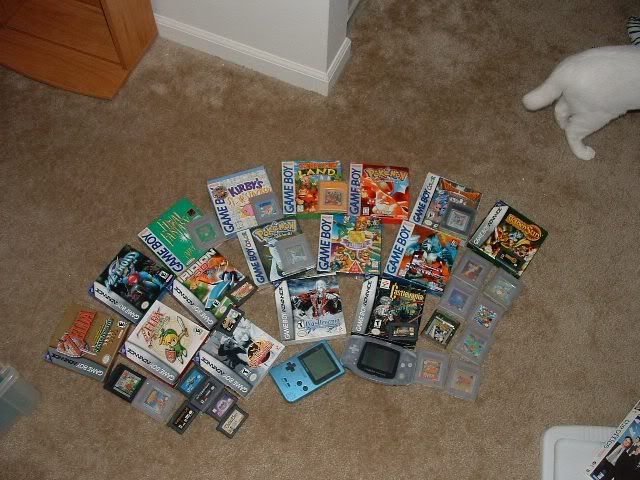 My handheld collection. I sold my original GB to put towards the pocket. Like the NES, I wish now I hadn't been so hasty, but at the time, there was no alternative, because the old bulky GB couldn't be as easily concealed as the pocket while racking up the 180 hours I put into Pokemon Red throughout my freshman year of high school.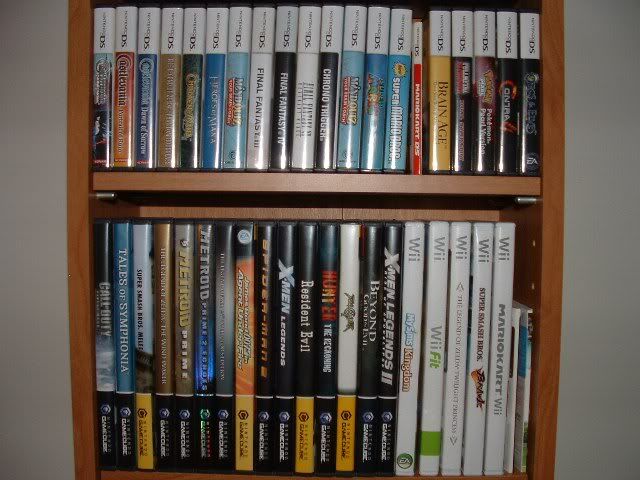 Gamecube, DS, and Wii titles.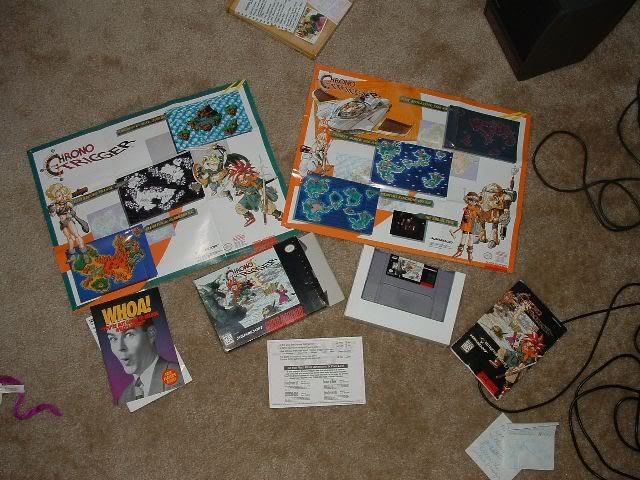 If I had a crown jewel in my collection, I suppose this would be it. Everything here is in great shape, and the box still includes the Nintendo Power and Square literature.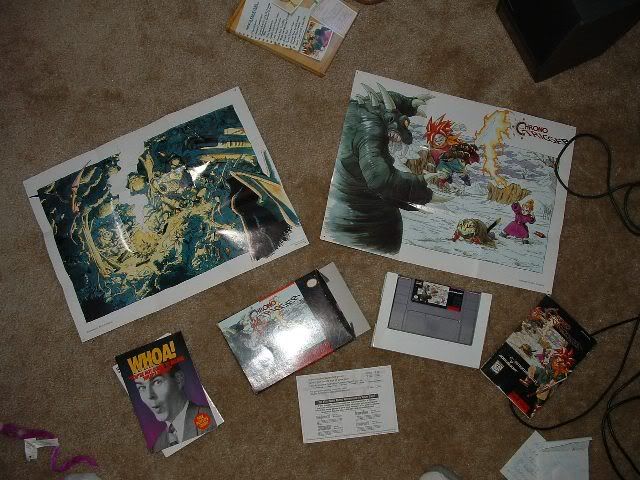 This photo shows the poster side of the maps that were included, along with another Office DVD, which seem to be working their way into a lot of pictures.
Onto some items that weren't in the grand photo...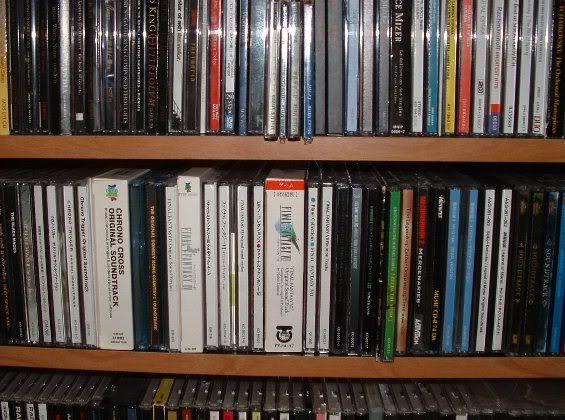 My soundtracks in their natural habitat.
And as seen from the front.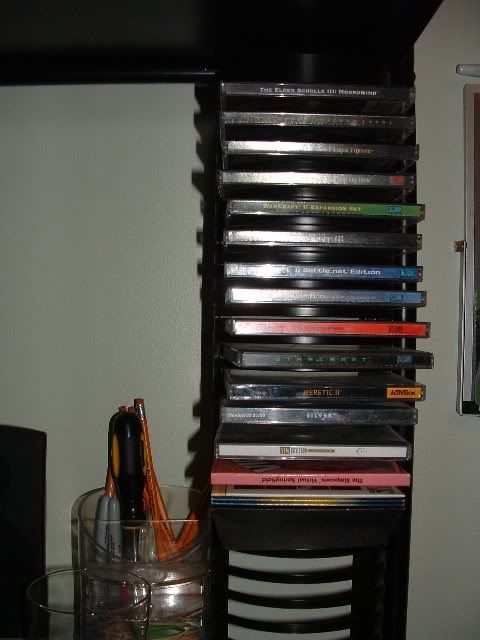 Some rather old PC titles. Not shown is FFVII, because I can't for the life of me find the oversized box it came in.
Some more recent titles. DAoC was my drug of choice until...
...this happened.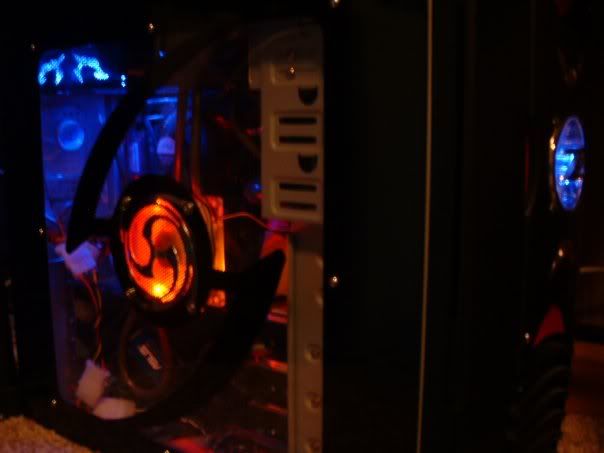 This is my gaming PC. The machine seen in the first pic primarily plays some...alternative software. This one actually looks much more impressive than it really is. I won't embarrass myself by posting the specs, but let's just say it
was
top of the line...at one point.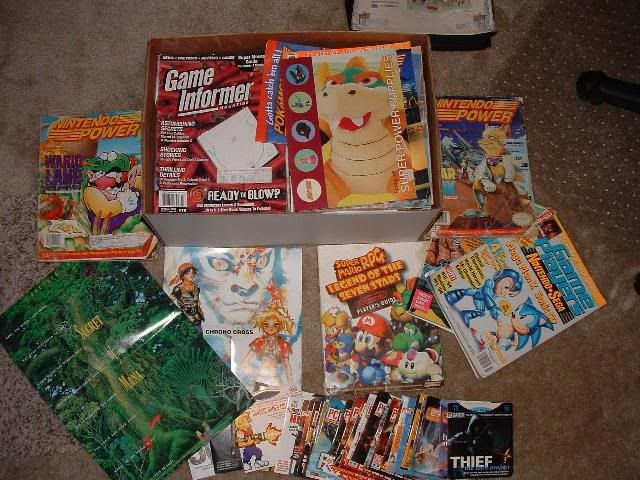 And here's a pile of magazines. The box is mostly Nintendo Power and Game Informer from the early to late 90's, but there is also some Game Players, EGM, TIps and Tricks, GamePro, and some Guidebooks. I pulled out a few, but didn't really want to start digging. All of my PC Gamer demo discs were also in here, but I couldn't find the box with the actual mags.
Lastly, here's a picture of Sonic I drew for a first grade art project, found in the magazine box. I later attached the Star Fox sticker from a box of cereal...not sure why.
I'm Dr. Light Ate your Magicite, and I hope you enjoyed this brief tour into my gaming world.