Credit for this comic goes to Penny Arcade.
Ok so it's not really my birthday. I don't turn 23 until August 3rd. But that didn't stop my girlfriend from surprising me with a couple of supremely awesome presents today. I have to admit, having a girlfriend who is into videogames is pretty awesome when it's gift time.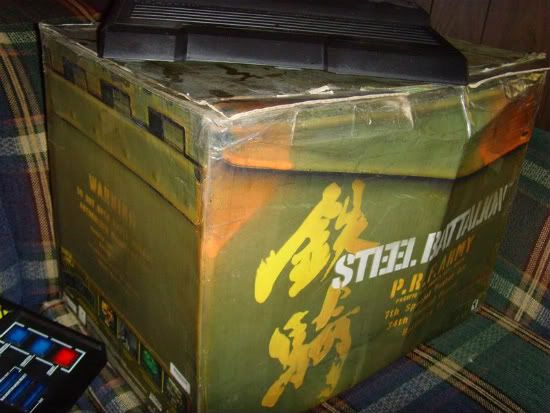 First of all, she ordered something off of amazon for me that I've been yearning for ever since 2004, the Steel Battalion controller and a copy of the game. I used to own Steel Battalion but after one fateful summer night in '04, I was forced to sell Steel Battalion in order to replace my Xbox, which was destroyed after a particularly frustrating match of Halo 2. Ever since then I've looked forward to the day when once again I'd be the proud owner of the worlds greatest Mech game.
Steel Battalion pictures were taken by the games current owner.
Secondly, she took me to the mall today, claiming she had some shopping to do before our camping trip this week. Well after she was done in LL Bean she wanted to go to Gamestop, but she didn't say why. As soon as we got into the store she asked the employee behind the counter if he had a blue and a black DSi in stock. When he said yes she promptly bought them both, surprising the hell out of me! She bought the blue one for herself and handed me the black one, saying happy birthday. I was totally shocked, but very pleased. I hadn't planned on owning a DSi any time soon so getting one several weeks before my birthday was an awesome surprise.
So yeah, I have one of the greatest girlfriends in the world. I love her to death and I sincerely hope that everyone reading this is or someday will be as happy in love as I am. Thanks baby!