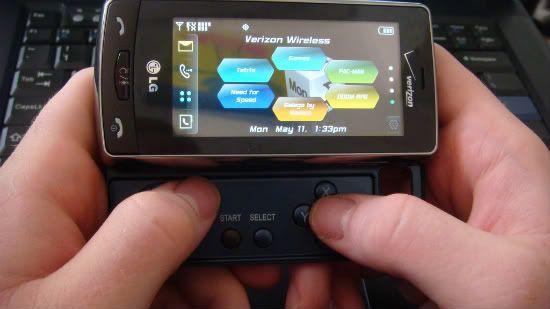 The Gamepad attachment in action
Some of you may have heard of the LG Versa, the new modular phone that had a Gamepad attachment released for it last month. Well my birthday is in August and my parents decided to get me an early birthday present and since my LG enV was slowly dying on me, they bought me the Versa as well as the Game Pad attachment. Read on to hear my thoughts on this device.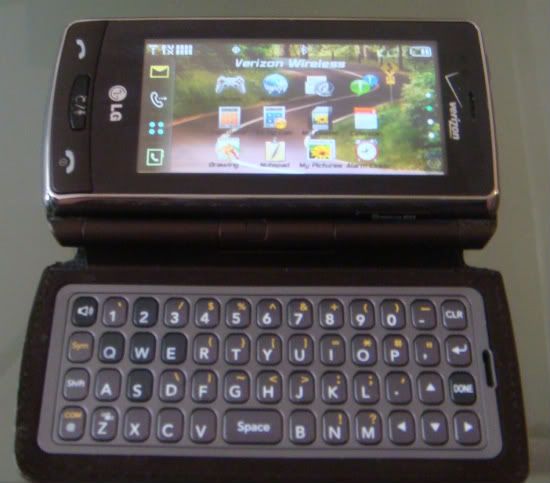 The QWERTY attachment opened up.
Before the Versa, I had never bought a game for my cellphone. I usually just carried my PSP or DS around with me but lately Iíve stopped doing even that. So my hopes are that this new phone will get me back into gaming on the go. And the package certainly has potential. The phone itself features a beautiful and very responsive touch screen and it comes with the QWERTY keypad attachment. The Game Pad module has an 8-direction D-pad, 4 SNES style, A, B, X and Y face buttons as well as start and select buttons. The button response is nice but it would have benefited from a little more stiffness, I fear that in a few months the buttons will feel rather mushy, Iíll have to let you all know how that works out. Another complaint is that the unit is rather top-heavy with both the gamepad and QWERTY modules attached. So the hardware is pretty neat, how are the games?
When closed, the QWERTY attachment acts as a shield for the touch screen.
Well as a whole, the Verizon game service sucks. Very few of the games available have demos and if they do, they are either 5 minutes long or have a limited number of plays. On top of that, exactly zero of the games have screenshots to go along with the paragraph or so of text that tells you what the game is about. So without looking stuff up on your computer, it is really hard to tell if a game is worth the money or not. And thatís another thing, you can either subscribe to games monthly for around $4 or you can buy them outright for around $8. To me it seems like a waste to subscribe so I always take the plunge and buy them but I worry that this will lead to some serious buyerís remorse eventually.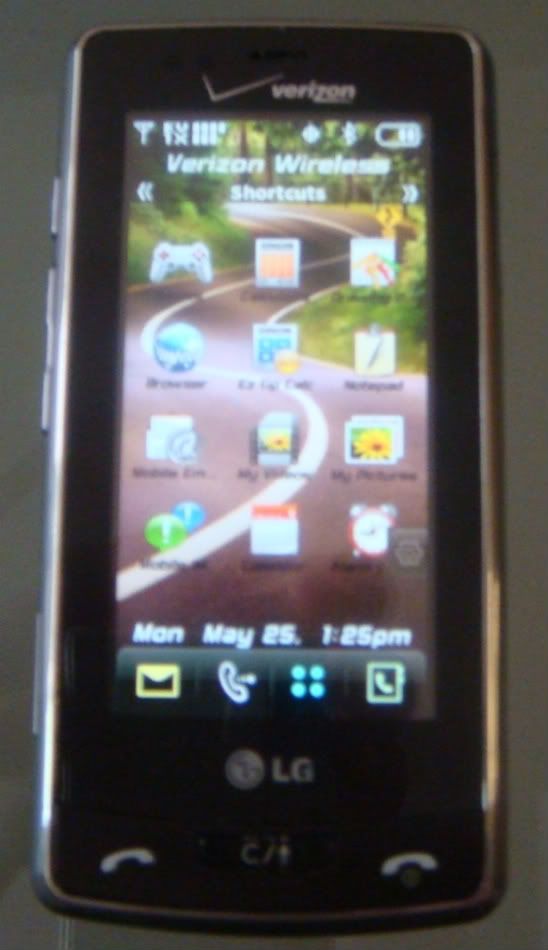 This is the Versa with just the regular backing. Very similar to the LG Dare.
The Game Pad Module came with three demo games, Need For Speed: Undercover, Pac-Man and Monopoly: Here and Now. I also bought a few games, I got the full version of Pac-Man as well as Galaga, Tetris and the Doom RPG (because Iíve always wanted to try it). I also downloaded a bunch of 5 minute demos: LocoRoco Hi, Build-a-Lot, Cars Radiator Springs 500, Centipede, Super Breakout and Zuma. Letís keep on truckiní as I give each of these games and demos a mini review.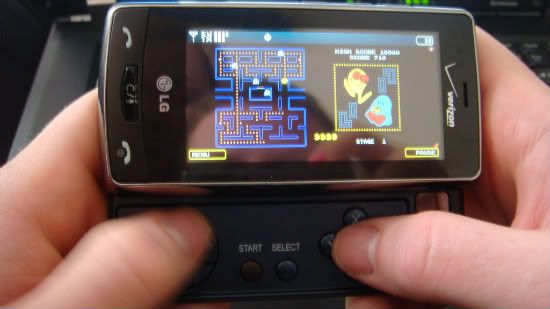 Pac-Man
to me was one of two games that I just knew I would purchase with this phone (the other being Tetris) and I canít say Iím disappointed. The game has three control schemes, one uses the Versaís accelerometer for motion control, the second uses the touch screen and the third and my favorite uses the Game Padís d-pad. The motion and touch controls are fun but only if you feel like adding a bit of extra challenge to your game as they arenít as precise as the d-pad, which is an absolute joy to use. Thereís not much more I have to say about this one, itís Pac-Man, it has good controls, you already know if you want it.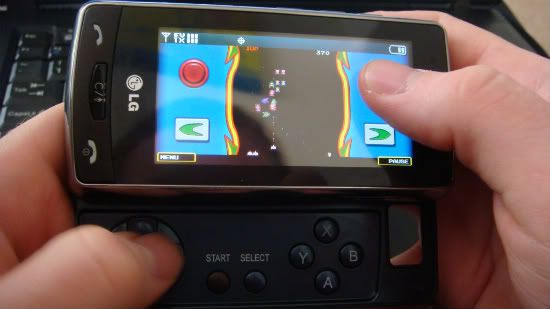 Galaga
is another faithful arcade port. If you like the original you wonít go wrong with picking up this port on the Verizon network. I do have two complaints though. The first is that the graphics are tiny. Iím assuming this game was made to be played on older phoneís front screens because itís sized perfectly for them. On my phoneís widescreen it just looks kind of tiny. You do get used it to though so itís not a huge problem. My other problem is kind of huge though. The d-pad works great in this game but unfortunately, the A, B, X and Y buttons donít do anything. In order to shoot your gun you have to use the touch screen buttons that are next to the gameís playing area. Having one hand on the d-pad and the other on the touch screen is kind of awkward and takes some getting used to but once you do it feels like good old Galaga. Alternatively you can use the touch screen directional controls and the touch screen shooting, but I found this to be difficult. I would often shoot when I meant to go right and go right when I meant to shoot. Using the d-pad and the touch screen is the way I always do it.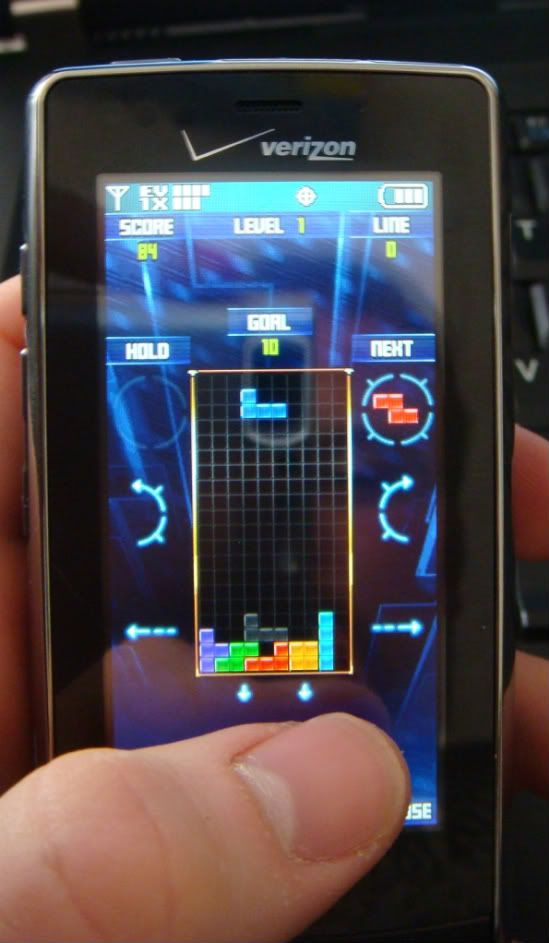 Iím a little disappointed with
Tetris
mostly because it doesnít support the Game Pad module at all. Now, there are a few different versions of Tetris on the Verizon network and I just downloaded the one called Tetris, I have no idea if the other ones are compatible with the Game Pad or not but quite frankly, I donít want to own more than one version of Tetris for my phone. Thatís not to say the game is bad though, sure it doesnít support the Game Pad and it only has touch screen controls but seriously, the touch screen controls are perfect. I played for half an hour before I sat down to write this and I didnít make a single mistake that I could blame on the touch screen. Iím still disappointed about the lack of Gamepad support, but I can tell Iíll be playing this one a lot regardless.
These are the three modules for the LG Versa, from left to right: The QWERTY keyboard (comes with phone), The Gamepad ($30) and the regular backing, which is the best to use when taking pictures (comes with phone).
Doom RPG
was another disappointment to me because of controls. The d-pad worked fine but once again, the A, B, X and Y buttons arenít supported, which forces me to play the game with the QWERTY module. I havenít played very much of the game yet so I donít want to give my full opinion on the matter, so if youíre curious if this is the mobile game for you, look elsewhere. What I did see of the game was very interesting though.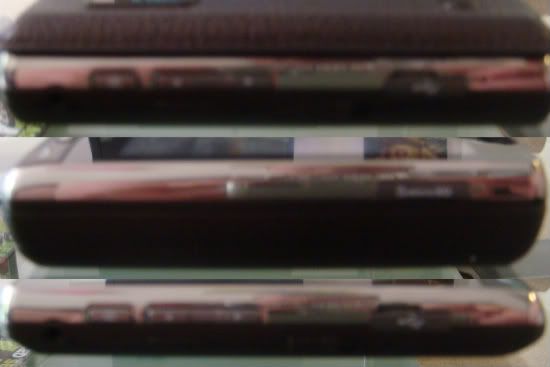 This is a comparison of the thickness of the various attachments while on the phone. From top to bottom: QWERTY, Gamepad, Regular. Notice how thin the phone is without the QWERTY or Gamepad attached.
Monopoly: Here and Now
is just Monopoly as far as I can tell. I have no idea what the difference between this version and the other version of Monopoly I saw but I really donít care. I didnít really play much of it on account of Monopoly being the worst board game ever made. Sure everyone has fond memories of Monopoly but when was the last time you can remember playing a game where everyone was satisfied with the outcome? It never happens. You can always tell who the winner will be a couple hours before they win and for those last couple hours, everyone who is not the winner turns into a bitter fuck and the game gets immensely boring. So yeah, Monopoly, on a cellphone, wooo. I will say that itís kind of cool that you shake the phone to roll the dice thoughÖ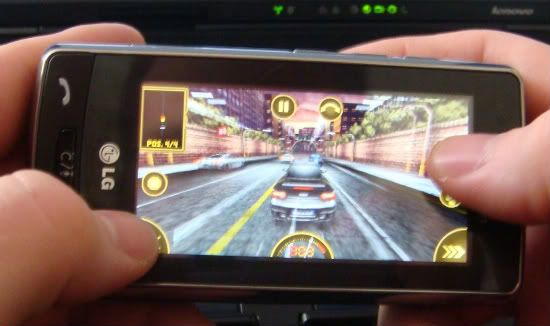 Need For Speed: Undercover
is a bit of a surprise to me, actually. You see, I played the DS version of NFS: Most Wanted and it was shit. I donít know why I played as much of it as I did, but I got within two races of the end of the game. Knowing how shitty NFS on the DS was, I wasnít expecting much from the cellphone version. But you know what, itís not that bad. The graphics are miles beyond the DS version and the controls are much tighter as well. Acceleration is automatic, which takes getting used to. There are onscreen controls for nitrous, drifting and stopping as well as turning. You can also use the D-pad for turning but for some reason, the nitrous, braking and drifting buttons arenít mapped to the face buttons, which totally sucks. Steering with the D-pad and using the touch controls for everything else feels just like Galaga does, awkward. The touch screen controls are my preferred way of playing this game but for some extra challenge, I like to switch it to accelerometer controls. Iím tempted to download the full game but the demo is pretty satisfying, you can only race on one track and with one car (a Porsche) but trying to beat your fastest time is addictive. I figure that once I get bored of the demo, if I still want more Iíll get the full game.
Build-a-Lot
is a sim-city like game, except it is played on a series of small maps with specific goals. The graphics are simple, the controls are touch screen only, but despite all that I had a good time. Not enough so that I want to buy the full game, but I certainly donít feel like I wasted my 5 minutes.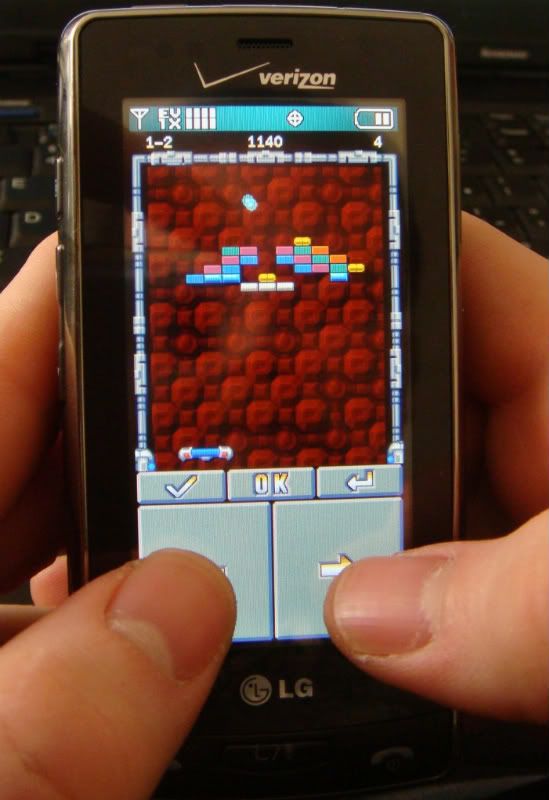 Super Breakout
, just like centipede, is a classic arcade game with revamped graphics, along with a classic mode featuring the retro graphics. The controls are touch screen only and the only complaint I have with them is that the OK button is a little too small, meaning I had to try multiple times whenever I wanted to hit it. Other than that itís the same Super Breakout that you already love or hate. I may download the full game if Iím bored some day.
Cars: Radiator Springs 500
is another racing game and another surprise. The graphics are simplistic compared to NFS: Undercover and the gameplay is reminiscent of Outrun (which can be a good or bad thing). Acceleration is automatic and braking is accomplished by pressing down on the d-pad. Pressing up unleashes the nitro and steering is accomplished exactly how you think. Overall I think the controls are even tighter than NFS, although overall the game is less flashy. Although I didnít get to try it in the 5 minute demo, Iíve read that there is a build-a-track mode in Cars and that alone is enough to make me consider a purchase sometime down the line.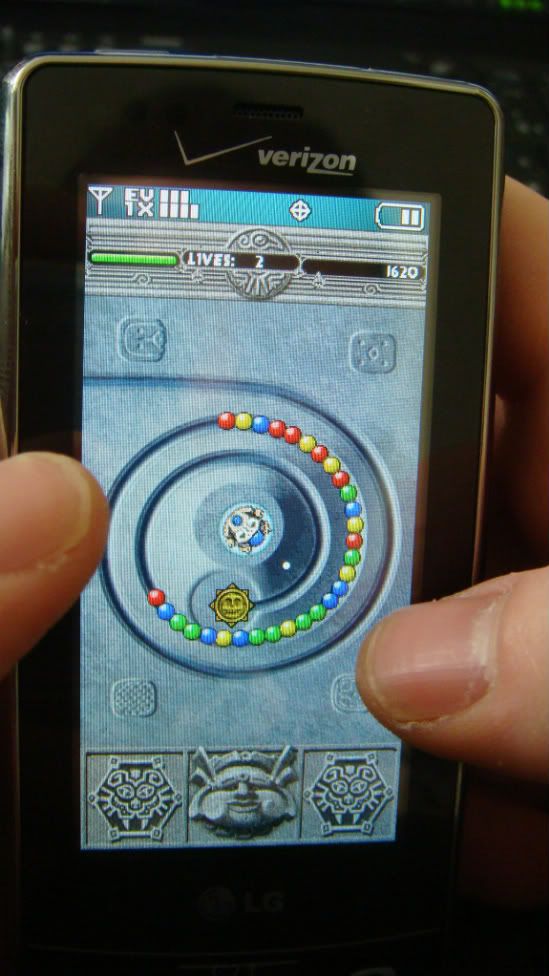 The Verizon version of
Zuma
is easily the worst version I have ever played. The controls arenít accurate, the aiming is imprecise and when those two things combine, I would rather play Zuma elsewhere. Given the number of better puzzle games on Verizonís service, I see no reason to buy Zuma.
Yet another game that is touch screen only (making me wonder why they bothered to release this Game Pad module if hardly any games use it),
Centipede
plays out exactly as you would think. There are 4 directional buttons for movement and one fire button. The only notable aspect of this port of Centipede is the revamped graphics in contemporary mode. They certainly look better (in some sense of the word) than the retro graphics, but you lose the nostalgia factor completely. As someone who was never that big a fan of Centipede, I feel comfortable skipping out on buying the full game.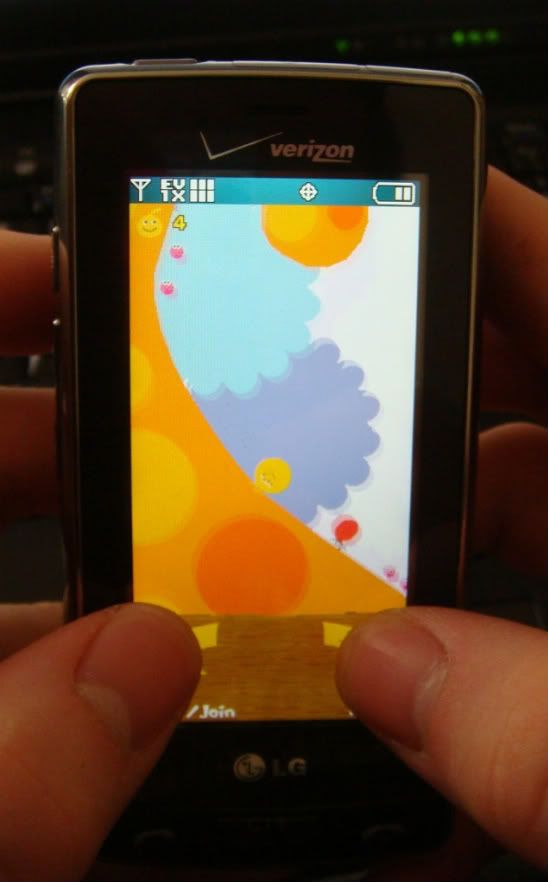 LocoRoco Hi
is another game that is touch screen only but this one is the best one Iíve played so far. Iíve never played the PSP version of LocoRoco (I really should) but this version has me hooked. Iíve only played the demo so far, but the world tilting, exploration based gameplay will probably have me buying the full game sooner than later.
Overall the games on the LG Versa are a disappointment. There is fun to be had, sure, but not a single game that I have found supports the Gamepad fully. Even Need for Speed: Undercover, which is on the cover of the box for the Gamepad, doesnít use the A, B, X and Y buttons, which seems like false advertising to me. My hope is that in the near future, Verizon will add some games which fully support the Gamepad module, but until then, I cannot recommend it unless you own the LG versa already and youíre curious. At $30, the Gamepad module is not quite a waste of money, but I donít recommend buying the Versa just for the Gamepad. I love my Versa, I really do, but besides the Gamepad, it isnít much different from every other touch screen phone on the market.